At this morning's Golden Globes nominations ceremony in Los Angeles, big names like Lorde, Patti Smith, and SPIN Artist of the Year Sia found themselves with one more achievement under their belts, scoring nods for Best Original Song in a Motion Picture. Nine Inch Nails' Trent Reznor was also nominated for Best Original Score in a Motion Picture for his haunting Gone Girl work.
Unsurprisingly, Lorde was recognized for her work on the Hunger Games: Mockingjay Part I soundtrack with a nomination for her gloomy, booming "Yellow Flicker Beat." Del Rey — who was shut out for last year's Great Gatsby cut "Young and Beautiful" — finally broke through with her titular contribution to the Tim Burton flick Big Eyes. Smith found herself recognized for her Noah contribution "Mercy Is," a collaboration with Kronos Quartet.
Check out the Globes' 2015 music category nominations below and watch the ceremony live on January 11 on NBC.
Best Original Song in a Motion Picture
"Big Eyes," Big Eyes, Lana Del Rey
"Glory," Selma, John Legend and Common
"Mercy Is," Noah, Patti Smith and Lenny K
"Opportunity," Annie (written by Sia)
"Yellow Flicker Beat," The Hunger Games: Mockingjay Part I, Lorde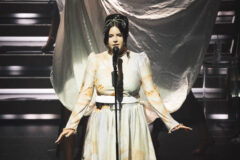 Best Original Score in a Motion Picture
The Imitation Game, Alexandre Desplat
The Theory of Everything, Jóhann Jóhannsson
?Gone Girl, Trent Reznor and Atticus Ross
?Birdman?, Antonio Sanchez
Interstellar, Hans Zimmer