This Friday, Jennifer Lawrence and Josh Hutcherson will return to Panem in Mockingjay Part One, the next chapter in the blockbuster Hunger Games series. For the film's soundtrack, Lorde was tasked with curating a list of artists and songs that she thought would best complement the sci-fi movie's opulence-clashes-with-political-revolution plot. In keeping with the series' titular Hunger Games — a life-or-death match that pits competitors from all walks of life against each other in a contained arena — SPIN has ranked every song from the Mockingjay Part One soundtrack below. May the odds be ever in Lorde's favor.
14. "Animal," feat. XOV

Of all the names on the Mockingjay soundtrack, XOV's stands out for not standing out. A relatively unknown Swedish singer/songwriter, he seems to have taken a page too literally from Lorde's book on "Animal." Just singing in a minor key and tacking gloomy instrumentation onto a track doesn't make you an auteur.
13. "Flicker (Kanye West Rework)," feat. Lorde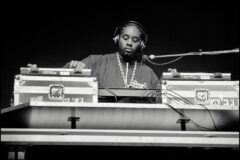 It's just not as good or as haunting as the original, and to have Kanye's name on there without even a hint of the rap god's vocals is a letdown no matter how you cut it.
12. "Ladder Song," feat. Lorde

There's nothing particularly revelatory about the New Zealand singer covering a Bright Eyes song; perhaps it sounded better on paper than it did in execution. Of note: Lorde allegedly recorded the song, originally on 2011's The People's Key, two years ago when she was 15, before she was winning Grammys and talking to Conor Oberst himself as part of a New York Times Q&A. It shows.
11. "Lost Souls," feat. Raury

Named one of SPIN's Best New Artists last month, the Atlanta singer does his best impression of the Weeknd on "Lost Souls," but it lacks the emotional heft of Abel's catalog. Raury also peppers in some rapping, but lyrically, it's half-baked.
10. "Plan the Escape," feat. Bat For Lashes

Look, this is a really nice cover of Son Lux's original, and Bat For Lashes (born Natasha Khan) sounds demure and polished on it, too. What it packs in star power, it lacks in excitement. That's not to say every Mockingjay song needs to be a #Banger (we see you, Tinashe), but if you're going to take a simple route like Khan did, you've got to nail it.
9. "Kingdom," Charli XCX and Simon Le Bon
//www.youtube.com/embed/j8JahHnYeh8
Produced in part by Vampire Weekend's Rostam Batmanglij, "Kingdom" is one of the softest sides we've ever seen from the bratty British pop sensation. Surely this would score of of Katniss Everdeen's more introspective moments, or perhaps a love scene, but not even Duran Duran's Simon Le Bon — who pops up more than two minutes in to sing a brief verse — can save this song from sounding anything more than a cutting-room-floor cousin to Vampire Weekend's superior "White Sky."
8. "Scream My Name," feat. Tove Lo

"Scream My Name" feels like it could've been found on Tove Lo's debut album, Queen of the Clouds. "Fist fights / Long nights / Come home late," Tove sings through a hazy filter, adding, "I'll say for now I'm happy / Love it when I play pretending." She even drops an F-bomb. The track stays incredibly on-brand — what with its late-night pained wails and sensual lyrics — and also probably started as an album alternate. We're just happy it found a home.
7. "Yellow Flicker Beat," feat. Lorde

"I'm a princess cut from marble / Smoother than a storm," Lorde sings with only her own "ooh-ooh-oohs" in the background. It oozes a scorched-earth, "What do I do now?" mentality, and of the bunch, fits in most clearly with the film's revolutionary-minded plot. "Yellow Flicker Beat" could've also made its way onto Pure Heroine, with its throbbing synthesizers and drum machines constantly threatening to overtake Lorde's voice.
6. "Dead Air," feat. CHVRCHES

The second soundtrack that the Scot-pop stars have contributed to this year (the BBC's alternate version of the Drive OST being the first), "Dead Air" shows off where frontwoman Lauren Mayberry and her bandmates are likely headed on the follow-up to 2013's The Bones of What You Believe. "We just hold onto our light, dear / We'll keep going until we can't hear / Dead air," Mayberry sings. It's frothy and lovely, but it does lack a bit of a punch.
5. "Original Beast," feat. Grace Jones

How Lorde got the iconic Grace Jones to come out of retirement to create something so majestic and feral for a movie soundtrack will be one of those mysteries that baffles us forever. "Original Beast" sounds like something you'd find flipping through New York City public access TV late at night in the 1970s, studded with howls and frenzied drumming and Jones' otherwordly singing. "I'm a different animal / You broke the mold when you made me," she murmurs as the song grows more and more insistent. That beat drop is the stuff of legend, almost as impressive as Jones herself.
4. "The Leap," feat. Tinashe

Maybe it's blasphemous to put a relatively shiny, new R&B star above an icon like Jones, but Tinashe stands her ground on her lofty contribution. Like Tove's track, "The Leap" would've worked just as well on Tinashe's own Aquarius as it does here (sample lyrics: "Looking for a sign / Karma's coming back for us / I was waiting on you"), all breathy and seductive. The singer takes a powerful step forward here, which is why she's secured herself a Top-Five slot.
3. "All My Love," feat. Major Lazer and Ariana Grande

Lorde, Ariana Grande, and Diplo all deserve Nobel Peace Prizes for hooking this collaboration up. This is exactly the kind of song Grande should be singing; ditch the cat ears, link up with a pop and electronic producer who knows his way around a pair of pipes, add cowriters like MØ and Lorde herself, and magic like "All My Love" happens. There are some stumbling blocks here that keep the club-thumper from hitting the top spot, including the My Everything singer's notorious case of mush-mouth ("All my love / is worth the chase / Only love [?] / I know / [incomprehensible mumbling]"), but if you just let Diplo's production work wash over you, it all goes down quite nicely.
2. "Meltdown," feat. Pusha T, Q-Tip, HAIM, Lorde, and Stromae

"Lorde… meet King Pusha," the former Clipse rapper snarls before Stromae's sexy, punctuated instrumentals kick in at full volume. For boasting such a random assortment of collaborators, "This Is Not A Game" works surprisingly well. It sounds like it could score a costume gala set in the Capitol moments before an uprising is set to occur. There's intrigue, allure, glitz and glamour, and even some unmistakably apocalyptic harmonizing all working in tandem to keep this song in check.
1. "This Is Not a Game," feat. The Chemical Brothers, Miguel, and Lorde
Let's count the ways that "This Is Not a Game" could've gone terribly wrong: Miguel's vocals don't, at first glance, seem like a match for the Chemical Brothers' insistent, twisting, mind-altering production; Lorde's inclusion could've overpowered Miguel's parts, or vice versa; heck, the Chemical Brothers could've distorted both of their vocals in favor of making the song a more autocratic sound experiment. Here's the thing, though, about this entire soundtrack: Even in its weaker moments, the Mockingjay songs stand out among 2014's best pop endeavors, and "This Is Not a Game" is the album's cornerstone. Much like the British production duo's overlooked score from the 2011 thriller, Hanna, "Game" tells its own story in three minutes, and sets a new bar for what soundtracks can and should be doing in terms of balancing story with songwriting, and Lorde's part in it shouldn't be overlooked. After all, like the movie preaches, even the quietest voices can spark a change.