Late last year, Conor Oberst realized that he'd clawed apart his favorite guitar, a small, "parlor size" acoustic he'd bought from a boutique luthier in Austin, Texas. "I'd been getting that Willie Nelson thing going on," he says, running his fingertips across its face one afternoon in late March. "Strumming so much that it started to disintegrate. When I sent it back to them to be repaired, they were like, 'What do you do to your guitars? We've never seen anything like this.'" He pulls his shoulders back. "I'd only had it for two years, but I'm sure my technique isn't very sophisticated."
Oberst has just stepped out from underneath the lights of a small shared studio at CBS Interactive in midtown Manhattan, where he and his guitar-playing cousin-in-law, Steve Bartolomei, have just finished performing two songs from his forthcoming solo LP, Upside Down Mountain, for a video segment to air on Last.fm. As part of a highly concentrated, four-day press blitz in New York, he and Bartolomei are making the radio rounds, uptown and down, satellite and online. One half of the room's walls are stacked floor-to-ceiling with vintage speakers; the other, where CNET hosts an online show dedicated to gadgets, has been decorated with old legos, Nintendo cartridges, and a model of the Delorean.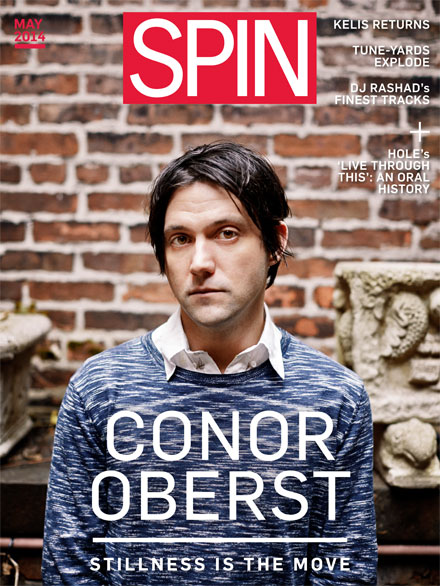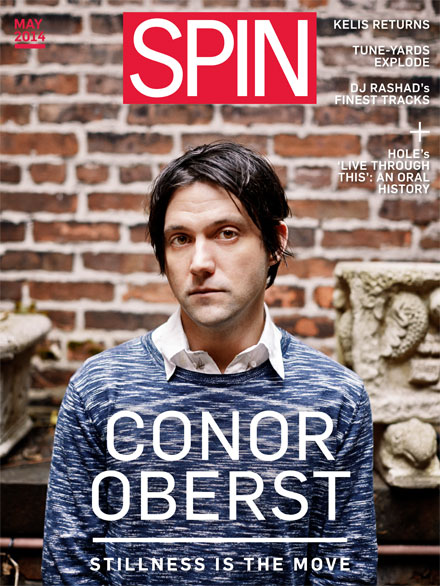 At 34, Oberst is an at times unsettling vision of himself at 20, the unlikely, porcelain-skinned pin-up that launched a thousand LiveJournals. He is still delicate in build, still armed with an inky mess of fantastically disheveled, famously sculpted hair. And as he might have been in 2001, he's also wearing a tight, black Cursive T-shirt, a show of undying support for that band of older brothers, bandmates, and mentors from his native Omaha. But at 34, his brown eyes are also offset by a face that has finally taken on the lines and valleys and visible hardness of a man's: He looks as though he knows worry well, as though he's seen a number of recent sunrises.
"Do you guys want to move on to the interview portion?" Last.fm's producer, Matt Simpson, asks the room cheerfully. "Just 20 minutes," he promises Oberst. "We'll just talk through the new record and what's going on with you. The hard questions."
"As long as there's no math questions," Oberst says. "I was never good at math."
In December of last year, a then-27-year-old North Carolina woman named Joanie Faircloth left a string of comments on the website xoJane, in response to an essay by a woman who had been abused by her boyfriend, a musician. In what appeared to be a display of solidarity, Faircloth alleged that Oberst, then 22, had sexually assaulted her after his longtime songwriting vehicle, Bright Eyes, had finished a show in Chapel Hill, North Carolina nearly 11 years earlier, on what was her 16th birthday: January 25, 2003. The story was immediately polarizing. Though xoJane would eventually delete them, Faircloth's comments had already been archived and shared readily through various social media channels, including Tumblr, where she would subsequently start an account herself named xoJaneCommenter, which she used to answer questions and elaborate on her previous statements. That account has since been deleted, but not before it had also been archived and posted by many others online.
In early January, just before he was due to embark on a tour of Australia with his recently reunited punk outfit, Desaparecidos, Oberst issued a statement vehemently denying Faircloth's allegations. He claimed that he had never met her, and, after she had repeatedly refused to retract her statements publicly, Oberst and his legal team decided to file a libel suit seeking up to one million dollars in damages, which, if successful, his camp would donate to charities supporting the victims of violence against women. While his legal team has pointed to a number of inconsistencies in Faircloth's story (Bright Eyes had not, in fact, played a show on that date in 2003, though Desaparecidos did a year earlier) as well as her social media history, questions of Oberst's guilt and innocence were already being considered and answered online, well out of anyone's control. The tour was canceled, and he would end up spending much of the month of January in Nashville, applying the final touches to Upside Down Mountain, an album whose arrival has frequently been obscured by the conversation surrounding the case. Though Oberst has yet to publicly address the allegations at any length, a pending trial prevents him from doing so, interviews no exception. During our time together, his longtime publicist was always present, as was a second audio recorder for his own reference.
The controversy comes at an especially difficult moment for Oberst. The Nebraska-bred singer-songwriter has struggled of late to equal the emotional impact audiences felt from a defining run of songs that vaulted him from cultish obscurity in Omaha to unenviable Dylan comparisons to protest performances alongside Springsteen to a symbolic appearance in Jonathan Franzen's 2010 epic novel, Freedom. For a generation of listeners who grew up without the Smiths, Oberst became a formative voice while at a formative period in his own life. But can he be more than that? Few artists grow up so publicly — their every transition, creative or otherwise, archived and shared online — without self-detonating, drifting towards irrelevance, finding themselves forever trapped in amber. Even fewer outrun their youths.
"My public life and my career and all the music that I've made: You can find it all," he says. "It's out there in the world. I'm not a Mickey Mouse Club star that got to rebrand myself. For better or worse, my stuff is all out in the open. And if you have any interest in what I do, or my songs, or the records I make, you can follow the whole trail. I absolutely don't recommend that you do."
Written and recorded in the three years that have passed since he quietly married Mexican musician and engineer Corina Escamilla Figueroa, Upside Down Mountain finds Oberst trading bombast for nuance, and white-knuckle verbosity for relatively calm, plain-spoken tones. It is not a major reinvention, but a work of immense beauty that both transcends pre-existing narratives and suggests that, even as an adult, Oberst can still connect. "No one knows better than me what it's like to have a second life within a career," says Jenny Lewis, a friend, Rilo Kiley frontwoman, and former child actor whose film and television work during the late '80s and early '90s has followed her for years. "Can you imagine what it's like to play indie-rock shows in basements where people are yelling Salute Your Shorts or The Wizard? I mean, are you fucking kidding me? Just having to get through that and present your work regardless, when people grew up watching you? I don't think his work is that different. I'm with him from the beginning to the end. I want to hear what he's going to be writing when he's an old man."
Under the lights again at CBS, now seated alone, Oberst clears his throat. "How long have you been making records?" Simpson asks. "Well, my first record was actually a cassette," he says. "I was 13 years old. That was 1993. It was called Water, go check it out." He pauses. "Actually — no. Don't check it out."
Oberst was just seven years old the first time he took a stage. His father played in a series of classic-rock cover bands on weekends and when the younger Oberst became especially fond of Ritchie Valens' "Donna" by way of the 1987 film La Bamba, he was brought out to deliver lead vocals with the band behind him. Soon after, he learned some chords and covers with the help of his father and "pretty immediately," Oberst was gravitating towards writing his own material.
His next-door neighbor at the time was an older kid named Bart, and most days, he and his next-door neighbor, Ted Stevens, would let Oberst watch and listen to their band practice in Bart's basement, "just so stoked to hear rock music that loud and close." Stevens, later of Cursive, was the first friend with whom Oberst shared his originals, songs like "Purple Chin," "Over It," and "Space Invaders," a particularly prescient number about "the video game-slash-emotions." That early material, Stevens says, "was as rough as you could expect from a 12-year-old: a little awkward, squeaky, and laden with seventh-grade humor." But he offered to bring his four-track over to Oberst's house to record what would become Water, a cassette release they wanted to sell at their local record store and one for which they would also start their own label: Lumberjack, which would later become Saddle Creek, a deeply loyal collective of friends and friends' bands, inspired by pioneering punk-rock institutions like Dischord in Washington, D.C. and Merge in North Carolina.
Oberst's age wasn't an obstacle. While still a sophomore in high school, he enthusiastically gathered his friends — then in college — to form Commander Venus, a post-hardcore outfit that would, for the first time, find them touring outside of Nebraska and landing on the same label as Creed. "There was definitely a novelty effect to being that young and performing," says Oberst, who was the band's gangly, bespectacled frontman. "I don't know: Maybe a lot of breaks that I got did come because I was so young. Like, 'Look at this freak. He starts screaming when you put a microphone in front of him.'"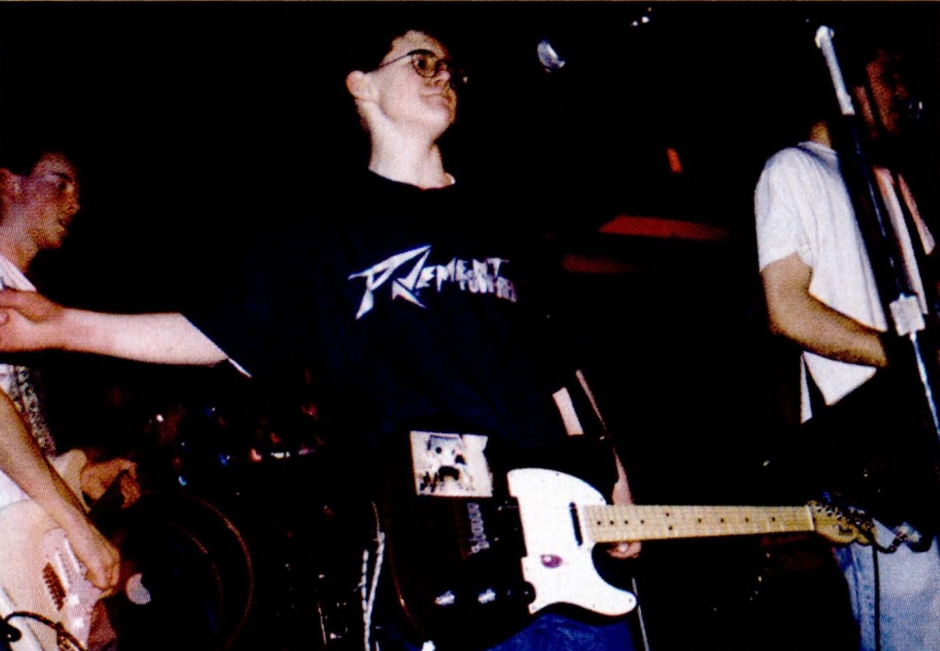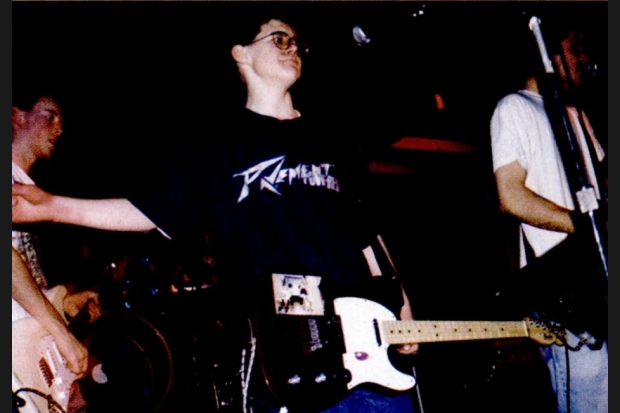 Youth would certainly galvanize his subsequent, early work in Bright Eyes, the shape-shifting songwriting project with which Oberst will likely forever be synonymous. As Commander Venus' time came to an end, Oberst's home recordings took on a new focus, combining the hushed intimacy of folk with the emotional volatility of punk. Both his songwriting and his increasingly distinct vocal delivery — a quaking, often unbridled, underwater vibrato — radiated a post-adolescent anxiety that, in the event of 2000's Fevers and Mirrors, saw Bright Eyes (and by extension, Saddle Creek) develop such a ravenous cult following that Oberst would never return to the University of Nebraska-Omaha, where he studied English before dropping out to tour full-time.
For leagues of similarly awkward, sensitive, and self-serious teens, he became something of a poet laureate, providing high-stakes, turn-of-the-century bedroom anthems whose existential anguish and emotional drama could sound precious — if not ludicrously pretentious — to non-believers, adults in particular. "I mean, I wrote [those songs] when I was that age," he says. "For whatever reason, some of my old records are totally a high-school thing: You come to high school and someone hands you one. I know that to be true because I get the royalty statements. Someone's still buying those records and I assume they're not 40 year-olds. It's like that first Violent Femmes record, Catcher in the Rye: something that's so easily understood at that stage in life. I'm not embarrassed by that at all. I'm actually proud."
When its seismic follow-up, Lifted, arrived in 2002, Oberst's early vision had begun to gain notice from the mainstream media, with rock journalists flinging around weighted terms that still follow him today at 34: "boy genius," "wunderkind," "the finest songwriter of his generation," "The New Dylan." And as Oberst went, so too did Saddle Creek. Bright Eyes' multi-instrumentalist producer Mike Mogis — the band's only other constant member in just over a decade of recording — became a highly marketable studio presence, and representative of a common sound coming out of Omaha. Elsewhere, Saddle Creek bands like Cursive, the Faint, and even Los Angeles-based inductees Rilo Kiley, were all developing robust and passionate followings on their own. When they sold the 100,000th copy of Lifted, the label rented out Omaha's Henry Doorly Zoo and threw a black-tie party for friends and family. "I can't believe they let us do that," Oberst says. "The people from Sub Pop came and gave us a wooden record. Like, 'Good job, little label guys.'"
But in early 2003, Oberst left Omaha for New York's East Village, where he continues to keep an apartment today. And while the change in scenery would birth a pair of albums in 2005 — the near-perfect I'm Wide Awake, It's Morning and its experimental, electronic sister LP, Digital Ash in a Digital Urn — that were preceded, auspiciously, by two singles that would land at No. 1 and No. 2 on the Billboard singles chart, the ongoing collision between economic interests and punk ideals was profoundly disheartening. Unable to convince his friends back home to sign artists he was finding while on the road and elsewhere, Oberst started his own imprint so he could: Team Love. When Saddle Creek agreed to cooperate in a 2005 documentary about their label's first ten years, Spend An Evening with Saddle Creek, Oberst was staunchly opposed. "I didn't want it to be released at all," he says. "I think somebody sometime should do like, Morning After Saddle Creek. I don't think it's unique to our story, but there's that optimism and that collectivism and that thing that you can have at a certain age in your life — and it can't last forever. The real world intervenes."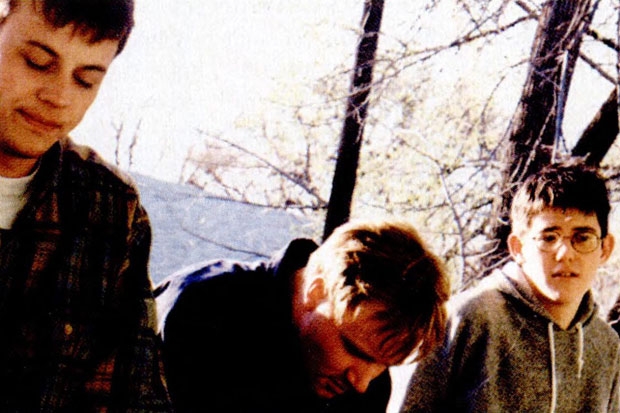 Lucrative new signing opportunities presented to a number of Saddle Creek's flagship bands — the Faint and Cursive, two examples — were passed on, Oberst says, not out of loyalty to the label, but to one another. "It upsets me that Clark [Baechle] from the Faint has to bartend. Or that Ted Stevens…The label started with me and Ted. Not everything ended up equal. Originally that was the hope, that it would." And while "everyone is still massively supportive of one another," and there is "no bad blood," and that time period "will always obviously be a huge part of my life," Oberst says, the reality that Saddle Creek, as a collective notion, had been replaced by a business, was at once bittersweet and liberating. "I don't have any special information on any of this, it's just my speculation," he says, "but, if you get [Mac McCaughan and Laura Ballance of Merge, Ian MacKaye of Dischord] to sit down on a couch and really talk honestly about those labels, I bet it may have started one way but at a certain point it turned into a real record label, in the sense that it was doing business."
(Ballance agrees. "What he said is true," she told me. "We realized at some point that it wasn't just fun and games anymore. As we started to have some level of success, and then employees, it meant we had a responsibility to keep them employed and be bosses. Bands started to have expectations. We had to be more serious about all of it. Sometimes," she adds, "I feel nostalgic for the days when we didn't make any money, but it was just fun. We would just get together and drink beer and put seven-inches together and eat pizza.")
Do you feel like punk is a childish concern then? I ask him. Is punk for kids?
"I've never quite heard it said like that," he says, hesitantly. "But I can't completely disagree with you."
The next afternoon, after another radio visit to WFUV in the Bronx, Oberst and Bartolomei are running late for a taping of The Dinner Party Download, a beloved culture show from American Public Media that's hosted by Rico Gagliano and Brendan Francis Newnam, a trim thirtysomething with shoulder-length brown hair and a wool scarf knotted at his throat. It being Friday, the midtown office is mostly empty and silent, save for the drone of Canadian public television, which is also produced here remotely. "While we wait," Newnam tells me, half-jokingly, "maybe you can interview me." He stands up at his cubicle so I can see him from a nearby waiting area. "The first time I saw Conor he was 19 years old," he says, "It was at the Khyber Pass in Philadelphia, and I remember him begging people after the show to tell him where the after-party was." Newnam takes a moment. You can feel him work out the math in his head, the amount of time that has flown by since. "This was pre-'emo'," he says, smiling. "As a movement or a phrase."