After taking the afternoon shift yesterday at New York's Le Poisson Rouge for the debut live performance of their new single "Rent I Pay," Spoon has shared the studio recording of that track in the form of an "unofficial" video posted to their official Youtube channel.
As the first single for They Want My Soul, the much-teased "Rent I Pay" is a suitably subdued number. It settles quickly into that dusty, midtempo, guitar-driven sweet spot that the Austin quintet has made their own over the course of seven studio records. The minimal performance clip features little more than a silhouetted Britt Daniel running through the track, but its stripped-down lightplay functions as a pretty salient analog to the track's brooding, bruising atmosphere.
They Want My Soul is out August 5 via Loma Vista. You can stream "Rent I Pay" above or at Spotify, and download it on iTunes. Check the new album's track list and cover image below.
They Want My Soul track list: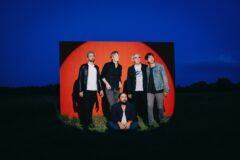 1. "Rent I Pay"
2. "Inside Out"
3. "Rainy Taxi"
4. "Do You"
5. "Knock Knock Knock"
6. "Outlier"
7. "They Want My Soul"
8. "I Just Don't Understand"
9. "Let Me Be Mine"
10. "New York Kiss"