Spoon will either be dying or releasing something on June 10. The Austin-born band on Wednesday updated their Facebook, Instagram, YouTube, and Twitter profiles with the ominous image you see above: white letters on a black background, reading, "SPOON R.I.P. JUNE 10." Most likely it'll be a single, but the group's eighth album has reportedly been done since March, when we shared that noisy and mysterious video preview, so perhaps they'll release it all.
And a few concrete details are actually known, too. Yesterday, Billboard reported that Spoon left their longtime home of Merge Records for Loma Vista (St. Vincent, Little Dragon, Rhye, Manchester Orchestra), which is distributed by Universal Republic. The release of the album is also supposed to coincide with the start of their summer tour, which kicks off May 31 at Primavera Sound and lands stateside for Governors Ball on June 7.
Lastly, a year ago, frontman Britt Daniel announced that "the shit is sounding good" in a newsletter update. He also revealed the names of eight songs: "The Rent I Pay," "Naff Bag," "Millionaires," "Let Me Be Mine," "Modern Girls," "I Ain't the One," "Fresh From Your Pages," and "Give Me It." In an interview with SPIN, he told us his main band's next effort was sounding "slightly more R&B." We're guessing he meant more Sam Cooke than Aaliyah.
Stereogum reports that the above image has apparently appeared on billboards around Brooklyn as well — the fan-uploaded Instagram post below may confirm that, though it's tough to tell. Spoon shared the tour teaser at the bottom of this post in early May.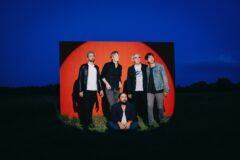 //www.youtube.com/embed/hocytKSntfE?rel=0