Spoon have shed a little light on the follow-up to 2010's sleeper triumph Transference. The Austin, Texas indie-rock heroes have been teasing something for June 10 with the words "R.I.P.," and what that is still remains unclear. On August 5, though, they'll release new album They Want My Soul via new label home Loma Vista (that marks a departure from longtime label Merge).
Over at NPR, hear snippets of new songs "Knock Knock Knock," "Inside Out," the title track, and a cover of Ann-Margret's "I Just Don't Understand," a 1961 song that frontman Britt Daniel said he recorded for Rookie but opted to save for the album. For They Want My Soul, Spoon worked with outside producers for the first time, starting the project with Joe Chiccarelli (Morrissey, My Morning Jacket) and wrapping it up with Dave Fridmann (Flaming Lips, MGMT, Sparklehorse). Alex Fischel, who played with Daniel in Divine Fits, has joined Spoon on synths.
Daniel told SPIN last year the new Spoon LP would be "slightly more soul." In the NPR interview, Daniel said the title track of They Want My Soul was inspired by various "soulsuckers," including the same middle-school bully who inspired "Jonathan Fisk," from the band's 2002 touchstone Kill the Moonlight. "It's a song about religious pretenders, manipulators, educated folksingers, people that bring me down," Daniel said. "And Jonathan Fisk was one of them, for sure."
He added: "We actually became friends later … He became a big Spoon fan."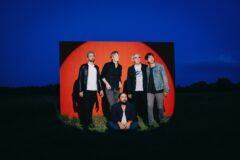 Watch Spoon perform a raucous new song at Primavera Sound below, and scroll down for their tour dates.
//www.youtube.com/embed/F4F0RGtIGig
Spoon tour dates:
June 5 – Porto, Portugal @ Optimus Primavera Sound
June 7 – New York, NY @ Governors Ball Music Festival
June 14 – Vancouver, British Columbia @ CBC Music Festival
June 21 – Toronto, Ontario @ NXNE Festival
June 22 – Minneapolis, MN @ Walker Art Center
June 26-28 – Las Vegas, NV @ Brooklyn Bowl Las Vegas
July 12-13 – Telluride, CO @ The Ride Festival
July 18 – Louisville, KY @ Forecastle Festival
July 25 – Seattle, WA @ Capitol Hill Block Party
August 2 – Chicago, IL @ Lollapalooza
August 8 – Los Angeles, CA @ The Fairbanks Lawn of the Hollywood Forever Cemetery
August 10 – San Francisco, CA @ Outside Lands
August 17 – Portland, OR @ Musicfest NW
August 30-31 – Philadelphia, PA @ Made in America Festival
September 5 – Raleigh, NC @ Hopscotch Music Festival
September 7 – Boston, MA @ Boston Calling Music Festival
October 3-5 – Austin, TX @ Austin City Limits Music Festival
October 10-12 – Austin, TX @ Austin City Limits Music Festival