Sunday night, Kurt Cobain's daughter Frances Bean Cobain took Lana Del Rey to task on Twitter for her recent comments that seemed to glorify the idea of dying young. Del Rey went as far as saying that she wished she was dead already, a statement that set the younger Cobain off since it stemmed from an earlier discussion of Kurt. Though she'd already backed away from those comments once, Del Rey fired off a couple tweets of her own as a means of explaining her Guardian interview.
In response to Cobain's tweets, the New York-based songwriter said she liked Kurt "because he was talented not because he died young." She noted that her affinity for the Nirvana frontman "wasn't really related" to her comments about seeing an early death as glamorous, before further clarifying that she doesn't "find that part of music glam[orous] either."
Cobain has yet to respond to Del Rey's tweets, but given that the Ultraviolence singer only responded obliquely to her criticisms, this could be the end of this brief flare-up.
You can read Del Rey's brief new comments in context below.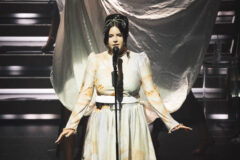 @alka_seltzer666 it's all good. He was asking me a lot a out your dad I said I liked him because he was talented not because he died young-

— Lana Del Rey (@LanaDelRey) June 23, 2014
@alka_seltzer666 the other half of what I said wasn't really related to the people he mentioned/ I don't find that part of music glam either

— Lana Del Rey (@LanaDelRey) June 23, 2014