In our review of her new album, Ultraviolence, we said Lana Del Rey had beat the Internet's attempts to rob her of her mystery. Well, now it looks like the web may be back on top. Turns out, LDR's upset over a recent Guardian profile that quoted the "Shades of Blue" singer saying, "I wish I was dead already." The statement picked up a lot attention for the article, making for a tasty bit of pop culture news for the day.
As the story goes (the literal story published by The Guardian), interviewer Tim Jonze asked "if she sees death as glamorous." And when she said "yeah," he instictively told her not to say such a thing. Then she responded, "I do! I don't want to have to keep doing this. But I am." Him: "Do what? Make Music?" Her: "Everything. That's just how I feel. If it wasn't that way, then I wouldn't say it. I would be scared if I knew [death] was coming, but …"
Jonze opened his article with this bit of their 70-minute conversation, sparking outrage from Del Rey. In a series of Tweets that have since been taken down, the melancholy songstress blasted Jonze (though confusing him for Guardian critic Alexis Petridis) and his intentions.
She wrote, "I regret trusting the Guardian. I didn't want to do an interview but the journalist was persistent. Alexis was masked as a fan … but was hiding sinister ambitions and angles. Maybe he's actually the boring one looking for something interesting to write about … His leading questions about death and persona were calculated." See the screen-capped tweets below, via The Guardian, and read on for Jonze's response.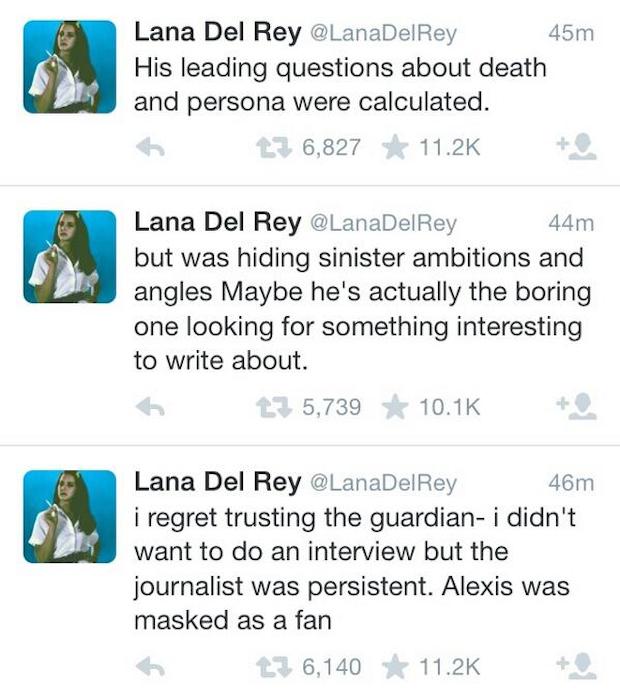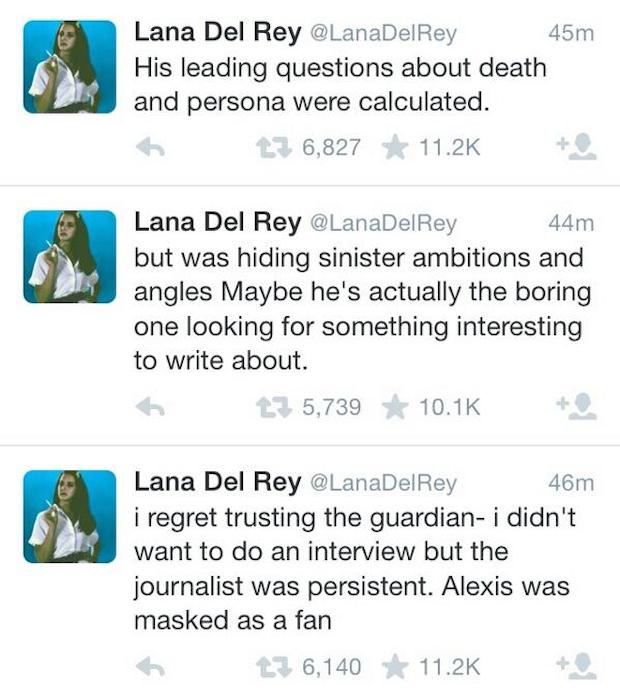 Jonze spoke up in his own defense, writing an essay for The Guardian website, taking aim at the singer's complaints, and pointing out that it's unclear what she's actually complaining about:
Besides the fact Lana doesn't remember who actually interviewed her, there are a number of things about her statement that sound a bit iffy to me. She may well have not wanted to do the interview but it certainly didn't seem like it — she was delightful company for the 70 minutes we spent talking, and was happy to continue over the allotted time when the PR knocked on the door, an hour in, and asked how we were getting on. I was not "masked" as a fan, I genuinely like her music and really liked her too — her life story is fascinating, she was refreshingly open when answering even the most difficult question and she seemed completely in love with music. As for the rather vague "sinister ambitions" she claims I had — well, my colleagues sadly refused to comment on how sinister I am, but they were all adamant that I'm "not in the slightest bit ambitious". Thanks, guys.
It's not pleasant asking a pop star if she thinks the idea of dying young herself is attractive — it's a dark question, but it's not a leading one. She has every opportunity to say no. And she can hardly complain about the subject matter: she'd been talking about her icons all dying young, she named her debut album Born to Die and had spent much of the 50 minutes previous to this point telling me how miserable she was.
Ultimately, the problem with Lana's complaint is that she doesn't seem to know what she's actually complaining about. She's not alleging that I made up her quotes, nor is she claiming that they've been "twisted" or that we've printed them out of context. Instead she seems annoyed by the fact I wanted her to say interesting things and asked questions that caused her to do so. Well sorry, Lana, but that's just me doing my job.
Jonze also posted the audio from the portion of their interview, which you can listen to here:
Del Rey has not issued any further response.