Lana Del Rey made her latest waves in a Guardian profile where she talked about the appeal of dying young, going as far as saying that she wished she "was dead already." Though she eventually disavowed those statements, Sunday night (as Faster Louder points out) Kurt Cobain's daughter Frances Bean took to Twitter to react to those comments with some life-affirming words.
"The death of young musicians isn't something to romanticize," Cobain said in a string of tweets directed at Del Rey. "I'll never know my father because he died young and it becomes a desirable feat because people like you think it's 'cool.' Well, it's fucking not. Embrace life, because you only get one life. The people you mentioned wasted that life. Don't be one of those people. You're too talented to waste it away."
The Ultraviolence singer has yet to respond to any of the tweets, but after a number of her fans jumped to her defense, Cobain felt the need to clarify her intent.
"I'm not attacking anyone," she tweeted later. "I have no animosity towards Lana, I was just trying to put things in perspective from personal experience."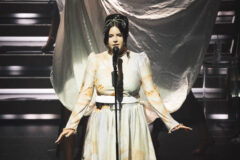 Cobain was one-and-a-half years old when her father killed himself at the age of 27 in 1994. You can read the whole string of tweets in context below.
@LanaDelRey the death of young musicians isn't something to romanticize (cont)

— Frances Bean Cobain (@alka_seltzer666) June 23, 2014
@LanaDelRey I'll never know my father because he died young & it becomes a desirable feat because ppl like u think it's "cool"(cont)

— Frances Bean Cobain (@alka_seltzer666) June 23, 2014
@LanaDelRey Well, it's fucking not. Embrace life, because u only get one life. The ppl u mentioned wasted that life.Don't be 1 of those ppl

— Frances Bean Cobain (@alka_seltzer666) June 23, 2014
@westcoastkilos @LanaDelRey I told her to not waste her life. How is that attacking. I literally said embrace this life because u only get1

— Frances Bean Cobain (@alka_seltzer666) June 23, 2014
@LanaDelRey ur too talented to waste it away.

— Frances Bean Cobain (@alka_seltzer666) June 23, 2014
I'm not attacking anyone. I have no animosity towards Lana, I was just trying to put things in perspective from personal experience.

— Frances Bean Cobain (@alka_seltzer666) June 23, 2014