Based on last week's interview on Letterman, it seemed that Dave Chappelle's return might mark a mystical version of the performer, content to conceal the reasons for his departure from his wildly popular TV show behind a veil of surreality. But Friday night on The Tonight Show With Jimmy Fallon, the once and future standup comedian dealt in more concrete terms, discussing his love for music and its eccentric characters in advance of his upcoming residency at Radio City Music Hall.
Fallon steers clear questions about the comedian's disappearance from The Chappelle Show in favor of asking about Chappelle's relationship with his own house band the Roots. Curiously enough, Chappelle first met the Questlove-led crew in Portland, Maine, after he was once mistaken for a member of the band in a shopping mall.
Chappelle also finally commented on his inclusion on the cover of Prince's "Breakfast Can Wait" single, which he praised as a "judo move."
He then repeated that story about his first time hanging out with Kanye West, a then relative unknown who was name-checked on Jay Z's Black Album. Though he'd previously spun the yarn about palling around with Yeezus, Talib Kweli, and Common, Kanye's assertion that his "life is dope, and [he does] dope shit," never gets old.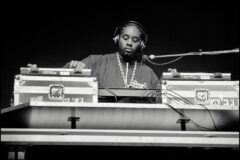 You can watch the whole interview above, and catch Dave Chappelle at Radio City Music Hall from June 18-26 alongside the likes of the Roots, Nas, Janelle Monae, Erykah Badu, and more.