Of all the cool things to pop up recently surrounding Nirvana's Rock Hall induction and the anniversary of Kurt Cobain's death, Australian radio station Triple J has found one of the most unique. On Thursday, they published audio of a 1992 interview with the band that had pretty much been lost in the ether since, and thanks to the trio's exhaustion with suddenNevermind fame, the results are awkward and amazing.
The chat happened during Nirvana's only tour of Australia, when they headlined the first Big Day Out festival. "That chat was one for the ages — but for all the wrong reasons," Triple J writers. "Tired, sick, and also just sick of the rigmarole of being the biggest band in the world, Kurt and bandmates Dave Grohl and Krist Novoselic gave one of the most awkward and confrontational interviews we've ever had on triple j."
Confrontational is certainly one way to put it. They somewhat play along with host Jen Oldershaw's questions and meet a few with mostly silence, and at one point, Cobain takes a scissor to the microphone. Apparently, Cobain kept his head on the desk of the studio for a portion of the interview and also does a Tom Waits-like voice when talk about vocal issues.
The bandmates really comes alive when asked about how their success opened doors for fellow grunge artists, and how they don't see themselves having a long career. "Most independent bands don't last more than five years anyhow, so who cares [if labels aren't in it for the music]?" Cobain says. "[It] means we'll get some money out of it instead of being ripped off by [Greg Ginn of Black Flag's label] SST for five years." Adds Dave Grohl, "Who wants to end up like the Rolling Stones 40th anniversary thing anyway? You don't to make it seem like a career."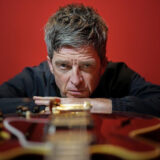 According to Triple J, Eldershaw thought the interview was so bad that she erased it from the station's logs, but some enterprising Nirvana fan taped it off the radio, making this the only copy known to exist. Hear the hilarious, uncomfortable results below.