On Wednesday night, Earl Sweatshirt and Lionel Boyce became one. They were no longer the Odd Future MC behind the incredible Doris album, and the twisted mind that co-created and stars in Adult Swim's Loiter Squad. Nay, they morphed into DJ Billy Jole, and SPIN was there to witness the transformation. It happened at Haus of Strauss, the annual Levi's party that takes place between Coachella weekends at the spacious Levi's Haus in Hollywood. The "DJ tandem" (don't call 'em a duo) wore excess amounts of acid wash and rocked headsets in stark contrast to the space's dark wooden floors and animal-skin rugs. And if you ask them how their debut performance went, there is only one possible answer.
They won.
But how much did they win over the course of the evening? DJ Billy Jole started their night finalizing their playlist and launching a Twitter account. They had a drink named after them, albeit erroneously (sip the "Billy Joel Buzz"). They opened for R&B insider/outsider Solange and Big Boi from the freshly reunited OutKast (also DJing). And their set — which included selections from Black Sabbath, R. Kelly, and Juelz Santana, to name a few — was assisted by Tyler, the Creator, who, wearing a cowboy hat and matching Levi's acid-washed denim, coerced the clearly star-struck and motionless attendees into dancing. The barrages of gunshots, air horns, and sirens also helped.
And when Sweatshirt shouted out at the crowd, "We don't care. We actually don't care," he could be seen beaming ear to ear. Odd Future co-manager Christian Clancy declared DJ Billy Jole's inaugural performance an "unbelievable success," because it was. But before DJ Billy Jole hit the decks, SPIN sat down with Earl and Lionel to discuss their brief but illustrious career thus far, and to find out what the future holds for two men (one tandem) who are absolutely incapable of losing.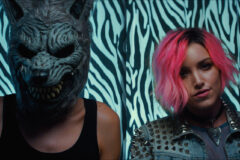 Who or what is DJ Billy Jole?
Earl Sweatshirt: Pretty much a collaborative effort toward eliminating losers.
Lionel Boyce: We DJ parties and we don't lose. Two things you need to know about us.
Are you big Billy Joel fans?
Sweatshirt: No. I've never heard a Billy Joel song.
Boyce: Nah. Not even once.
You haven't heard "Piano Man?"
Sweatshirt: I've heard "Piano Man." That song is pretty cool.
Boyce: That's a cool song. That's chill.
If you're not Billy Joel fans, then how and why did you choose the name?
Sweatshirt: We walked around introducing ourselves to people and it just fucking stuck. It sold itself. You put a name like that on someone and they're fucking tantalized, they're eating out of the palm of your hand. Nine times out of 10 — every time.
Boyce: Power moves.
Will you record together under the DJ Billy Jole name?
Sweatshirt: We don't want to close any doors for ourselves. We're just kind of leaning into the whole DJ thing.
How long have you two been DJing?
Sweatshirt: We started putting together playlists in the car. Roughly two and a half hours.
Boyce: That's how long we've been a DJ tandem.
Sweatshirt: No, we've been a DJ tandem for some months now.
Will you curate a DJ Billy Jole mixtape at some point?
Sweatshirt: I think there's a tour.
Boyce: There might be a tour. Worldwide tour.
Sweatshirt: I think there's 100 percent a tour, actually. Billy Jole is in your city fucking shit up.
Boyce: Every city.
Sweatshirt: Doing your party.
Boyce: Every party.
Sweatshirt: And not losing.
Boyce: Never. Period.
What kind of music do you see yourselves spinning?
Sweatshirt: Party.
Boyce: Every music.
Sweatshirt: Every party.
Boyce: We don't limit ourselves. We don't put ourselves in a box. That's not what we do around here. We just get up and play that music for as long as they need us to.
If that's the case, where have DJ Billy Jole played before?
Boyce and Sweatshirt: [Hysterical laughter.] Nowhere.
What's a song you might play that many people wouldn't know?
Sweatshirt: Ghost Town DJs' "My Boo." Psyche! That's the fake song for you, that you can tell people.
Boyce: We can't let you know what that is. You just have to listen to the music, to the rhythm.
If the dance floor seems dead, what are some songs you might play to get the crowd hyped again?
Sweatshirt: "War Pigs" by Black Sabbath.
Boyce: Gospel music.
Sweatshirt: Really recent gospel. Not like good, old soulful gospel; like 2004 electronic, weird, and really bad gospel.
Who are some artists that you, as a DJ tandem, both enjoy?
Sweatshirt: Black Sabbath, Prince, El DeBarge, Dru Hill, early Alicia Keys.
Boyce: Back when she had the braids. I like a lot of Brandy. I call her Moesha.
Sweatshirt: Yeah, braids Alicia Keys. Who else? Mario.
Boyce: German industrial.
Do you like Kraftwerk?
Sweatshirt: Nah. Just German industrial.
Are there any German industrial artists that come to mind?
Boyce: Hookska. [Editor's note: This isn't a real artist.] I love his music.
Will you use Serato or…
Boyce: This [iPad] right here. This is all we need.
One iPad for the two of you.
Sweatshirt: We didn't have it in our budget to get another one.
How long does it take you to put together a playlist?
Sweatshirt: We're still putting it together. We'll probably still be putting it together during the set. I'm going to be completely honest, this could be a complete train wreck. But the beauty of it is that whether we go out there and fucking kill it or whether it's a complete mess, we fucking killed it — thesis of the night.
Boyce: [Touches headset.] There's no one on the phone.
Sweatshirt: I'm not talking to anyone. This is not connected.
What's the next step for DJ Billy Jole after tonight?
Sweatshirt: The fucking road, bro. And probably not lose some more.
Boyce: Just go out and do more parties, focus on not losing.
What would be "losing" for you guys?
Boyce: I don't know. I've never seen losing. That doesn't make sense.
Sweatshirt: That's a pretty foreign concept to me.
What is the DJ Billy Jole definition of winning?
Sweatshirt: Can I ask you something? [Gestures to jeans and jacket.] Have you taken a look over here?
How did you decided on the headsets?
Sweatshirt: Bro, you just know. It just made sense. If you're going to the beach, you need a towel. We're going to do a party and we're not losing — Brick, I need a headset.
Boyce: Two of them.
Where do you see DJ Billy Jole in five years?
Sweatshirt: Tour, top of the world, billionaires.
Boyce: Billionaires.
Sweatshirt: Probably dangerous animal owners. Definitely. No questions asked.
Boyce: Still in acid wash for sure. Still not losing.