Coke-rap fans can get out the champagne, but they might want to keep it on ice. Clipse have done everything possible to signal a new album is in the works except definitively confirm a new album is in the works.
On January 6, Karen Civil reported, without citing any source, that photos Clipse half Pusha T posted on Instagram recently of Pharrell Williams his Neptunes partner Chad Hugo were "evidence" of the beloved rap duo working on a new project. Pusha T linked to the Karen Civil blurb on Facebook, writing, "Clipse working on new album." Then he deleted his Facebook post. All together now: Eughk.
There's no immediate word from Pusha T's camp on why he scrubbed the Facebook confirmation. Pusha T had previously announced he would be going into the studio with the Neptunes to work on a new solo album, King Push, the follow-up to last year's My Name Is My Name (one of SPIN's 40 Best Hip-Hop Albums of 2013).
Clipse's cult still has reason to hope for a new album, which would be the pair's first together since 2009's Til the Casket Drops. Early last year, Pusha T told MTV that if he and brother No Malice (né Malice) record a fourth album, it will be titled As God as My Witness. Separately, Pharrell assured MTV last year that Clipse would record a new album. "I'm gonna have to find an untapped zone and just present something different that people haven't felt before," he said.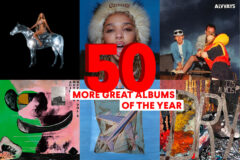 It's not all positive, though. Pusha T told the BBC late last year he'd "love" to reunite with No Malice, but that his partner in Clipse had already turned down lucrative reunion concert offers that would've marked the 10-year anniversary of debut album Lord Willin'. "My brother is really on his mission right now," he said. Around the same time, he told Murder Dog Magazine, "Yeah, I'm not running with my brother right now."
No Malice, too, has been pouring cold water on a possible reunion. He told XXL late last year he wasn't exactly ready for a new Clipse album, at least as things stood then. "I believe my brother and I… we can get together and pull off anything," he said. "But as far as my beliefs and as far as me facilitating anything that brings death, destruction and demise, I'm not going to do that."