Two months after Drake deigned to remix Migos' "Versace" from the Young Rich Niggas mixtape, pushing the already-buzzing group closer to the mainstream (and inspiring dozens of remixes), a video for the song has finally arrived. The timing is strange and perhaps a little "late" by Internet-scouring rap standards, but it speaks to the Atlanta trio's confidence. Or maybe they just finally scraped up a proper budget to represent this gleefully monotonous fashion-shout-out track?
The video for "Versace" is over-the-top decadent: Set in a Jay Gatsby-big mansion, it features an unrestrained tiger (who gracefully runs down marble steps), an oversized chess set, a twerk-joke interlude that somehow crams in the strange spaghetti Western beat to less ubiquitous Migos hit "Hannah Montana," and of course, lots and lots of Versace clothing. The thing looks expensive, recalling '90s rap-video excess as exemplified by Puffy and company, which makes sense, as Biggie was an early proponent of Versace. The grandeur of the clip basically amounts to trolling in 2013, when rap videos — even the supposedly expensive ones — are cutting corners and done on the cheap.
Yet director Gabriel Hart (who also made Young Jeezy's "My President" clip) adds a viscerally appealing but grotesque sheen to it all, evoking Watch the Throne's gauche embossed-gold cover (which seemed to roll around and rub money all over itself) while touching on the fleeting, daunting qualities of wealth. It's fitting for a group like Migos, who despite seeming superficially mindless, have a way of injecting some truth into their songs by way of, say, numerous tone-shifting references to the tragedy of Hurricane Katrina. (Or consider their initial street hit, "Bando," which was about selling drugs out of abandoned and/or foreclosed homes.) Also hovering in the background of their success is the sobering fact that third member Offset has been in jail for much of the group's rise. These guys are a little more heavy-hearted than they get credit for.
So yeah, "Versace" is silly fun, but hidden within is an expression of hip-hop's increased sophistication as well. Almost 10 years ago, there was Kanye West, on the knotty, conspicuous consumption rumination "All Falls Down," rapping, "Rollies and Pasha's done drive me crazy / I can't even pronounce nothing, 'Pass that Ver-say-cee?'" He was clowning his pretensions (it'd be cool if he remembered to do that in 2013, actually), but he was also, as a backpack-rap-raised contrarian, delicately stepping into the rap world that joyously shouts out luxury brands. So he half-jokes his evolving taste away. A decade later, here's Migos, far more "street" and superficially further removed from the world of Versace, repeating the word proudly and rendering it meaningless, but also, you know, pronouncing it correctly.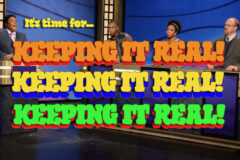 This video also features what appears be a coy cameo by Donatella Versace herself. Director Gabriel Hart told Pitchfork that it is not Donatella Versace, but in any event, the possibility of such an appearance isn't unfounded: September's Versace show in Milan ended to the strains of Drake's "Versace" remix. When you consider that corporations don't always react positively to rap shout-outs — Cristal comes to mind — Versace acknowledging the very existence of a Migos is a minor but important victory. Take note: This isn't a song by an unabashed corporate dude like Jay Z or a hammy fashion fiend like Kanye West. We're talking about Migos, three quirky Atlanta trap-rappers who are just now sneaking on the radio. Which means Donatella Versace is about as with it, rap-wise, as rap radio.
Coupled with that bizarre, no-looking-back moment when 2 Chainz and Grimes wore the same Versace slacks to the MTV Music Video Awards, this is a through-the-looking-glass moment for fashion and hip-hop. Consider this: There is the illusion of a Donatella cameo in this clip, but Drake is nowhere to be found. Whether Dizzy's absence was the result of scheduling conflicts or a conscious decision by the group to stand alone (Drake surely got as much out of riding for Migos as they got out of him, turning their remix into a Drake song and then adjusting their flow on Nothing Was the Same's "The Language"), it feels like a big-swinging-dick move not to include him. The whole thing feels that way, really: like the duo stormed the set of a rap video for someone theoretically more important and took it over. Migos represent a fascinating new way for rap upstarts to achieve upward mobility:outsider-insiders arriving on their own terms, accepting a little industry rub-off, and then running away to do whatever they want with it.