Atlanta's three-level Phipps Plaza mall is divided into two sections: Monarch Court and Court of the South. Head to the latter for the Versace outpost, its sparse displays lined with purses and scarves in flamingo pink and amethyst purple, bright colors that pale in comparison to the trademark Medusa emblems and gold Greco prints that first inspired the three young men in Migos to craft "Versace," their Internet-borne breakout hit.
"It really just started as a saying around the crib," says Quavious Marshall, 22, lounging at an Atlanta studio belonging to the group's manager, Coach K. "Versace."
Sitting nearby on this early July day is Marshall's 19-year-old nephew, Kirshnik Ball, a.k.a. Takeoff, who chimes in with the song's ubiquitous hook: "Versace, Versace."
Quavo, Takeoff, and the Quavo's 22-year-old cousin Offset (real name: Kiari Cephus), recorded the viral (more than three million YouTube views), Drake-featuring "Versace" remix with the Phipps Plaza store in mind. (The guys grew up 26 miles away in their sleepy, suburban hometown of Lawrenceville, Georgia.) But while the store in question sells streetwear-inspired gear like studded sneakers, Takeoff gravitates more toward sunglasses featuring a bedazzled Greco print at the hinges, just like Biggie used to wear.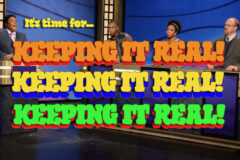 Otherwise, though, Migos ride almost exclusively for Southern rap. Takeoff still fondly remembers buying Young Buck's 2007 album Welcome to the Traphouse at an Athens flea market, and all three members grew up loving Hot Boy$ and OutKast. You can also hear their affection — and influences — in the way that each MC bears a strong vocal resemblance to a more established regional star: Takeoff to Soulja Boy, Quavo to Gucci Mane, and Offset to Future. Though these newcomers sound like mainstays, they also rap with feverish, young-buck excitement.
Last month, Takeoff wore his B.I.G. glasses during two remarkable firsts: On June 15, Migos performed at rap radio station Hot 107.9's Birthday Bash, the Atlanta equivalent of New York City's fabled Summer Jam, and met surprise guest Drake, who approached Quavo and Takeoff backstage and raved about the trio's just-released mixtape, Young Rich Niggas, and even reeled off his favorite tracks: "Bando," "R.I.P.," "Pronto," and "Adios."
"I was just eating wings, so when I turned around, I had sauce in my hands," recalls Quavo, his voice hoarse. "When Drake shook my hand, I know that he had some sauce in his hand."
No harm no foul. Two days later, Drake texted one of the group's managers, looking to add a verse to a Migos track. The group offered him three possibilities. He picked "Versace."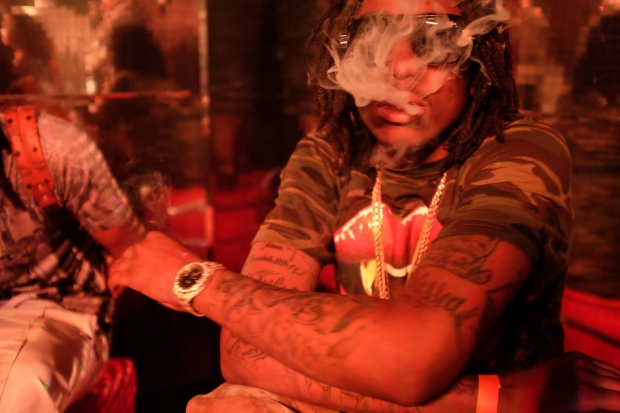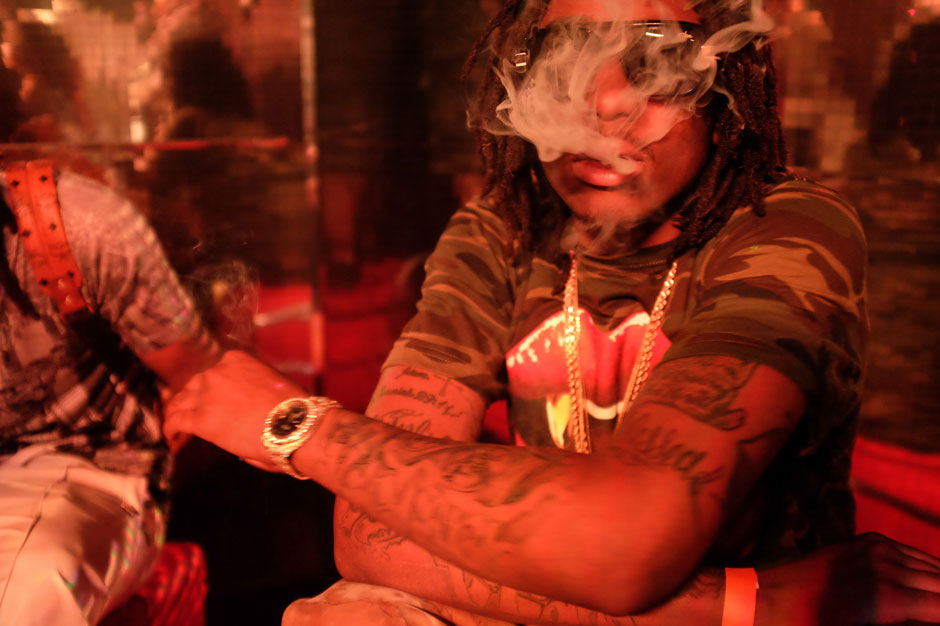 A week after the fateful meeting, on June 22, Drake announced the release date for his third album, Nothing Was the Same, and posted four new songs on his website, including the reworked "Versace." The song soon hit local radio and drew national attention to Young Rich Niggas. The New York Times ran a review; Justin Bieber lip-synced part of Drake's verse in an Instagram video. By early July, Migos had lined up 19 straight days of gigs and a week-long press junket in New York.
"There ain't nothing that we need to be worried about," Quavo says of the group's rapid rise. "We just need to be in the right lane where everybody else be in the left lane."
His and Takeoff's only regret thus far is that Offset couldn't perform at Birthday Bash with them. Since late January, he's been in jail after taking a plea to a probation violation charge. ("That's something we don't handle," Quavo says when pressed for specifics, although he discloses that Offset should be out by the end of this summer.)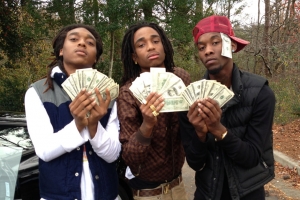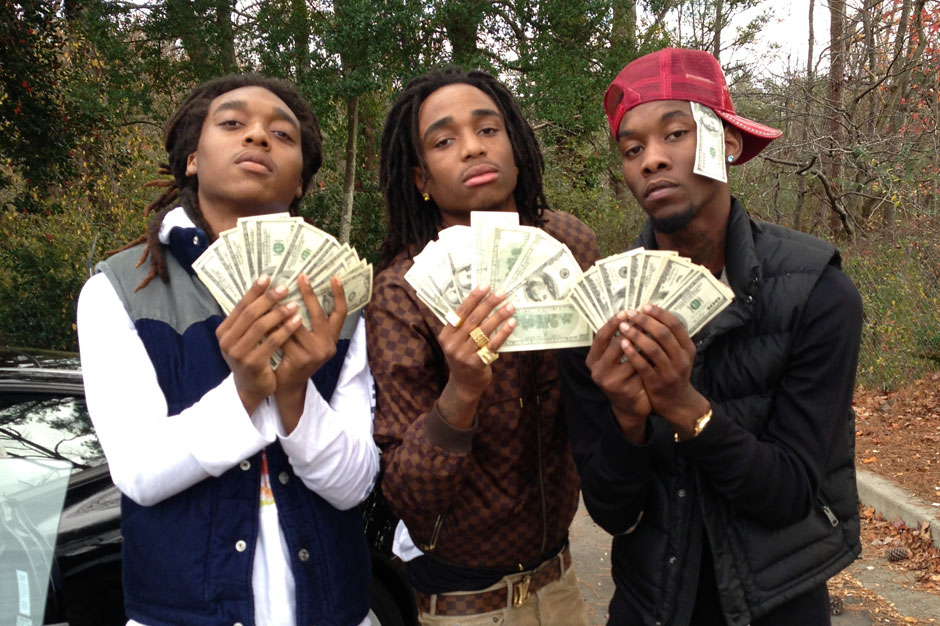 "We got a game of Double Dutch going, but he can just jump right in," Takeoff says. ("He callin' in verses," Quavo adds.) "He's not going to trip up. He's going to hop right in the flow, just like us."
The incarceration was both bad luck and a positive harbinger. In February, Migos hired local artist-manager Coach K, aka Kevin Lee, who'd previously overseen Young Jeezy and Gucci Mane's careers, to help guide the group. Up till that point, they'd released three mixtapes and earned one club-turned-local-radio hit, the nonchalant "Bando," from 2012's No Label. But the guys desperately wanted to perform at Birthday Bash, and Coach K promised they would.
Lee first heard about Migos from Gucci Mane (who'd joined forces with the trio on this year's "Walk in with Me") and area super-producer Zaytoven, who helmed "Versace" and a few other Migos tracks after stumbling upon "Bando" during downtime at a Yung L.A. recording session. That's the same song Brian Hightower, who DJs for HOT 107.9 under the name BHigh, heard at Club Blow in the city's Southwest section, where he witnessed patrons rapping along to the still-unknown trio. Whether they first encountered the group's work in the studio, on the radio, or in the club, the manager, the DJ, and the producer all heard potential in Migos. Coach K pins the group's appeal to its seemingly boundless energy; BHigh points to a local hunger for new stars after the city witnessed Future's warbling and 2 Chainz's punchline-dropping lead to major-label success.
"The kids are co-signing their music," says BHigh. "They're not gonna co-sign anything that's wack."
"Everyone asks, 'What is it?'" Zaytoven adds. "When I was showing them to other people, they didn't really get it." Historically, this is a good sign: "That's exactly what they said about Future and Gucci."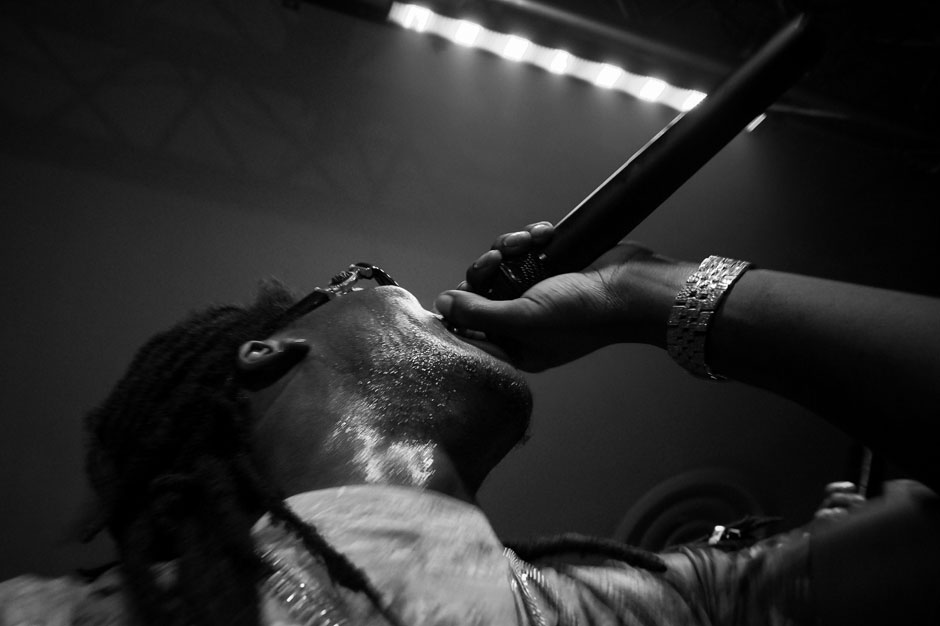 Coach K swears that Quavo told him that if Migos didn't perform at this year's Birthday Bash, they were going to quit music. Once the starting quarterback of the Berkmar High School Patriots in Lilburn, Georgia, Quavo dropped out during his senior year to focus on rap. The trio already had recorded and passed out mixtapes under the name the Polo Club, but in 2010, rechristened Migos, they'd targeted new clubs and created a new routine: Hit Mansion Elan in Atlanta on Fridays and Obsessions in Decatur on Saturdays, buying the DJ a drink and asking him to play a Migos song — didn't matter which one. Eventually, revelers would recognize the lilting hook to "Bando": "Trapping out da house / With the boards on the windows / Trap out da bando." A Quick Migos jargon lesson: The threesome refers to its Lawrenceville house as "da bando," for reasons the'd rather not explain. "People just started messing," Quavo says, "But I don't really want to talk about it."
Coach K attributes the group's work ethic over the past three years to a drive to overcome personal pain: Quavo was four years old when his father passed, while Takeoff and Offset's respective dads abandoned them early, leaving Quavo's mother to often care for all three under one roof. (Migos are now looking to purchase a five-bedroom house in Atlanta proper.) That rapport has led them to work quickly: When they're in recording mode, the trio aims to pump out five tracks a day. "It should take you 15 minutes to make a song, and then get out of there," says Quavo.
"They lookin' at us acting like we crazy," is how Takeoff says collaborators like Trinidad James and RiFF RAFF have responded to such a wham-bam-thank-you-ma'am approach. After marathon all-night recording sessions, the guys often wake up in Coach K's studio, having fallen asleep in their chairs.
The effort has a purpose: Quavo already has three plaques tatted on his left forearm, one for each Migos mixtape, and hopes to add gold and platinum models later on. Migos go hard in the hopes that their family members will be able to stop working — Quavo's mother is a hairstylist — but they also know how thrilling it feels to crank out songs in the studio and then hear them blared from club speakers within days. They know that Versace — and "Versace" — both have power.
"We really use everything that we've had ourselves, as young black males," Quavo says about the group's fuel.
Takeoff puts it this way: "Just grind for so long."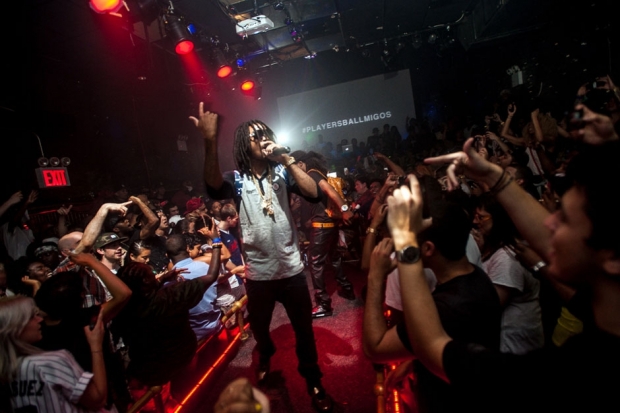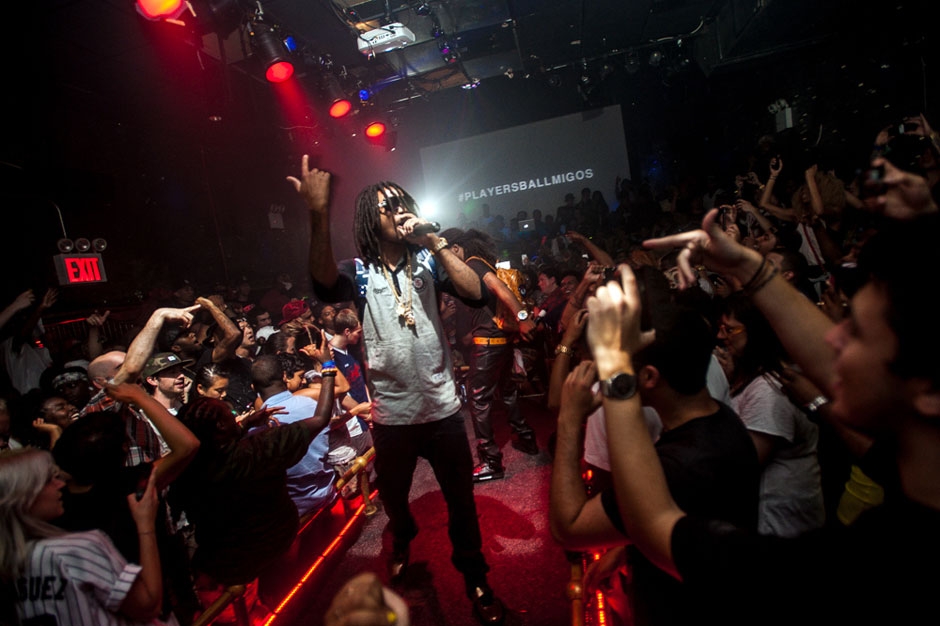 At 1 a.m. on July 6, outside the Riverdale nightclub Inner Circle, employees with megaphones try to herd the crowd outside into two lines, one for $40 admission and another for $60. It was free before midnight.
Inside, in the stage-turned-VIP section, Quavo and Takeoff sit on a red couch as friends reach out to shake hands, waitresses offer buckets of Ciroc, and photographers surround the pair, who quietly pass a cigarette back and forth. Quavo notices me sidling beside him and leans in to be heard over the booming speakers. "This shit crazy, right? You sure got a story to tell."
Later, as Migos start its performance, the crowd forms three neat rows and begins to bob. When Drake's voice blares through the speakers during his "Versace" verse, shirts start to come off. By the fourth song, the air is humid and backs are damp, though nobody seems to care. Running through tracks like the breezy "Out Da Gym" and the slightly ominous "FEMA," Quavo and Takeoff face each other as they trade verses; Takeoff removes his sunglasses as Quavo fans himself, but they never stop nodding their heads, and neither does the crowd, which fills in the gaps in Migos' verses when the DJ cuts the sound on "Bando."
Forty-five minutes later, as swiftly as they left the stage, Quavo and Takeoff turn and head back to the red couch. Two girls with high ponytails wait there, rapping along to Young Rich Niggas' "China Town." People quickly surround the rappers again, and while Takeoff cradles bottles of Ciroc and water, Quavo can't stop smiling. The two sit for few minutes, soaking it in. Then, with a nod from a member of their entourage, they stand up, leave the VIP section, cut through the crowd, and exit.
In the parking lot, "Versace" is blaring from a car stereo.
Back at the Versace store two days later, general manager Novette Pilgrim-Scott watches as a customer, a tall woman toting a Cole Haan bag, adjusts the knot on a $260 pink scarf she's considering. Both of these women credit Migos for the store's recent boom. That same customer had stopped by Versace the day before to see six people standing in line — purchasing, not browsing. Two Saturdays ago, Pilgrim-Scott was forced to shut the store's doors in order to manage the surging crowd.
She also remembers meeting the group once when they were shopping, but only because they recited their lyrics to her. As I examine a gold belt buckle, bordered by the same Greco print pictured on the Young Rich Niggas cover art, the customer who'd been contemplating the scarf walks over to the perfume stand and sprays my wrist. "Should you ever decide to purchase Versace, you should get this," she says.
I ask the women if they know a certain song, and, in unison, they chant, "Versace, Versace."