When Blur released "Tender" in 1999 as the first single from their now-classic 13, the song's mix of Appalachian-style guitar, a gospel choir, and frontman Damon Albarn's wounded uplift made it unique in the group's discography. The album followed Albarn's high-profile breakup with Justine Frischmann of fellow Britpoppers Elastica, and "Tender" was at once Blur's most overtly America-indebted song and, coming off the success of 1997's Blur and its woohooing "Song 2," incredibly unlikely to be a hit here. It was also palpably heartbroken, but its refrain still insisted, "Love's the greatest thing." Festivalgoers could sing it back to the stage like a lovesick soccer chant. In a way, it's Blur's benediction.
Not even the most Anglophilic dial-up MP3 downloader at the time would've predicted one day Albarn and Blur guitarist Graham Coxon would be performing "Tender" onstage with Oasis' Noel Gallagher, but that's just what happened over the weekend. Joined on drums by Paul Weller, himself a formidable U.K. hitmaker with the Jam and the Style Council as well as solo, the Blur and Oasis members showed once again the song's bridge-over-troubled-water powers. Performing for one of Gallagher's Teenage Cancer Trust charity concerts at London's Royal Albert Hall, they didn't have a gospel choir. They didn't need one. As you can hear in the fan video above, the crowd, recognizing the moment, sang along.
And that moment, for those unfamiliar with ridiculous beef between Blur and Oasis, was essentially the ratification of a ceasefire between these two long-running U.K. bands. Don't get it twisted: Gorillaz maestro Albarn said as long ago as October 2011 that he and Noel Gallagher had made peace. An ensuing Gallagher collaboration with U.K psych-rockers Amorphous Androgynous even showed some similarities to Albarn's work at the time with Rocket Juice and the Moon.
But Albarn and Coxon actually performing with Gallagher is something else. This is a man who once said he hoped Blur's members would "catch AIDS and die." The rivalry went all the way back to 1995, when the two groups released singles on the same day, and Blur charted higher — only for Oasis' What's the Story (Morning Glory) to make them international stars. So to see these long-embittered parties together, with Gallagher willingly strumming a Blur song, and then everyone patting each other's back at the end? Maybe Secretary of State John Kerry can broker peace in the Middle East, after all.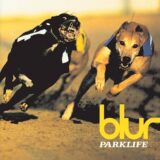 Then again, to any difficult peace, there are always holdouts. As NME points out, Gallagher's brother Liam has voiced his displeasure over Twitter, writing, "Don't know what's worse RKID sipping champagne with a war criminal or them backing vocals you've just done for BLUE." The war criminal reference isn't clear, but Liam almost certainly meant "Blur," not Blue. Heal us:
Don't know what's worse RKID sipping champagne with a war criminal or them backing vocals you've just done for BLUE ! LG x

— Liam Gallagher (@liamgallagher) March 25, 2013