Pissed Jeans: The Curious Case of an Unrequited Hard-On
The upstanding family men and office workers of this noise-punk enterprise rarely play live and keep their musical pursuits mostly private. But could this finally be Pissed Jeans' turn in the center of the squared circle? DAVID BEVAN meets the band that has created 2013's most searing, searching, terrifyingly nuanced hunk of hardcore fury. For adults only. Dessert will be provided.
Three-quarters of Pissed Jeans grew up together in Nazareth, a semi-rural town of roughly 6,000 in Eastern Pennsylvania's Lehigh Valley region. And while founding guitarist Bradley Fry remembers a teen attraction to death-metal titans like Deicide and Morbid Angel, he and Kosloff and bassist Randy Huth became quickly engrossed in the Valley's vibrant local hardcore scene. "When we were younger, we'd play music every day," Fry says. "There was a definitive end to Nazareth, and from there, it was cornfields. That was a little isolating.
The three linked up for the first time in high school as Citizens Unheard, and have, in various incarnations, recorded music together ever since, including the masked, professional wrestling-inspired outfit, Ultimate Warriors. (Before joining in 2007, Huth, 32, played on his own as Randy of Nazareth and with stoner-metal outfit Pearls & Brass alongside Kosloff and longtime friend Josh Martin, a.k.a. Daughn Gibson.) But it was on a West Coast tour with the Gatecrashers in 2003 that Fry and Kosloff began discussing what would become Pissed Jeans. "We were playing in fast hardcore bands and that was great," Fry, also 32, explains. "But we needed to do something else. The idea was to write really, really, really boring, monotonous, bad songs."
With sludgy, nominally hardcore outfits like Fang and Flipper in mind, they began writing under the moniker Unrequited Hard-On. Their first demo, the song "Throbbing Organ," was, as Fry describes it, "the simplest, dumbest thing. It wasn't anything we ever intended to do further." But they continued to write anyway and Kosloff, who assumed the pseudonym "Matt Korvette" (the name under which he has blogged about style and fashion for SPIN) began developing a highly specific lyrical approach, choosing to describe, in dry heave-like screams and moans, each band member's appearance. After changing their name to Pissed Jeans ("for greater chance of success," says Kosloff, "not even really joking"), they began work on their 2005 debut LP, Shallow, a messy, meat-headed feat of masculine self-loathing that featured chestnuts like "Afraid of My Cum," "I'm Sick," and the one-chord workout, "Boring Girls."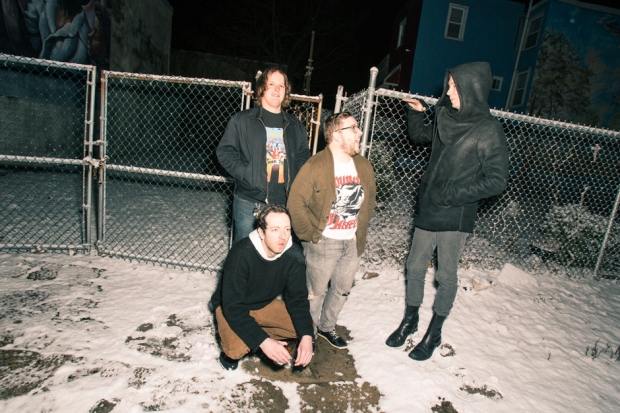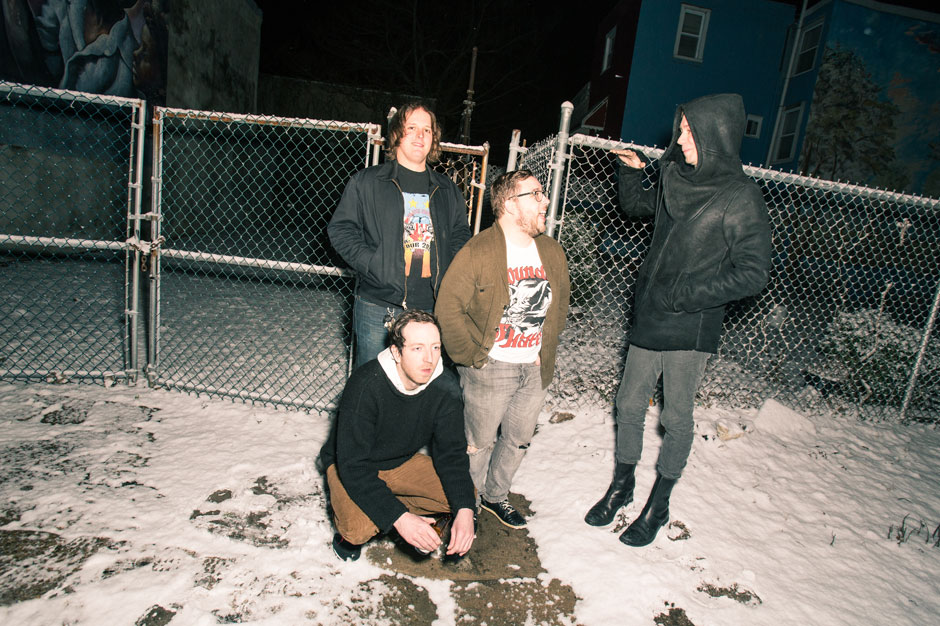 "There's always been a cloak of fucked up-ness that hangs over them that some people may not understand," says Brian Turner, Music Director at WFMU Radio in Jersey City, New Jersey, and an early supporter of the band. "To me, it's perfect theater and perfect music." And when Sub Pop — a label made famous, of course, for its part in packaging and hyping the grunge blueprint written by Mudhoney and furthered by Nirvana — approached Pissed Jeans about the release of a single (2006's "I Don't Need Smoke to Make Myself Disappear") and subsequent full-length (2007's Hope for Men), the band ostensibly became more than just a regional concern.
But in the seven years they've been affiliated with Sub Pop, Pissed Jeans have seldom toured outside the Northeast corridor that extends from Washington to Boston, primarily because Kosloff and Fry have long worked relatively inflexible day jobs (the former as an insurance claims adjustor, the latter as an accounts receivable supervisor for a corporate billing firm.) And within the past two years, all four have become fathers. "Last year, we played 15 shows," says drummer Sean McGuinness, 31, a wiry, sardonic Philadelphia native (and high-school classmate of Kobe Bryant's) who joined in 2006. "This year, I think we'll play 18."
And while the obstacle of work has been both a source of frustration within the band as well as a lyrical boon for Kosloff (please see: "Dream Smotherer," from 2009's King of Jeans), few bands in their position opt to prioritize the way they have from the start. "It's a product of how we grew up," says Fry, who lives and work 90 minutes from his bandmates in Bethlehem. "We all have a sense of responsibility to ourselves and to our families. We're not rebels so much as realists." He chuckles. "I mean, our name is Pissed Jeans."