"Today we were discussing the possibility of me quitting my job," Matt Kosloff says as he squints into the pallid light of his refrigerator. "We're just going to live frugally, get really into exercising, and spend our days with him." Kosloff, the blonde, elastic-limbed frontman for Pennsylvania punk foursome Pissed Jeans is referring to his one-year-old son Anders, who, stylishly bedecked in a chambray button-down and diaper, is sliding into his high chair for dinner beside his mother, Maria. "Yeah," she says, offering Anders spoonfuls of kale and rice. "We need to get rid of my baby belly."
It's an unseasonably warm January night in South Philadelphia and the guests are about to arrive for Kosloff and Maria's third annual "dessert party," an occasion that gathers friends and acquaintances, all of whom are asked to prepare and share at least one dessert. At the end of the night, everyone will vote on winners for Best in Show, Most Decadent, and Most Creative, as well as a mystery category Kosloff, 30, will determine as the evening unfolds.
Anders' changing table has turned into a makeshift bar and his toys have been plucked from the floor. The furniture has been thoroughly vacuumed and, waiting in the refrigerator, sits a creamy slab of lemon curd cheesecake Kosloff still needs to finish. "Oh, this is delicious," he says as he carefully slices the cake into bars and adorns each with a row of fresh raspberries. "I hadn't tasted it until just now. That was probably a dangerous move."
There could be no scene more at odds with the ugly, indigestive, idiosyncratic racket Pissed Jeans have perfected over the past decade. On February 12, the band unveiled Honeys, their first full-length in four years and another bilious blast of paradox that — in addition to taking its title from a popular brunch spot in Philly — anxiously calls into question the many forms that punk can take in adulthood, parenthood, and in 2013, when hardcore's influence can be heard scything through an indie-rock landscape defined by softer, cuddlier, more marketable fare.
"There's punk rock and there's punkity rock," says Mark Arm, Mudhoney frontman and warehouse manager at Sub Pop, home to Beach House, Fleet Foxes, the Postal Service, and Pissed Jeans. "Punkity-rock is whoa-whoa-whoa, sing-along choruses and usually geared toward teenagers at the mall. Pissed Jeans are the furthest thing from that. You're not going to make a shitload of money doing what they do, so you have to really, really want to do it."
And they do. But not at the expense of the band members growing families or the dispiriting jobs with which they help support them. Though their music is born of extremes, it's also rife with funny, sometimes crippling perspective.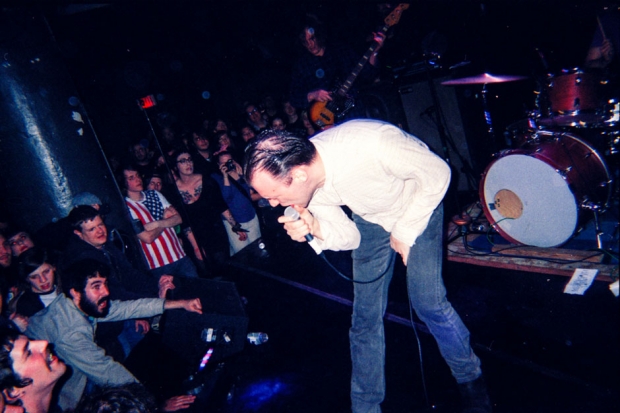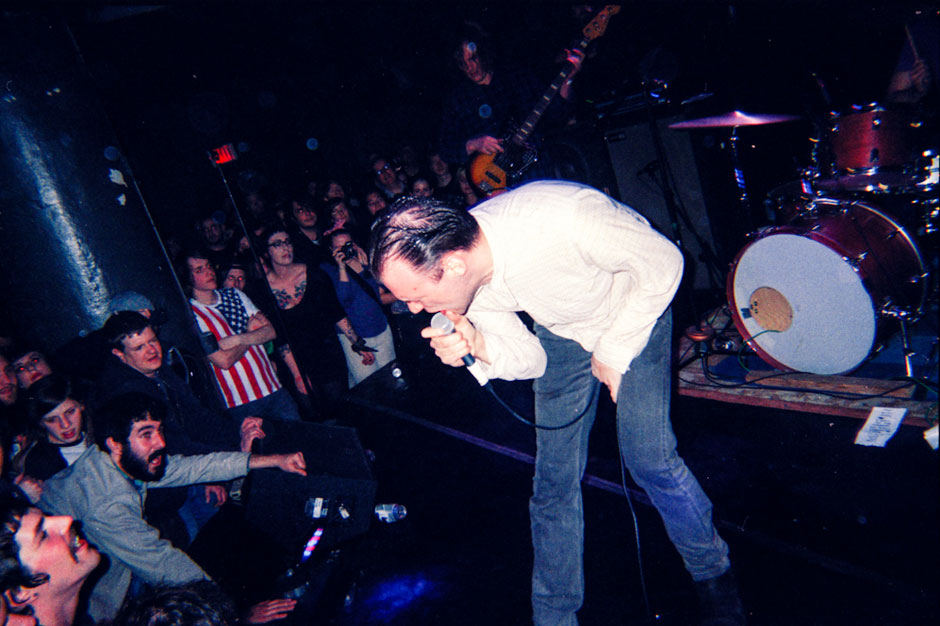 That duality is something No Age guitarist Randy Randall, one-half of one of Sub Pop's only other young punk bands, understands. "Hardcore and punk entered our DNA at the right time and changed our lives forever," he says of the kinship he feels with Pissed Jeans. "There's an element of challenge in there, almost this disregard for the industry side of things, like, 'We get it, but there's not much we can do to fit in.' If they're doing this now, though, with kids, they'll be doing it when they're a whole lot older, too. Because you're never the same. If you're working for an insurance company, if you have a straight job and kids, punk is a perspective. It's not a fashion trend or a Twitter-like interest. It's not a passing fantasy. You're fucked for the rest of your life."
At the Kosloff household, after Anders has eaten, Maria changes him into a blue onesie for bedtime, lowers the lighting on their brick row house's ground floor, and reads to him quietly on the couch. Guests should show up around 7:30 and the priority right now is to get the baby situated in his crib with time to spare. I ask Maria between stories if Ander has heard Honeys yet. "He has," she says with a laugh. "We actually listened to it together the other day in the car and the funniest thing happened: he just fell asleep, within seconds."