The wrong feathery-voiced pop crooner released an album titled Looking 4 Myself. That was the name of last year's dance-R&B opus by Usher, but it applies even better to Justin Timberlake, who, in an unfortunate optometry reference, has instead called his March 19 release The 20/20 Experience. But JT, who as a solo artist released two of the last decade's great pop albums, is evidently suffering an identity crisis all his own.
Timberlake reportedly told Capital FM his embrace of long songs is in the tradition of the big classic-rock bands. "When we were making the record I said, 'If Pink Floyd and Led Zeppelin can do 10-minute songs and Queen can do 10-minute songs then why can't we?' We'll figure out the radio edits later," he's quoted as saying by NME. The full interview isn't on Capital FM's website, so for now we'll have to take it on faith this isn't another Jack White quote-embroidery situation.
Look, there's nothing wrong with Timberlake making long songs. FutureSex/LoveSounds' "What Goes Around… Comes Around" ran for about seven-and-a-half minutes, and it may have basically been a lesser sequel to Justified's instant-classic "Cry Me a River," but it was still awesome. But Timberlake is missing the point by comparing himself to those bands. There's nothing wrong with being a phenomenal pop musician, and Led Zeppelin is in no way inherently superior to 'N Sync just because their songs were long or, hell, they wrote their own music. That's old-fashioned thinking, and Timberlake is better than it.

You know who else recorded long songs? Michael Jackson. Thriller's title track is about six minutes on the album, and more than 13 minutes in the video. And if there's some universe where a musty old cock-rock song is better than Thriller, neither Timberlake nor anyone else should have to be a part of it.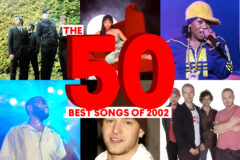 There's a catch, though: Long songs need to be good enough to warrant their length. "Mirrors," the eight-minute preview track from 20/20, is a soggy, unfocused, stale-sounding disappointment from a singer who could once do a whole lot better. And that brings us to the other 20/20 songs surfacing to far, such as meh, Jay-Z-featuring formal-occasion jam "Suit & Tie": Where exactly does Cotton Club big-band throwback fit into this whole Dinosaurs of Rock picture?
Again, we'll check the original interview when it's available, but at least as quoted by NME, it gets weirder from there. "Music is for dreamers," Timberlake reportedly said. "You should be able to create another world that you can live in. I'm not gonna speak for Bob Dylan — he's one of my idols — but from my perspective, as a fan, it seemed to me that he started creating music that made him feel like another person and that's what it should do." He's right, of course; last year we were a bit disappointed that Ke$ha, in powerfully covering Dylan, mistook him for an honest songwriter, so it's intriguing that Timberlake sees Dylan as someone who creates new personae. We just would rather JT not start sounding like him. "My Love" already has quite enough acoustic covers, thank you.
With that in mind, Capital FM breaks some news we can confirm on the radio station's website: Timberlake has said he and Mumford & Sons frontman Marcus Mumford teamed up on a track for the upcoming Coen Brothers movie. T Bone Burnett, Brooklyn folk group Punch Brothers, Mumford, and Timberlake "all kind of worked on music together, and I don't know any other world where we would have the opportunity to collaborate like that, but it was so much fun," Timberlake is quoted as saying. "I'm obsessed with the Coen Brothers and playing a supporting role in the film was enough for me to feel like, 'Okay, I'm not going to ruin this movie.'"
Hasn't everybody, including, no joke, our late grandmother-in-law, been obsessed with the Coen Brothers since Timberlake was practically still on Mickey Mouse Club? Is this all the JT equivalent of Jay-Z endorsing Grizzly Bear? Jay-Z endorsing Grizzly Bear was more fun.
This all comes, by the way, after Timberlake was quoted telling One Direction to "never take anything too seriously." JT! Quit playing games with our hearts! Oh wait, that one was by the other guys (whose "I Want It That Way" is also a pop classic, as well as a lot more fun than "Stairway to Heaven"). There's no shame in pop.