In a recent interview, My Bloody Valentine bassist Debbie Googe quipped that she and her bandmates "were staring at our pedals, not at our shoes." It seems that may be the case once again as the shoegaze greats have clearly had their heads down and their minds on the music — according to the group's Facebook page, mastering is complete on the brand new MBV album.
For those keeping track, which is pretty much everybody who's ever heard 1991's Loveless, this will be the band's third full-length since forming in 1983, and their first in more than 21 years. On November 7, main brain Kevin Shields surprised fans by announcing that the long-awaited LP would be out before the year's end, and it now seems they could come close to nailing that ambitious deadline.
"I think with this record, people who like us will immediately connect with something," Shields told the NME back then. "Based on the very, very few people who've heard stuff — some engineers, the band, and that's about it — some people think it's stranger than Loveless. I don't. I feel like it really frees us up, and in the bigger picture it's 100 percent necessary."
He also explained that My Bloody Valentine will be releasing the new one on their own, without help from outside labels, via their website. MyBloodyValentine.co.uk currently promises "NEW WEBSITE AND STORE COMING SOON," so, you know, it's probably time to get excited. The band has also announced a handful of international shows for the new year.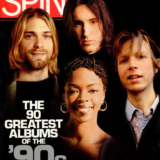 My Bloody Valentine 2013 tour dates:
February 6 – Osaka, Japan @ The Hatch
February 7 – Tokyo, Japan @ Studio Coast
February 16-17 – Melbourne, AU @ ATP's I'll Be Your Mirror Melbourne
March 9 – Glasgow @ Barrowlands
March10 – Manchester @ Apollo
March12 – London @ Hammersmith Apollo
March13 – London @ Hammersmith Apollo
May 26-27 – Tokyo, Japan @ Tokyo Rocks Music Festival