Earlier this week, My Bloody Valentine officially premiered the previously unreleased track "Good for You." The track's slight but noticeable improvement upon a bootleg version that had been floating around for years appeared to be a promising indication for the rest of the Dublin band's May 7 reissue campaign. Now the Guardian is streaming the full two-disc reissue of the band's untouchable shoegaze ur-text Loveless, and we're wondering whether we might not have spoken a little rashly.
For its fiercest admirers, present company included, 1991's Loveless is like some kind of rare gem, hard and shimmering and unfathomable. On first pass, it's not clear that these two sets of remasters — one "from the original tapes," and another "from the original 1/2-inch analogue tapes" — will really take you much further below that adamantine surface. At the same time, though, it's always hard to tell much about audio quality from an online stream. That's why it's hardly the medium you'd expect from legendarily perfectionist MBV wizard Kevin Shields.
If you haven't listened to Loveless before, you really should. And there are slightly discernible improvements here. But they're not immediately striking or dramatic. Compared with our old Sire CD pressing, the first set of remasters does away with the some tape hiss and is evidently louder. But then again, these appear to be the much the same tracks that journalists and file-sharers have been able to hear since promo copies went out for a nixed 2008 reissue attempt. The second set of remasters, from a tape that Shields told Pitchfork had been caught up in label issues, is a bit more revelatory, bringing back the analogue hiss from our old CD copy and noticeably altering all of the sounds in subtle but real ways. You can't put your finger on it, but the small differences exist.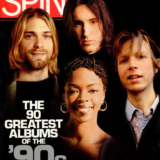 OK, though, there's the rub: We're left debating the intricacies of an analogue remaster that we're only hearing in a digital, streaming-audio format. What the what? Particularly if you're a vinyl fanatic, and you consider that Shields also told Pitchfork the 2003 vinyl pressing was basically just ripped "off the CD," this just feels wrong. Converting the analogue back to digital and streaming it at our computers seems paradoxical, not perfectionist.
In the end, if the full experience of the remasters requires listening all the way through, as Shields has suggested, then it might be worth waiting until you can sit in front of your turntable or CD player, rather than your computer. Still, a vinyl reissue release date has yet to be announced. And who even owns CD players anymore? So what choice do you, the current or soon-to-be MBV fan, have but to listen to this classic album in possibly its least becoming audio format yet? Shine on, you crazy Loveless diamond, you.