The Lemonheads' ongoing revival has taken a Ryan Adams turn. The Evan Dando-led alternative rockers have been touring with various lineups since reuniting in 2005, even releasing a couple of albums. Earlier this year, they finished a U.S. tour where they played all 13 songs from 1992's It's a Shame About Ray. Then came word that former Lemonheads bassist Juliana Hatfield, who had dueted with Dando on some songs in 2010, would be rejoining the band for their upcoming supporting stint with Psychedelic Furs.
Now, Adams has tweeted that he will be producing a new album with the reunited Lemonheads this weekend, as Slicing Up Eyeballs points out. And Hatfield isn't the only returning band member. According to Adams, the band's co-founder Ben Deily, who left in 1989 and has also led the band Varsity Drag, will be involved, too.
In Adams' own words: "Looking forward to producing the new Lemonheads album this weekend with orig 2 songwriters Evan & Ben with @julianahatfield on bass." Adams added that he will be "playing drums on the Lemonheads records too. Dream come true… Back to the punker sounds."
Though Adams' are the only announcements about the Lemonheads' album so far, Juliana Hatfield did retweet his comments, suggesting confirmation. Dando and Hatfield's tale stretches back years, and you can catch up in via a couple of 1993 articles in SPIN. Deily hasn't been completely estranged from the Lemonheads camp, either, having reportedly reunited with Dando at SXSW in 2010.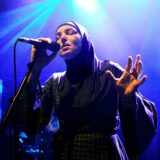 Meanwhile, in other upcoming Adams projects… As Twenty Four Bit points out, former Drive-By Truckers member Jason Isbell recently told the AP that he and Adams — his recent tourmate — will go into the studio in October to record Isbell's fourth solo album.
Liz Phair has also said she'd like to record an album with Adams. Details on the former Whiskeytown member's role on the Isbell record aren't clear, but even if he's producing, he's still far less prolific in those duties than as a songwriter: Adams' last production credit for another artist came in 2006, when he and his backing band the Cardinals worked on Willie Nelson's album Songbird.
On the road again: Dates for the Lemonheads' leg of the Psychedelic Furs tour are below.
October 12 – St. Louis, MO @ The Pageant
October 14 – Minneapolis, MN @ First Avenue
October 17 – Royal Oak, MI @ Royal Oak Music Theatre
October 19 – Glenside, PA @ Keswick Theatre
October 20 – Port Chester, NY @ Capitol Theater
October 21 – New York, NY @ Best Buy Theater
October 22 – Washington, DC @ Howard Theater
October 24 – Asheville, NC @ Orange Peel
October 25 – Atlanta, GA @ Variety Playhouse
October 27 – St. Petersburg, FL @ State Theatre
October 28 – Miami, FL @ Grand Central
October 29 – Orlando, FL @ House of Blues