The watershed moment of '90s alt-rock stars Evan Dando and Juliana Hatfield's joint set in New York City Wednesday night came when the duo performed Hatfield's "Choose Drugs," a stark tale of addiction off her decade-old album Beautiful Creatures.
"I say it's me or drugs," they crooned, Dando a gravely low to Hatfield's girly high. "You choose drugs."
Dando and Hatfield met in Boston in the late-'80s, when "I was, like, 19," Dando said onstage, and both soon found musical success, Hatfield with Blake Babies and the Juliana Hatfield Three, Dando with the Lemonheads. Along the way, Dando chose drugs. Every one he could get his hands on.
Thankfully, he is back, and Wednesday night his relationship with Hatfield came full circle. Though the two have performed together and collaborated over the past 20 years (she sang backup on some of his best songs, like "Drug Buddy" and "Alison's Starting to Happen"), Wednesday night's set at the intimate, 200-capacity Mercury Lounge was their first as a proper duo.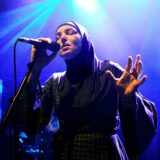 They alternated tunes, including some called out by the crowd, with the writer singing lead and the other harmony. Hatfield played songs old and new, while Dando stuck to favorites from the past (she has a new record, he doesn't). They also performed a pair of covers, Gram Parson's "$1,000 Wedding" and Teenage Fanclub's "Cells."
As they strummed acoustic guitars and sang for 70 minutes, their talent gap became clear. They're both musicians who rely on simple chords, whistle-worthy melodies, and heart-crushing lyrics, but Dando's delivery was more emotionally affecting, clear, and immediate. He demonstrated why he was once considered among indie's best singer-songwriters.
On tracks off her latest release, 2010's Peace & Love, Hatfield sang diary-entry-esque lyrics about "butterflies landing on my pillow" ("Butterflies") and "missing your dreams" ("What Is Wrong"). They were sometimes abstract, sometimes intensely confessional, as in her ode to her singing partner, "Evan."
Dando, meanwhile, cut to the heart, with concession and regret: "I love my drug buddy…" he admitted on "Drug Buddy." And on "Down About It" he confronted his troubles as a grownup would: "I gotta own up on my own somehow."
Though it certainly wasn't a Lemonheads show — the pair didn't sing "It's a Shame About Ray" or "Into Your Arms" or the band's sped-up cover version of "Mrs. Robinson" — the crowd kept shouting requests for Dando's songs ("It's About Time"!!!) and freaked when they were played. And the girls fawned over his still-dashing looks: "You're adorable, Evan!" shrieked one.
The highlight, collaboratively, was "Brain Damage," a power-pop duet written by Dando for a 2001 album from Hatfield's Blake Babies, with whom Dando occasionally performs. "I've done all the drugs that I could find," sang Dando, playing a narco-vet to Hatfield's whimsical alt-chick. "I've borrowed all the books I haven't read," she replied.
But on a night of lyrics heavy on drug nostalgia, perhaps his most touching sentiment came during "All My Life," from 2003's underrated solo effort Baby I'm Bored, which could have even more meaning for Dando at 43. "All my life I thought I needed all the things I didn't need at all."
Setlist:
"Paid to Smile"
"Choose Drugs"
"Rain"
"Hospital"
"Butterflies"
"Cells" (Teenage Fan Club)
"Down About It"
"Waiting for Heaven"
"All My Life"
"When You Loved Me"
"What is Wrong"
"Ride with Me"
"Brain Damage"
"Bit Part"
"Tourist"
"The End of the War"
"$1,000 Dollar Wedding" (Gram Parsons)
"It's About Time"
"Evan"
"Baby Gets High"
"Drug Buddy"