Liz Phair recently joined forces with Slumdog Millionaire film score composer A.R. Rahman for a song on the just-released soundtrack to the upcoming Chris Pine-Elizabeth Banks drama People Like Us. The fruits of their collaboration, the string-draped acoustic ballad "Dotted Lines," can be heard below. But Phair already has her mind on her next album, the follow-up to 2010's self-released — and, according to Phair, widely misunderstood — Funstyle, with ideas that involve pairing the Exile in Guyville singer with the former frontman of Whiskeytown.
"I want to make a kickass record," Phair told Stereogum, when asked what she wants to happen next. "And if I have my way I'll have Ryan Adams produce it and we'll do some down and dirty shit with great songwriting, and it won't be Guyville, but it will be authentic. And I'll tour it. I'll tour the shit out of that shit."
Likening her experiences with record labels to getting out of "a bad, traumatizing relationship," Phair emphasized that she never actually signed to Capitol Records, attributing her work for the label to behind-the-scenes arrangements involving indie Matador Records. She also explained that people shouldn't think that her collaboration Bollywood film composer Rahman came about as a result of her Funstyle comedy rap song "Bollywood" — "It was just random," she said. And she eloquently defended artists' right to have priorities outside their work: "People want you to live only for your art, but I can show you a line of dead bodies that did that."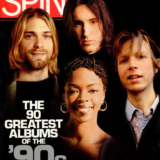 The interview, which came during a recent press junket for People Like Us, follows the somewhat randomly timed release of an M.I.A.-reminiscent video for hooky Funstyle cut "And He Slayed Her." And the comment implicitly equating "down and dirty shit" with being "authentic" is sort of a shame, considering we know Phair has a more subtle understanding of authenticity than this — she recently fired off a Wall Street Journal column dismissing questions about Lana Del Rey's authenticity as actually being rooted in gender issues.
Then again, Phair's latest "authentic" remarks somewhat recall Ke$ha's enthusiasm about the "honesty" in notorious trickster Bob Dylan's lyrics around the time of her jaw-dropping "Don't Think Twice, It's All Right" cover — which probably goes to show we should stop worrying so much and allow talented artists to follow their muses wherever they might take them, so long as the destination sounds awesome.
Read our contributor John Sellers' 2010 interview with Phair.