Add another chapter to Evan Dando/Juliana Hatfield story: the latter is rejoining the Lemonheads for a brief tour supporting the Psychedelic Furs. The reunion of former Lemonheads bassist Hatfield with head 'Head Evan Dando isn't entirely unprecedented — they duetted on some songs in concert in 2010 and off and on for a few years leading up to that — but it will definitely excite fans who followed the fertile Boston rock scene in the '90s.
Hatfield recently revealed the news on Twitter, writing and then deleting, "Oh yeah–Lemonheads –trio, me on bass, supporting Psychedelic Furs– October…more on this later." And now the Furs have made the news official on their website, announcing additional tour dates with "our special guests The Lemonheads (Ft. Juliana Hatfield)!!"
Hatfield and Dando's history, of course, goes back decades. She first met him at a pizza shop, where she told him she like his band and gave him some tickets to a show she was playing with one of her early bands, the Blake Babies. He gave the tix to his mom — whom he described to SPIN as an "indie-rock scene queen" in 1993 — and she reported back that the show was good. Hatfield joined the Lemonheads as a full member in the early '90s after the Blake Babies called it quits, and she played on one of the band's most successful albums, 1992's It's a Shame About Ray, which featured singles like the title track, "Confetti" and the group's cover of Simon and Garfunkel's "Mrs. Robinson." In 1993, she described Dando to SPIN by saying, "At first, some people think he's an airhead or a flake. But he just really tries hard to be nice to everybody. He has an amazing understanding of people." And in the previously mentioned article, Dando told Hatfield, "You're peerless. You're a Waldorf salad."
The Lemonheads dates with the Furs start October 12 in St. Louis and run through October 29 in Orlando.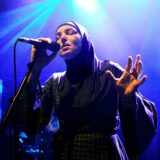 September 21 – Houston, TX @ House of Blues
September 23 – Austin, TX @ Emo's East
September 25 – Sante Fe, NM @ Sol Santa Fe
September 27 – Chandler, AZ @ Wild Horse Pass Hotel & Casino
September 28 – Solana Beach, CA @ Belly Up
September 29 – Hollywood, CA @ Hollywood Bowl (with the Go Go's)
September 30 – Saratoga, CA @ Mountain Winery (with the Go Go's)
October 4 – Portland, OR @ Alladin Theater
October 5 – Spokane, WA @ Knitting Factory
October 6 – Seattle, WA @ Showbox at the Market
October 8 – Salt Lake City, UT @ The State Room
October 9 – Aspen, CO @ Belly Up
October 12 – St. Louis, MO @ The Pageant (with the Lemonheads)
October 14 – Minneapolis, MN @ First Avenue (with the Lemonheads)
October 17 – Royal Oak, MI @ Royal Oak Music Theatre (with the Lemonheads)
October 19 – Glenside, PA @ Keswick Theatre (with the Lemonheads)
October 20 – Port Chester, NY @ Capitol Theater (with the Lemonheads)
October 21 – New York, NY @ Best Buy Theater (with the Lemonheads)
October 22 – Washington, DC @ Howard Theater (with the Lemonheads)
October 24 – Asheville, NC @ Orange Peel (with the Lemonheads)
October 25 – Atlanta, GA @ Variety Playhouse (with the Lemonheads)
October 27 – St. Petersburg, FL @ State Theatre (with the Lemonheads)
October 28 – Miami, FL @ Grand Central (with the Lemonheads)
October 29 – Orlando, FL @ House of Blues (with the Lemonheads)
October 31 – Pensacola, FL @ Vinyl Music Hall
November 2 – New Orleans, LA @ House of Blues
November 4 – Dallas, TX @ Grandta Theater