Go into any garage or basement where a high school band is thrashing away. Go into a stadium where rock gods are hurling lightning bolts. Go anywhere people are making music, and — without being too weird about it — look at their shoes. There's a good chance you'll see Converse Chuck Taylor All Stars. As much as jeans and guitars, Chucks are part of the rock'n'roll look, but nothing achieves ubiquity by accident, let alone simple, cheap, and let's be honest, blister-inducing, non-arch-supporting rubber-and-canvas sneakers. Rarely has a consumer product had as unlikely a life as the now 80-year-old shoe, which pulled off a nifty and unintentional cultural crossover, moving from basketball courts to CBGB — a shift that took Converse decades to understand and then, finally, exploit. Here, athletes, artists, and industry insiders consider the history of the shoe heard around the world.
I. People think Chuck Taylor is made up,
like Ronald McDonald or something.
DENNIS RODMAN (Basketball Hall of Fame inductee, former Converse endorser) Growing up in Texas, I wore Chuck Taylors till they fell off. I was poor. I had nothing, but I felt like I had something in those shoes. Janis Joplin. Jimi Hendrix. Kurt Cobain. Bill Russell. Dr. J. I don't know if they all wore Chuck Taylors, but in my head, they did. Know what I mean? They're the shoe. So thanks, Chuck Taylor, whoever the fuck that is.
TOMMY RAMONE (drummer, the Ramones, 1974–77) He was maybe a basketball coach or something. I don't know. He made cheap shoes.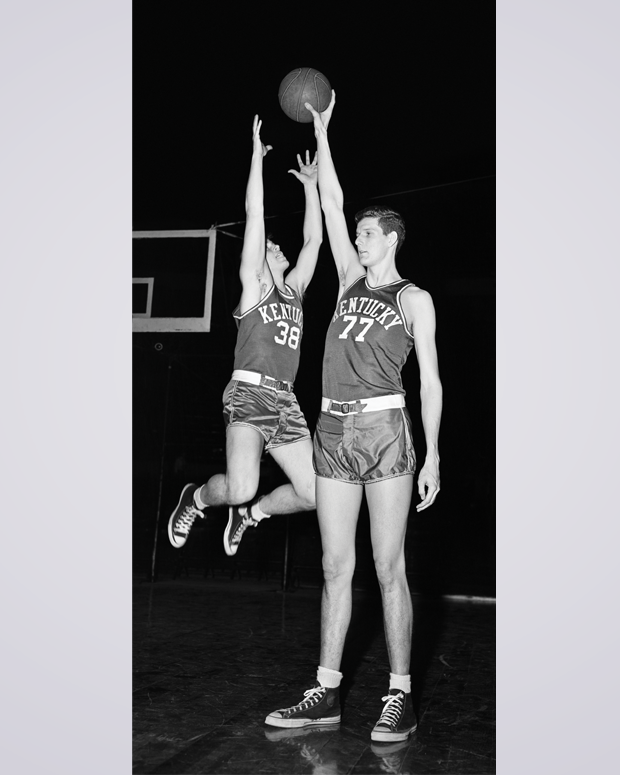 SAM SMALLIDGE (Converse archivist) Chuck Taylor was a salesman for Marquis Converse and the Converse shoe
company, starting out in the 1920s in Chicago. Taylor would spend most of the year on the road, spreading the gospel of basketball, conducting coaching clinics, selling the shoes. Basketball was still new back then. It needed someone like him traveling around, teaching people the right way to play, talking about the health benefits, and developing relationships with college coaches. There was already a shoe very much like the Chuck Taylor All Star being sold when he was hired, but to help with marketing, and to establish that he was a basketball expert, an ankle patch with the name Chuck Taylor was added in 1932.
LARRY BROWN (Basketball Hall of Fame coach, University of North Carolina point guard, 1960–63) When I played at North Carolina, Chuck Taylor used to come by. He'd give basketball clinics. But he was really a salesman. He'd come and visit different schools and try to get them to commit to wearing his shoes. There were even players, when they were done playing, Converse would sign them as sales reps. My greatest memory of Chuck Taylor — probably '61 or '62 — is that he told Coach [Dean] Smith that he'd make us special weighted shoes in Carolina blue. The idea was that we'd wear the weighted shoes in practice, and then during the games, we'd run faster and jump higher. Well, we tried them for one practice and everyone pulled a hamstring.
ICE CUBE (rapper, actor) It's crazy to think that them basketball cats played in Chuck Taylors. I got Chucks in my suitcase right now, but that shit gives you flat feet.
It was punky and snotty to wear sneakers instead of shoes. Punky and snotty was very important for the Ramones.
—Tommy Ramone
BOBBITO GARCIA (author, Where'd You Get Those? New York City's Sneaker Culture: 1960–1987) You can't overstate how dominant Chuck Taylors were. Nike has something like 40 percent market share today. Through the '70s, Chuck
Taylors had 70 or 80 percent market share for athletic shoes. For almost 50 years, there was very little competition for Converse. Nike, Adidas, Reebok — they didn't come up strong till the late '70s. It was basically Keds and Spalding and Converse. People wore what was available, which wasn't much.
SAM SMALLIDGE There's not one person who we can credit for designing the Chuck Taylor. There is no patent for the Converse All Star that has Chuck Taylor's name on it. He never got royalty payments from Converse. [Taylor died in 1969.] He never made any licensing money. He did have an unlimited expense account.
MICHEAL RAY RICHARDSON (guard for New York Knicks, Golden State Warriors, and New Jersey Nets, 1978–86) The NBA players wore Chuck Taylors and they were the best, so that's what everyone wanted to wear. When I was with the Nets, I had signature Micheal Ray Richardson leather Chuck Taylors, $19.95 a pair. That was a good-looking shoe — wasn't nothin' to play in compared to Air Jordans. I had to wear orthotics when I wore Chuck Taylors.
LARRY BROWN My daughter, she's 15 now, and she wears a pink pair. When I tell her that we used to play basketball in those same shoes, she can't believe it. She sees the rock bands wear them, I guess. People think Chuck Taylor is made up, like Ronald McDonald or something. I don't know how we got from his shoe being the shoe of those great Boston Celtics teams to being a shoe for teens. It's crazy. How does that happen?
Keep up with SPIN's coverage of Fashion Week here now!