African-American actors in their mid-30s who aren't afraid of heights, Asian men in their mid-50s who are "capable of moving," and 27-year-old Asian actresses who "comfortable with lifts and contact" take note: the Flaming Lips' production of Yoshimi Battles the Pink Robots is now casting. As previously reported, the group has been working with Jersey Boys director Des McAnuff over the past few years on including songs from the 2002 album it shares a title with, as well as tracks from Lips discs The Soft Bulletin and At War With the Mystics. "It's hokey and wonderful and poignant and powerful," Coyne said last April. "It's really become a perfect combination of my fantastical robot-world vision." It's set to premiere in November at San Diego's La Jolla Playhouse.
Now, thanks to a call for auditions, we can start to see just how "hokey" the characters will be in the musical, whose title originally loosely referenced Yoshimi P-We, the drummer for the Japanese experimental group the Boredoms. But first, for context's sake, read the description of the play as posted on Broadway World (via Consequence of Sound):
"Yoshimi Yasukawa is involved in a war between her boyfriends, Ben Nickel and Booker. Before that gets resolved, she finds herself fighting for her life. Yoshimi Battles the Pink Robots is a magical story that takes place in the modern world and simultaneously on a science fiction landscape where there is an army of pink robots. It is a story of love and the struggle for survival. It will be an ambitious technological production featuring singing, dancing, and puppetry."
So what sorts of people do the casting agents think could play roles like Yoshimi, Ben and Booker? Broadway World has posted descriptions, which are not for the faint of heart, considering they require aerial work. (Maybe some former Spider-Men could apply?) Here's what they're asking for: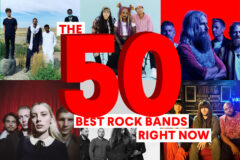 BEN:
Late 20s-mid 30s. This character is Caucasian; Rock Tenor/gentle alt-rock voice w/strength up to Tenor 'A' and gentle 'float' up to Tenor B.' – A mercurial spirit in a three-piece suit and an open bow tie, which serves as a kind of uniform in a Chaplin-esque fashion. A computer graphics designer for a publishing house. Must be capable of dance and physical clowning – gawky but also charming and attractive. He is in love with YOSHIMI. MUST BE COMFORTABLE W/AERIAL WORK AND HEIGHTS.
BOOKER:
Late 20s-mid 30s. Rock Tenor/Gentle tenor/Bari-tenor w/strength up to 'F' sharp and also gentle float up to tenor 'B'; This character is African-American. A tall, athletic, good-looking business-man in a suit, white shirt and tie. An investment counselor and broker. Must be a good mover. He is in love with YOSHIMI. MUST BE COMFORTABLE W/AERIAL WORK AND HEIGHTS.
YOSHIMI:
27. Rock belt & folk mezzo/gentle alt-rock soloist comfortable singing strongly or with frailty up to 'D' ('D' on the staff – not soprano high 'D'). Asian. A beautiful, first generation Asian-American. A visual artist and later a Freedom Fighter. MUST BE COMFORTABLE AS A DANCER WITH LIFTS AND CONTACT. MUST BE COMFORTABLE WITH AERIAL WORK AND HEIGHTS.
MR. YASUKAWA:
50s; Rock Tenor or high; May look frail but must sing with surprising confidence, passion and strength; Baritone – Asian – 1st generation Asian immigrant. YOSHIMI's father, a rather stern, concerned parent – middle class businessman. Capable of moving.
MRS. YASUKAWA:
50s; Rock Alto/Folk Mezzo – may look frail but should sing with confidence, passion and strength; Asian. 1st generation Asian immigrant. Yoshimi's loving, dedicated mother. Capable of moving.
For non-acrophobes who are members of the actor's union Equity, auditions begin this month in New York and are by appointment only. For full details, click here.