First, let's take care of the obvious. Despite the still-persistent narrative that such music is "dead," there are way more than 50 excellent rock bands out there.
And there's no exact science to scooping the cream of the crop. Our list includes arena-packing veterans but also semi-obscure indie acts who've barely escaped their basements. There are no hard rules here. Our methodology was simple: ask our writers and staff which rock bands feel worthy of recognition right now. But we did aim for a wide scope — throughout, you'll find flavors of psych, post-punk, hardcore, metal, even country. If it feels like rock, it's on the table.
Consider SPIN's 2021 roundup — just like last year's — a thermometer, taking the temperature of modern rock in all its various mutations. – Ryan Reed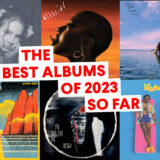 Altın Gün
Hometown: Amsterdam, Netherlands, with members in Turkey and Indonesia. (Like their music, this band is a truly global affair.)
Why We Love Them: Altın Gün have always put a modern twist on traditional Turkish music, and the world was finally starting to take notice. Just when they nabbed a spot at Coachella 2020 and a Grammy nomination for Best World Music Album, a global pandemic struck. But not even an international lockdown could slow down their rightly deserved momentum. 2021 saw the band release two albums, both of which add an extra dimension to their already genre-bending sound. Both Yol and Alem (a Bandcamp exclusive, in which all proceeds go towards environmental organization Earth Today) find the band experimenting with synths and drum machines — an inadvertent byproduct of file-sharing due to lack of in-person studio collaboration. It's a welcome addition, lending an electronic touch to the swirling psychedelia. Anatolian folk rarely meets darkwave disco, but Altin Gun manage to blur borders across dance floors, with mesmerizing results. 
Finest Moment: Electro-pop banger "Yüce Dağ Başında," highlighted by a melodica and conga-heavy groove. – Jessica Gentile

Architects
Hometown: Brighton, England

Why We Love Them: Britain's favorite metalcore band has developed an obsession with the end of the world — a worthy cause. Their February LP, For Those That Wish to Exist, is a deep dive on humanity's ultimate demise (see: climate change, big heat death) unless we change something soon (we won't). The new concept album isn't as heavy as 2018's terrific Holy Hell, but it still packs a helluva punch, led by Sam Carter's propulsive wails and booming guitar chugs, copied by just about every band in the genre. Give these dudes an arena — let's rage 'til the end.

Finest Moment: The throttling single "Animals," a song of human instinct and fear, where Carter asks if he should "just pull the pin" on humanity. Do it, you coward! – Bobby Olivier

Bachelor
Hometown: Los Angeles, CA / Poughkeepsie, NY
Why We Love Them: Technically Bachelor describe themselves as "not a band" but a "friendship." Jay Som's Melina Duterte and Palehound's Ellen Kempner have separately been making really great bedroom pop for several years now, but when they decided to turn their personal bond into a creative one with the 2021's Doomin' Sun, sparks truly flew. Songs like "Back of My Hand" and "Stay in the Car" have a rock swagger, while others like "Went Out Without You" and "Sick of Spiraling" have a gentler touch. But it's all bold and off-kilter, a reminder of the distinctive minds that are melding. Meanwhile, their trusting friendship lends a lyrical intimacy as they explore tough feelings.
Finest Moment: The chorus of "Stay In The Car," which turns an everyday grocery-run command ("Stay in the car and I'll grab what you want") into a catchy-as-hell celebration of lust and awe. – Mia Hughes
Backspace 
Hometown: Yulin, Guangxi province, China. Based in Beijing.

Why We Love Them: Despite the Mandarin lyrics, it's easy for speakers of any language to savor Beijing's best band. Ants Corrupt Elephant, Backspace's second album, boasts enough kaleidoscope-on-the-fritz guitar tones to enthrall Tame Impala's earliest fans, and their volatile horn bursts escalate The Stooges' punk-jazz circa-Fun House. Backspace would rather cite Talking Heads. But such familiarity is just fleeting enough to hook you. Before long, you'll be swept up by Mao Te's distinctively gargantuan drumming — as primal rhythmically as the album's titular animal, yet tonally akin to a jungle Jeep outpacing its stampede. As for the philosophical themes, song titles like "Surveillance Is Like Centipede's Feet" will make you want to learn Chinese to catch every meaningful lyric. If that won't, frontman Zheng Dong's earnest yet swaggering singing will.
Finest Moment: The skidding tire guitar riffs, warbling distortion, and clattering percussion of "Flamingo Bridge."  – Kyle Mullin
Black Country, New Road
Hometown: London, England
Why We Love Them: This group of seven co-ed collegiate twentysomethings — who look like they're off a slightly more sophisticated Gap editorial — are swimming in adulation following the release of their debut LP, For the first time. But boy do they deserve it. Their signature scabrous post-punk-cum-orchestral-flourish is nothing less than bewitching, as they implement some of that postmodern Gen Z sensibility into the lyrics. But it's not always that chaotic. They can start with some soft atmospherics and slowly let it build up into an anti-climax, and then let out a cacophony of every instrument at full capacity all at once, manufacturing and fracturing moods as they please. Ergo, the "experimental" nametag that's invariably slapped on them.
Finest Moment: Frontman Isaac Woods sings in a nervous quiver about delusions of invincibility bestowed by sunglasses, then petulantly shouts that neither Kanye nor his father's finances having anything to do with doubts of his adequacy on "Sunglasses" — the same kind of confused rage a panicked sax translates before massive walls of doom guitar go timber. – Logan Blake
black midi
Hometown: London, England 
Why We Love Them: black midi named one of the best songs on their Cavalcade LP "Dethroned." But they're the ones who sound like overthrowing insurgents. That isn't just because frontman Geordie Greep gives Nick Cave a run for his regally art-rock baritone. It's also how the quartet push their instruments to the squealing, thunderous brink. Drummer Morgan Simpson, in particular, straddles black midi's musical mastery and anarchic irreverence, pounding his skins in clipped yet drilling bursts on "John L." Same goes for the flooded engine guitar stutters on "Chondromalacia Patella" or tightly spooled guitar noodling on "Slow." If rebellion is a rock cornerstone, black midi has the chops to tear it all down and skillfully rebuild. 
Finest Moment: The hairpin retreat from the rhythmic abyss on "Hogwash and Balderdash" to the melodically jazzy opening of the next track, "Ascending Forth," unveils the talent driving the band's musical mischief. – Kyle Mullin
BLK JKS
Hometown: Johannesburg, South Africa
Why We Love Them: "They'll never give you power/ You have to take the power!" BLK JKS chant on "Yoyo! – The Mandela Effect…" Heavy themes aside, this track from the South African trio's latest album, Abantu / Before Humans, is clearly a freedom-fighter anthem. Chalk that up to the Molotov cocktail horn flares, while the stop-start rhythm section evokes protestors rushing police barricades. Abantu… otherwise celebrates both the band's heritage and the region's, with South African choral singing and scorched earth guitar riffs (the later rivaling acclaimed desert rock counterparts Tinariwen and Bombino) throughout. Local flavor and universal yearnings are rarely so seamlessly teamed.
Finest Moment: The vast breadth of BLK JKS' range is on full display as the reedy singing, careening guitars and heart-racing rhythm of "Running / Asibaleki" gives way to the subdued percussion gallops and spindly fingerpicking of "IQ(w)ira – Machine Learning, Vol. 1." – K.M.

The Brothers Osborne
Hometown: Deale, MD
Why We Love Them: With T.J. Osborne's deep, rumbling voice and John Osborne's epic guitar solos, Brothers Osborne have more in common with Gregg and Duane Allman than most of their country radio contemporaries. After a 2020 that included their third Jay Joyce-produced album, Skeletons, and a Thanksgiving NFL halftime show, T.J. made the brave decision to come out in February, becoming the first openly gay man signed to a major country label. And the band's April single "Younger Me" kicked off an auspicious new era for the brothers: John produced the track himself, using a gentle synth pulse that recalls Tunnel of Love-era Bruce Springsteen, while T.J.'s lyric is a poignant letter to his past self.
Finest Moment: Skeletons single "I'm Not For Everyone" is a defiant salute to acquired tastes and cult favorites that features zydeco accordions, a shout out to legendary Texas singer-songwriter Townes Van Zandt, and a rare lead vocal by John Osborne on the second verse. – Al Shipley
CHAI
Hometown: Nagoya, Japan
Why We Love Them: The best part of being a CHAI fan is not knowing what form their music will take next. The garage-pop hooks of their 2017 debut have little to do with 2021's WINK, which is packed with syrupy synth pads and guest rappers alike. Yet all of their songs come from the same infectious energy. Whether they're trading in bubbly glitch-pop ("PING PONG!") or sweet keyboard ballads ("Wish Upon a Star"), CHAI sound like no one but themselves. No wonder established acts like Gorillaz and Duran Duran put out collaborative tracks with CHAI this year: They're hoping some of that effortless sonic joy rubs off.
Finest Moment: While CHAI have North American dates set for early 2022, you can still get a glimpse of their live performance powers via their KEXP at Home performance, which features everything from group dance choreography to an out-of-nowhere cover of "Karma Chameleon" that goes from cheesy to kitsch to cool in a matter of minutes. – Evan Sawdey
Coheed and Cambria
Hometown: Nyack, NY
When Coheed and Cambria broke through to the mainstream in the 2000s, they got lumped in with a lot of the emo bands at the time. But as anyone who listened to anything beyond the massive singles could tell you, that was never going to be their scene. While many of those bands began to decline, the prog-rockers did what prog-rock does best — they just kept building. With their 10th album and 20th anniversary of their debut both on the way (along with the recent single "Shoulders"), Claudio Sanchez, his magnificent hair, and the rest of the band are still rocking as hard as ever. Every album still forms a complex narrative (sometimes interwoven with the songwriter's graphic novels and other media), and every face-melting guitar solo and anthemic chorus still lifts sold-out venues into another atmosphere. 
Finest Moment: The title track on their 2003 mainstream breakout, In Keeping Secrets of Silent Earth: 3, is still the only song over eight minutes long worth listening to in its entirety — and it's even better live. – Josh Chesler
Combo Chimbita
Hometown: New York, NY 
Why We Love Them: Psychedelic cumbia band Combo Chimbita just might be the planet's top candidate for the saviors of rock 'n' roll. And it's not as unlikely a claim as it sounds: The band members listened to punk and metal early on in Colombia before exploring Afro-Caribbean music as crate-digging, grown-up musicians in the U.S. Lead singer Carolina Oliveros sang in a metal band while studying opera, and it shows in the controlled burn of her vocals. It all makes sense when you witness the trippiness — and heaviness — of their live show. So, yes, it's cumbia (of the futuristic, genre-melting type), but it's also one of the best rock tickets out there. 
Finest Moment: The quartet's 2019 debut album, Ahomale, is a simmering, bubbling, churning, distorted journey into both the past and future of African and indigenous South American rhythms and spirituality. – Beverly Bryan
Crumb
Hometown: Brooklyn via Boston
Why We Love Them: Crumb's jazz-dabbling, soul-steeped, psychedelic-warped dream-pop could damn near approach the sound of Dali's clocks melting time itself if not for the taut rhythm section nailing each melody firmly into the earth. Crumb's acclaimed 2019 debut album, Jinx, touches on Tame Impala's pristine psychedelia and Stereolab's seductive avant-pop, but it never holds onto either influence for too long. Instead, aqueous synths, woozy guitar and bursts of sax drift, wander and subside like a living organism trying to find serenity in its own claustrophobia. For this year's Ice Melt — released on their own Crumb Records label — the band was let loose in a fully stocked studio, coming out as even wilier alchemists, melding vintage keys (Mellotron, clavinet, harpsichord) with manipulated found sounds, distorted vocals and makeshift instruments (including a condom-wrapped mic dunked in water). Singer/songwriter/guitarist Lila Ramani is the shy, sly siren guiding us through each disorienting fantasia, reciting mantras that flip between profound and perverse. Which is which? That's for you to decide. 
Finest Moment: The (literally) head-spinning visuals for the haunting "BNR." Watch to the end. Trust us. Then immediately check out "Trophy." – Stephanie Garr
Dead Heat
Hometown: Oxnard, CA
Why We Love Them: Southern California pretty much invented crossover thrash, and Oxnard, in particular, has long had its own distinct punk presence. The two come together with Dead Heat, who transport Suicidal Tendencies' knockaround attitude and Dr. Know's overdriven guitar sound into a more desperate, more explosive age. You don't need to be a thrash encyclopedia like me to appreciate them, though — that electricity strikes hard on first impact. It takes a lot to rival the cream of the crop in thrash, where there's a big quality gap between innovators and followers, and Dead Heat is one of the few modern bands who can stake a claim alongside their forefathers. Can you imagine how fucking sick a Power Trip and Dead Heat tour would have been?
Finest Moment: The title track from "World at War" will turn you into a combination of Eddie and a T-800 — or whatever you envision as your most badass self (higher self, if you will). – Andy O'Connor
Dogleg
Hometown: Detroit, MI
You remember that time you went to see Quicksand in the '90s and they had that amazing band opening for them that you'll never forget but can't remember their name? That was Dogleg. What about the time you saw Thursday right after Full Collapse came out but before anyone realized it was incredible, and they had some crazy band with them that blew you away? That was also Dogleg. Alright, so neither of those were actually Dogleg, but they could've been — if anyone in the band was even close to being old enough to tour when Full Collapse released. After kicking around for a handful of years with a pair of EPs, the Michigan quartet released Melee last year and immediately put the entire rock world on notice. If Fugazi had a baby who was raised in the 2000s post-hardcore scene by Bear vs. Shark, that young adult would be Dogleg.
Finest Moment: There really isn't a bad track on Melee, but we'll go with "Wartortle" —  both for the Pokémon name and the perfect Clerks remake as a music video. – J.C.
Drive-By Truckers
Hometown: Athens, GA
Why We Love Them: A storied Southern band with a loyal following, Drive-By Truckers' nearly two-and-a-half-decade run will always be highlighted by their mid-aughts breakout period with Americana hero Jason Isbell. But the group's current incarnation, a tighter five-piece outfit, is arguably the best-sounding version of the band. Prolific songwriters Patterson Hood and Mike Cooley are still churning out gritty, vivid vignettes—many unabashedly political on a pair of 2020 LPs, The Unraveling and The New OK. And although less whiskey flows on stage than it did in their earlier years, the band still delivers ear-pummeling, marathon live shows full of distorted realism that's a bit more refined but no less potent.  
Finest Moment: This year marks the 20th anniversary of the Truckers' landmark concept opus Southern Rock Opera, so it's the perfect time to crank staples like "Let There Be Rock," a sing-along fist-pumper based around Hood's memory roll of youthful mischief and catching impressionable concerts by AC/DC and Ozzy Osbourne. – Jedd Ferris
Dry Cleaning
Hometown: London, England

Why We Love Them: Spoken word post-punk is nothing new, but Dry Cleaning make it all the more invigorating with Florence Shaw's surreal and acerbic delivery.
Her presence in the music is akin to a wide-angle camera — there's a litany of details in each line, assembled from journal pages, video comments, ad copy and conversations before repurposed and stitched together into something far more intriguing. Their 4AD debut, New Long Leg, is one of 2021's more startling records, succeeding at capturing the tension between Shaw's words and the band's knotty, bristling music in high fidelity. The result is a world that demands you to soak it in repeatedly, making notes of what details were intentionally left askew – and what elements were perhaps left in their right place. 
Finest Moment: The phrase "emo dead stuff collector" from New Long Leg's "Strong Feelings" is the best example of songwriting that could work as a fantastic Twitter username. Feel free to prove me wrong. – Jibril Yassin
Fiddlehead
Hometown: Boston, MA
Why We Love Them: Whether you want to consider them the world's smallest supergroup or just a really good band made up of dudes who have been in other really good bands, you should be listening to Fiddlehead. The Boston post-hardcore/emo veterans learned all of the usual trappings that hungry young bands fall into with their previous acts. But now they've got the energy and excitement of a band that just released their second LP, balanced with the experience of musicians who've been in and out of the industry for a decade or two each. While that means that their careers outside of music won't allow for crazy nine-month touring schedules, it's a trade that works out every time. The authenticity of their two albums, including May's Between the Richness, connects with everyone from age 15 to 50.
Finest Moment: "Million Times" is both the perfect car singalong song and an early sign that Between the Richness would take everything people loved from Springtime and Blind to the next level. – J.C.
The Flaming Lips
Hometown: Oklahoma City, OK
Why We Love Them: Even at first glance, the Flaming Lips are weird as fuck — and by "first glance," I mean their talent for surrealistic titles like Clouds Taste Metallic or "Psychiatric Explorations of the Fetus with Needles" — in a way that's sort of synonymous with drugs and the unhinged thoughts caused by said drugs. But still, in their fourth decade as a band, they're still arguably the ultimate alt-psych outfit. Their commercial breakthrough, 1999's The Soft Bulletin, has been colloquially referred to as their Pet Sounds — and they've leaned into that symphonic aesthetic once more with their latest, 2020's American Head. Lately they've continued to pursue all of their whims, like penning a track for a SpongeBob musical and performing a COVID-era concert with everyone in attendance inside giant inflatable bubbles. The only thing they aren't is predictable.
Finest Moment: The explosive snare and super-catchy, blown-out melody of Soft Bulletin's opener "Race for the Prize" is a surge of serotonin. – L.B.
Foo Fighters
Hometown: Los Angeles, CA
Why We Love Them: Foo Fighters: perhaps you've heard of them, know exactly who they are. They are the big, loud band that comes around every few years, plays a huge fucking show at your local baseball stadium, gets dad out of the house and leaves you feeling like, "Oh yeah, I really like the Foo Fighters." Dave Grohl's group was one of the last anthemic hard-rock bands through the door, and the guys live it up on their latest album, the super-fun and wondrously Foo Fighter-y February LP Medicine at Midnight. On Oct. 30, the band will be inducted into the Rock and Roll Hall of Fame in their first year of eligibility. It's well-deserved: Loads of hits still bring the punk-inspired frenzy. 
Finest Moment: On June 20, the band reopened Madison Square Garden, marking the first U.S. arena concert of circumstance in 15 months. They began the set with "Times Like These." and Grohl screamed "Here we go, motherfuckers!" to a roaring crowd — a truly unforgettable human moment. – B.O.
Foxing 
Hometown: St. Louis, MO

Why We Love Them: Foxing are always hungry. Virtually no band on this continent has released more instant-classic emo records over the last decade than Conor Murphy and crew, yet they decided to flip the sad script in August. Draw Down the Moon is a pulsing synth-pop album you can actually dance to. Did they need to change their sound? Absolutely fucking not. A sequel to their last album, 2018's brilliant Nearer My God, would've more than sated their mustachioed fans. But the guys have vision — never underestimate vision — and these new jams are thrilling, thoughtful and just melancholic enough to keep the catalog tightly woven. Foxing only take big swings, and they haven't missed yet.
Finest Moment: Literally everything about the new record's majestic closer "Speak With the Dead," which shifts from towering cinemascope — and some really cool drum rumbles — to a looser bluesy solo that leads into a delightfully dissonant echo chamber featuring alt-rap group WHY? It's weird and unexpected, and that's the idea. – B.O.
Gojira
Hometown: Ondres, France
Why We Love Them: Talk about a groove metal band finding its groove. While 2016's Magma was tremendous and surely earned its Grammy nomination, the album was woefully dark, largely informed by the death of Joe (frontman) and Mario (drummer) Duplantier's mother. Gojira's April release, Fortitude, is generally lighter and more accessible, leaning on elements of prog and classic rock — a far cry from the searing technical death metal that fueled the band a decade ago. Gojira has found its sweet spot between brutality and replayability, taking some risks with tunes like the dare-we-say jangly "Chant," featuring clean vocals. But "Born for One Thing" and "Another World" are familiarly rage-tastic. 
Finest Moment: For years, much of the band's lyricism has centered around environmental consciousness and the new track "Amazonia" is one of its best ever, detailing the deforestation of the Amazon rainforest. "The greatest miracle is burning to the ground," Duplantier growls over the throttling riff. Extra points as the song was released in efforts to raise money for a Brazilian indigenous rights charity selected by the band. Metal with a message! – B.O.
Hurry
Hometown: Philadelphia, PA
Why We Love Them: Hurry are a Teenage Fanclub for an extra-anxious generation, writing shimmery power-pop sunshine plucked straight from the '90s. The Philly band's June album, Fake Ideas, is another polished, guitar-driven delight — bright in melody, wistful in words. The record is centered around frontman Matt Scottoline's experiences with anxiety disorder, which is ironic: Few things are more calming than his group's Tempurpedic blend of jangling guitars and silky harmonies. Perfect to perk up a shitty Tuesday.
Finest Moment: The addictively balmy new track "Where You Go, I Go," which could exist in literally any decade since the '60s and get people swaying. Timeless! – B.O.
Iceage
Hometown: Copenhagen, Denmark
Why We Love Them: In the decade after they achieved international acclaim with 2011's vicious New Brigade, these Danish post-punk stalwarts have delivered exciting twists and turns throughout their catalog. Their most recent album, Seek Shelter, manages to move forward by embracing the past, showcasing '60s/'70s U.K./U.S. rock influences, particularly the Rolling Stones. With the help of producer Peter Kember (Sonic Boom from Spacemen 3), an additional guitar player and a Portuguese gospel choir, the band builds lean, muscular songs that still vibrate with the raw emotion of their earlier work — but with new, striking depth and sophistication. It's a dark, sexy record, packed with enough religious imagery to make you wonder if salvation might really be just around the corner.
Finest Moment: "High & Hurt" extrapolates on the often-covered 1907 Christian hymn "Will the Circle Be Unbroken?" (made popular by The Carter Family in 1935, then in 1972 by the Nitty Gritty Dirt Band) and mutates it again into something entirely new. – John Paul Bullock
Khruangbin
Hometown: Houston, TX
Why We Love Them: Trying to pinpoint the music of this Texas trio is a losing game. Beginning with their 2015 debut album, The Universe Smiles Upon You, the unique sound of Khruangbin — bassist Laura Lee, guitarist Mark Speer and drummer Donald "DJ" Johnson — has drawn from a variety of global musical influences: Thai funk, surf rock, Middle Eastern, Latin, Jamaican dub, jazz rock and West African. They all add up to something quite spiritual, psychedelic, sensual and joyous — think '70s Santana for today's indie-rock audience. Primarily an instrumental band, Khruangbin recently introduced more vocals into their repertoire with their sublime 2020 album, Mordechai. As Lee told Newsweek last year, home is not far away from their minds despite going international: "In trying to sound like the world,' we hoped that it would really be reflective of Houston, which is where we're from, because it's such a multicultural city," she said. "We wanted to show some hometown pride." And that fluid sound is still carrying the trio's career on an upward trajectory, including a collaborative EP with R&B singer Leon Bridges and headlining shows at major venues.
Finest Moment: "Time (You and I)" from Mordechai is a perfect blend of '70s-styled disco-funk and reflective, life-affirming lyrics. – David Chiu
King Gizzard & The Lizard Wizard
Hometown: Melbourne, Australia
Why We Love Them: Quality matters more than quantity, but King Gizzard & The Lizard Wizard have excelled at both like no other band working today. In the last 12 months alone, the Australian psych-rock sextet have released three new studio albums, plus four live sets and two collections of early demos. Not since Frank Zappa's heyday has this much complex yet whimsical art-rock poured out of one artist. 2020's K.G. and its 2021 companion L.W. expand on the group's experimentation with custom-built microtonal instruments, exploring sci-fi narratives about gods and cyborgs. Frontman Stu Mackenzie has called their latest, Butterfly 3000, his favorite King Gizzard album, which may be standard promotional patter, but it carries a little more weight when the band has 18 records.
Finest Moment: It's hard to picture such a weird and prolific band ever crossing over and making a hit single. But Butterfly 3000's synth-pop confections like "Catching Smoke" offer an intriguing glimpse at what a King Gizzard pop crossover might sound like, reminiscent of prog bands like Yes and Genesis tightening up their hooks for MTV in the '80s. – A.S.
Mannequin Pussy
Hometown: Philadelphia, PA
Why We Love Them: Missy Dabice's crew of dream-rage shapeshifters nailed it again with May's searing EP Perfect, a delirious waltz between melty shoegaze and slam-happy hardcore. And when the band hit the road earlier this summer, opening for fellow Philadelphian Japanese Breakfast, they were not fucking around. At the Asbury Park, N.J. show I saw, Dabice was wholly magnetic — no stage too big — as she flipped between the soaring belts of "Control" and "Patience" and the hellbound shrieks of "Cream" and "Perfect." At one point, she fell to her knees, crawling on all fours to the edge of the stage, reaching for the crowd like the girl from The Ring. It was killer.
Finest Moment: The double-fisted haymaker that is the new EP's opening two tracks: "Control" and "Perfect." Hook 'em with the pretty vocals, crush 'em with the riffs! – B.O.
Mastodon
Hometown: Atlanta, GA
Why We Love Them: Consistently innovative and instantly recognizable, Mastodon remain one of American metal's most vital bands, especially following the release of 2017's Emperor of Sand, which earned the group their first Grammy Award (for the blistering single "Sultan's Curse"). But then again, "metal" has never adequately described Mastodon's chameleonic sound, which for two decades has encompassed punk, prog-rock and sludgy bits, plus the stark difference in vocals from co-singers Brent Hinds (more grit, like Lemmy and Ozzy) and drummer Brann Dailor (more polish, like Rob Halford). The band's eighth album, Hushed and Grim, is yet another winner — songs like "Pushing the Tides" and "Teardrinker" absolutely rip. 
Finest Moment: Any Mastodon live show, which is a clinic for Dailor — unlimited props to any drummer who can belt like he does while cranking out those exceedingly complex drum fills. – B.O.
Mdou Moctar
Hometown: Abalak, Niger
Why We Love Them: Mdou Moctar single-handedly made white Stratocasters cool again. The Tuareg guitarist has generated plenty of goodwill over the last decade for his compelling style of psychedelic agit-rock. But 2019's Ilana (The Creator), the first to use his versatile backing band, brought him a larger audience. Since then, they've continued to melt minds and enrich souls — capable of invoking Hendrix-like pyrotechnics, traditional Tuareg drones and wide-eyed melodies in the same tune. Afrique Victime, their latest album and first on Matador, is likely to take Moctar even further; its transcendent guitar is built on a bedrock of hallucinogenic, eclectic songwriting that refuses to stay in the same place for long. 
Finest Moment:  The title track on Afrique Victime is a seven-minute dissertation on latter-day African colonialism that features some of Moctar's finest guitar playing yet, the notes melting into a euphoric fire as the rest of the band conjures a storm of noise behind him. But then again, making and starring in a full-fledged remake of the film Purple Rain renamed Akounak Tedalat Taha Tazoughai (English for "Rain the Colour of Blue with A Little Red In It") might also take the crown. – J.Y.
Meet Me @ the Altar
Hometown: Florida, New Jersey and Georgia
Why We Love Them: It's almost impossible not to root for Meet Me @ The Altar. The pop-punk trio — vocalist Edith Johnson, guitarist Téa Campbell, and drummer Ada Juarez — met online, the common thread being their mutual love for Fueled by Ramen mainstays like Paramore and Twenty One Pilots. Just two years after releasing their debut EP, 2018's Changing States, Meet Me @ The Altar were signed to the iconic label themselves. Vibrant, propulsive and as fun as your favorite Fall Out Boy music video, Meet Me @ The Altar are here to nurture your inner pop-punk kid (even if you stopped shopping at Hot Topic years ago).  
Finest Moment: This line from "Garden": "Spent your days glued to your telephone / And hoped that maybe you'd feel less alone / And find yourself through a post again" — MM@TA testify to the possibility of forging true friendships through the internet. – Abby Jones
Modest Mouse
Hometown: Issaquah, WA
Why We Love Them: After staying under the radar for half a decade, Modest Mouse emerged with their first new album in over six years. The Golden Casket lives up to its name: It's an oddly buoyant ode to the death and decay that have overwhelmed life during a global pandemic. Of course, we shouldn't be surprised. For over two decades they've soundtracked abandoned shopping malls and trucker road trips to nowhere. This band has defined their career by giving a voice to the rot and recession of American wasteland. However, the synthy sheen of their latest record infuses well-needed optimism through the clatter, making them sound more vital and vibrant than ever. 
Finest Moment: The spritely "The Sun Hasn't Left" proves Modest Mouse haven't gone anywhere either. – J.G.
My Morning Jacket
Hometown: Louisville, KY
Why We Love Them: In July 2020, when the concert-less doldrums of the pandemic summer had really taken hold, My Morning Jacket returned right on time with The Waterfall II, a second volume of songs from the recording sessions that yielded 2015's The Waterfall. The unearthed material felt refreshingly familiar, touching on both the band's twang-heavy early years ("Climbing That Ladder") and the spacey soul-rock experimentation of more recent times ("Magic Bullet"). And after an extended break, Jim James and company made a full-throttle reboot this fall, including their first tour in five years and a new self-titled album, the group's ninth overall. Lead single "Regularly Scheduled Programming," a lament of modern screen addiction, creeps along with building tension before cresting with a fuzzy, furious peak. 
Finest Moment: "Feel You," a gem from The Waterfall II, is a pristine slow jam that finds James stretching his falsetto amid swirling Floyd-ian guitar runs. — J.F. 
The OBGMs
Hometown: Toronto, Canada
Why We Love Them: The OBGMs have no use for modesty. They've proudly proclaimed themselves "the Steve Jobs of this rock shit," and they back it up on their second album, 2020's The Ends, a whiplash collection of garage-punk anthems splitting the difference between the Hives and Iggy Pop. Densil McFarlane's lyrics bristle with gutsy self-assurance even as the singer-guitarist grapples with feelings of despair and aimlessness. "Got no options, got no second chance, got no luck / Burn my bridges, burn them down to the ash, that's what's up," he screams with larynx-shredding fury on "Cash," and suddenly you can't help but share the OBGMs' unwavering conviction in themselves — it's clear that fame and death are their only options.
Finest Moment: "The Fight Song," a hooky, bare-knuckle rager that's destined to soundtrack thousands of sweaty mosh pits — probably with McFarlane flailing dead center. – Bryan Rolli
Osees
Hometown: San Francisco, CA
Why We Love Them: Remember at the beginning of the pandemic when everyone on social media was baking sourdough and bragging about the awesome Garageband EP they were working on in their bedroom? Then everybody fortunate enough to stay alive and keep their jobs got awfully quiet and you never heard any of those sweet jams you were promised? Well, thankfully, experimental psych rock legend John Dwyer came to the rescue. Since the beginning of COVID-19, with help from numerous collaborators, Dwyer has issued an astounding array of new and archival material, including eight albums of fresh songs under an increasingly hilarious series of bands names like Bent Arcana, Witch Egg, Damaged Bug and Endless Garbage. His ever-evolving main project, currently known as Osees, also released five live albums on Bandcamp, featuring sets recorded at shuttered California venues like Pioneertown's Pappy & Harriet's, Big Sur's Henry Miller Library and L.A.'s Zebulon. 
Finest Moment: This post-apocalyptic golden hour parking lot performance of "Chem Farmer/Nite Expo" from the first of two excellent Levitation Sessions. – J.P.B.
Parquet Courts
Hometown: New York, NY
Why We Love Them: After seven albums and 11 years, Parquet Courts are now something like indie-rock lifers — at least if they want to keep up their elite hot streak. But there's a danger to being so consistent: At a certain point, people start taking you for granted. (Doctors officially call that "New Pornographers Syndrome.") But the band's latest, the recently issued Sympathy for Life, is a fascinating update to their arty, already-versatile post-punk style — adding more concentrated blasts of psych-rock and post-Remain in Light Afrobeat.
Finest Moment: The trancey, psychedelic groove of "Marathon of Anger." The instrumental was edited down from a 40-minute jam — and damn, if only we could hear the half-hour they scrapped. – Ryan Reed
Pom Pom Squad 
Hometown: Brooklyn, NY

Why We Love Them: You all can keep your Olivia Rodrigo pissed-off cheerleader motifs — we're signing on with Pom Pom Squad, whose debut LP, Death of Cheerleader, is a delightfully petulant mix of punk, indie-pop and grunge — a real rah-rah-sis-boom-fuck-you. Frontwoman Mia Berrin packs a ton of influences into the record, from riot grrrl fury to jazz and '60s pop, even covering Tommy James and the Shondells' "Crimson and Clover." Pain, romance and self-discovery bleed throughout the energizing release.
Finest Moment: The incendiary "Shame Reactions,"  which sounds like pre-TRL My Chemical Romance sneering over old-school East Coast punk riffs. – B.O.
Psychedelic Porn Crumpets
Hometown: Perth, Australia
Why We Love Them: The psych-rock quintet from down under build towering soundscapes full of jagged guitar squalls, off-kilter grooves and whimsical, Beatlesque melodies. Reverb-drenched vocals lull listeners into a state of rapt wonder on "Found God in a Tomato," a nine-minute odyssey off their 2016 debut LP, High Visceral, Pt. 1, chronicling frontman Jack McEwan's chance encounter with the divine after taking mushrooms and discovering a tomato in the fridge. But Psychedelic Porn Crumpets are also skilled in the art of a buzzsaw riff, with fuzzy guitars slashing and soaring across arena-ready rockers "Tally-Ho" and "Tripolasaur" from 2021's SHYGA! The Sunlight. That album sports the band's most linear arrangements to date but sacrifices none of their gonzo charm. 
Finest moment: "Tally-Ho," a delicious cocktail of overdriven riffs, reverberating vocals and galloping rhythms, is the perfect introduction to Psychedelic Porn Crumpets before diving into their more complex material. – B.R.
PUP
Hometown: Toronto, Canada
Why We Love Them: In a world of increasingly sanitized and corporatized pop-punk, PUP remain a bastion of DIY integrity and musical kickassery. The self-deprecating Toronto punks have released three ironclad LPs — 2013's PUP, 2016's The Dream Is Over and 2019's Morbid Stuff — since quitting their shitty day jobs to pursue their dream full-time, and each record boasts more explosive choruses, gnarled riffs and gleefully nihilistic lyrics than the last. That nihilism reared its head once more on 2020's aptly titled This Place Sucks Ass EP, an unflinching document of pandemic-era angst. Singer Stefan Babcock and lead guitarist Steve Sladkowksi wield their axes like a swarm of pissed-off bees on "Anaphylaxis," a knotty prog-punk banger about a hypochondriac featuring lyrics — "I confess / I started panicking / And praying for death / I'd do anything now" — that feel just a little too morbid to laugh off. 
Finest moment: "DVP," the perfect distillation of jittery punk aggression, festival-ready gang vocals and hilariously self-destructive lyrics ("She says that I drink too much / Hawaiian red fruit punch!"). – B.R.
Really From
Hometown: Boston, MA
Why We Love Them: Really From can't be bothered to adhere to your labels. The band — whose name is a dig at those who ask their mixed-race members, "Where are you really from?" — make indie-rock feel boundless and fresh. Though jazz elements take the forefront in their music, calling Really From a jazz-fusion band would sell them short; they breathe a new life into the 2000s math-rock boom, sprinkling in emo and ambient elements throughout. Meanwhile, their lyrics tackle themes of family dynamics, subtle oppressions and self-acceptance in a world that dares to keep kicking you down.
Finest moment: This line from "Quirk": "My laugh's made like yours / Hearty at its core / I will inherit more / From you and what you leave with me." Instant tears. – A.J.
Royal Blood
Hometown: Brighton, UK
Why We Love Them: Royal Blood singer-bassist Mike Kerr and drummer Ben Thatcher first played together in a quartet before deciding they could make a big noise as a duo — and over the past decade, they've only grown more creative in how they do it. Kerr has always used pedals and effects to control a wide range of sounds out of four strings, but he adds more synthesizers to the mix on their third LP, Typhoons. And the album's "disco meets AC/DC" aesthetic led Thatcher to employ simpler, more propulsive grooves that suit those electronic textures. With three chart-topping records in the UK and a lower profile in America, Royal Blood's current sound echoes other great British dance rock bands like Stone Roses and Happy Mondays who were far bigger at home.
Finest Moment: The lead single from Typhoons, "Trouble's Coming," buzzes and thumps with blues-rock DNA like nothing since ZZ Top's Eliminator, and it was the perfect bad-vibes anthem for the middle of a chaotic 2020. – A.S.
Skeleton
Hometown: Austin, TX
Why We Love Them: Though Skeleton haven't returned to the stage quite yet, they've been far from inactive, with a second full-length already on the way and a raw black metal tape, Ordainment of Divinity, to satisfy bloodlust in the meantime. Even without shows on the horizon, they are still the epitome of Texas metalpunk, bringing hardcore energy to first-wave black metal. Guitarist David Ziolkowski is deadly efficient and sharp, a young prodigy with years of fine riffs ahead of him; and his brother, drummer-vocalist Victor, compliments and counters with an unhinged barrage. Behind the kit he wields more charisma than most lanky, wobbly punks sputtering about. When they hit the road again, y'all ain't gonna be ready.
Finest Moment: Their self-titled debut in whole, really, but "The Sword" stays sheathed, like a thrashier The Return-era Bathory. Try to run up. – A.O.
Sleater-Kinney
Hometown: Olympia, WA
Why We Love Them: Sleater-Kinney are irredeemable to some fans, following the stylistic detour of their 2019 LP, the St. Vincent-produced The Center Won't Hold. Others viewed the departure of drummer-vocalist Janet Weiss as a deathblow in credibility for the indie-rock legends. Yet Corin Tucker and Carrie Brownstein carried on, recording a brand new full-length and self-producing it for the first time. For those that actually listened to the resulting record, Path of Wellness, there were surprises abound. Tucker and Brownstein didn't soft-reset their sound so much as transport themselves back to 1999, decorating their Kill Rock Stars-era aesthetic with a beautifully laid-back (and distinctly post-millennial) charm. "High in the Grass" grooves in a way we didn't know they were still capable of, proving that Sleater-Kinney isn't at the end of an era — they're just starting a glorious new one.
Finest Moment: Tucker has a way of speak-singing words in a way that transforms common phrases into new forms, and the scratchy-sarcastic way she says "oh boy" at the 1:12 mark of "Favorite Neighbor" should be studied by speech historians for decades. – E.S.
Sparks
Hometown: Los Angeles, CA

Why We Love Them: Sparks are having a moment 50 years in the making. With a delightful, Edgar Wright-helmed documentary featuring everyone from Beck, Thurston Moore, Weird Al and Jack Antonoff singing their praises, 2021 was the year your favorite band's favorite band finally became your favorite band. Brothers Ron and Russell Mael have been making the kind of idiosyncratic rock that critics love for half a century, but their momentum is hitting fever peaks rarely seen for artists in their '70s. After 20-plus albums, career-spanning collaborations with Giorgio Moroder and Franz Ferdinand and several failed filmmaking attempts, they always maintained a razor-sharp wit and theatrical flair throughout the highs and lows. And now they're seeing the ultimate payoff: a new generation of fans that could be their grandchildren and the cinematic release of Annette, a musical written and scored by the band, starring Adam Driver.

Finest Moment: Seeing their faces on the big screen after 50 years of cult status and relative obscurity. – J.G.
Spirit of the Beehive
Hometown: Philadelphia, PA

Why We Love Them: "Experimental" is the definitive word for these cult favorites, but there's no pretension or cooler-than-you esotericism. On their fourth and best album, 2021's ENTERTAINMENT/DEATH, they're just mad scientists: obsessed with synths and weird mastering and taking that as far as they can just for the fun of it. Sure, there's a sense of antagonism — they'll snatch away that hook you wanted to hear again and give you an ugly drone instead, just because they got bored and it's funny. It's joyfully frustrating because crumpled up and beaten in the depths of these songs lies some genuinely catchy pop. 
Finest Moment: The six-minute-plus odyssey "I SUCK THE DEVIL'S COCK," which starts as rave-punk and ends as a haunting piano ballad. It's their batshit take on The Beatles' "A Day In The Life." – M.H.
Tigers Jaw
Hometown: Scranton, PA
Why We Love Them: Since their 2008 self-titled debut, Tigers Jaw have been low-key standard-bearers for the emo revival. And like all good standard-bearers, they've stayed out front: always leading the parade, never falling back on genre conventions or revisiting places they've been. A healthy measure of inspiration from unconventional indie bands such as The Microphones is part of the recipe. Through the years and lineup changes, their songwriting has only grown more sophisticated, and the lyrics ever wiser — all while staying emo as hell.
Finest Moment: Though stripped-back in places and comparatively restrained, 2021's I Won't Care How You Remember Me is a subtle, and richly detailed triumph. Tracks like "Hesitation," with its heart-palpitating riffs and graceful death-spiral melody, provide conclusive proof of life for their genre in 2021 — while also calling back to early 2000s comfort-food jams for a sneaky gut-punch of nostalgia. – Beverly Bryan
Touché Amoré
Hometown: Los Angeles, CA
Why We Love Them: If there's a better post-hardcore band right now, we don't know about it. Jeremy Bolm's crew is so ridiculously well-rounded — speed, polish, creativity, intensity — and they've only improved their songwriting over the last decade-plus, expanding well past the 60-second mayhem cycles of their beloved debut, … To The Beat of a Dead Horse. Last year's Lament was Touché's most accessible project yet, as Bolm reckoned with life beyond the encompassing grief of his mother's death. The titanic lead single "Limelight," featuring Manchester Orchestra's Andy Hull, is an instant classic. If you're looking for something new and fun, Bolm just covered the Pixies staple "Where is my Mind?" with a bunch of hardcore pals.
Finest Moment: The mammoth climax of "Limelight," where Hull's guest vocal enters a cresting wail and Bolm screams underneath, over and over, "Let's embrace the twilight while burning out the limelight." Chills every time. – B.O.
Turnstile

Hometown: Baltimore, MD
Why We Love Them: There's optimism, and then there's Turnstile. The Baltimore band's raison d'etre is their belief in the transformative power of music — granting clarity and reason to every boneheaded guitar riff and boisterous lyric shouted by frontman Brendan Yate. Their fourth LP, GLOW ON, goes deeper than traditional crossover punk, setting its sights on conquering damn near everything. Look beyond the Julien Baker and Blood Orange cameos, the world-beating production helmed by a man who worked under Dr. Dre and the obsession with dance beats, and you'll find a band at the height of their powers, consistently landing the tricky balance between riff, groove and involuntary reaction. The hellscape that is 2021 means concepts such as "selling out" no longer matter if you're in a punk band. What money is there to make when tours don't exist for most of the world? So it's a thrill watching Turnstile continue to move like they aim to be The Biggest Band in the World — and when the dust settles, we might be able to agree they're one of the few worthy of the mantle right now. 
Finest Moment: For all their ambition, "T.L.C. (Turnstile Love Connection)" is a glorious highlight on GLOW ON simply because it's only concerned with hunkering down and blasting by — a "New Noise" for the new millennium. – J.Y.
Unto Others
Hometown: Portland, OR
Why We Love Them: Going to the goth club after the metal gig and dancing your ass off to Sisters of Mercy is a time-honored tradition for real bangers, and Unto Others represent the best of both worlds. Gabriel Franco's warble is straight Floodland drip, dew-stained sunglasses and all; Sebastian Silva unleashes NWOBHM leads with a boastful prance. Above all, they are dark romantics, Black Rose horticulturists equally lusting for damnation and lost loves. What's being hard if you can't love hard? Strength, their second album (and their first as Unto Others), will the goth-metal banger we've been awaiting since Type O called it a day. – A.O.
Finest Moment: "Downtown" is 3 AM, head-to-toe leather, 9% battery, no future and a gleam of a thrill in one song. – A.O.
White Denim 
Hometown: Austin, TX
Why We Love Them: They have the chops and imagination to tackle any style. No one even knows what to call this band — over the years, they've been "garage rock," "psychedelia," "blues rock," "Southern rock," "experimental rock," the list goes on. No two White Denim albums sound exactly the same — from the balls-out, fuzz-guitar indie-prog onslaught of 2011's D to the shuffling, horn-bathed soul of their June single "Crystal Bullets." But they're all united by the stoner-friendly charisma of the band's two core members, singer-guitarist James Petralli and bassist Steve Terebecki. (These dudes have trouble hanging on to drummers.) 
Finest Moment: Everyone slept on White Denim's start-to-finish perfect 2018 record, Performance. As a sampler, start with the absurdly funky "Double Death," home to one of the nastiest wah-wah guitar solos this side of a Hendrix LP. – R.R.
Wolf Alice 
Hometown: London, England  

Why We Love Them: There is no can and cannot with Wolf Alice. The deeply lauded Brit-rock torchbearers, fronted by Ellie Rowsell, can do anything — and they've proven such by never writing the same song twice: crunchy alt-rock, glistening indie-pop, frenetic punk, melty shoegaze. It's now what they will choose to do. And in June, the wondrously unpredictable foursome released their best record yet: the expansive and strangely beachy Blue Weekend. The band stripped back sonically, relying more on pure songwriting to create truly majestic moments only they could pull off. All hail Wolf Alice!
Finest Moment: Pick a moment from "Last Man on the Earth," be it the full-band swell after Rowsell's delicate piano prologue or the bit that flips the song in McCartney territory, unloading a "Live and Let Die"-esque guitar riff to blow the track open. – B.O.
Wye Oak
Hometown: Baltimore, MD
Why We Love Them: Jenn Wasner and Andy Stack have been making densely textured, emotionally probing music ever since Merge Records reissued their 2007 debut, originally released under the name Monarch. And though they've made six great albums as a duo, and acted as a backing band on projects like Madeline Kenney's Sucker's Lunch, it feels like Wye Oak are still challenging themselves with new approaches. In the last four years, they've favored a steady trickle of singles and EPs over albums. And in 2020, they played shows as an expanded quintet — and also released the No Horizon EP, expanding their sound via the Brooklyn Youth Chorus. "Electricity," the brooding but explosive first song released from the recent outtakes collection Cut All the Wires: 2009-2011, proves that Wye Oak can even afford to shelve some great songs for a decade. 
Finest Moment: "Its Way With Me," one of Wye Oak's one-off 2021 singles, has a gently swaying groove and philosophical lyric that found an unlikely fan in former President Barack Obama, who made it the only song in 7/8 time on his 2021 Summer Playlist. – A.S.