Emily has suggested that we drive to Pasadena this afternoon for a free music festival. She and Pink met through a mutual friend in a Del Taco this past January, and they've been virtually inseparable ever since. She says he looked exactly as she'd imagined him the first time she heard his music in college at Cal State Long Beach.
"Who turned you onto it?" Pink asks. "My ex-boyfriend, a psychology major," she says. "He gave me [The Doldrums] and was like, 'This is "Emily Music" right here, you've got to hear it.' I was like, 'Totally, this is fuckin' weird.' I was always looking for the weirdest thing. The cutting edge." She squirms in her seat as she remembers. "But I almost couldn't listen to it. It was disturbing. It made me feel uncomfortable."
"That's my talent," Pink says, licking his lips and nervously twirling his hair around a finger. "I make people feel uneasy."
A few hours later, downtown Pasadena feels like it should be melting. Thousands of locals have spilled into a parking lot at the intersection of Colorado and Madison, all seemingly at ease with the heat. Everyone but Ariel Pink. Draped in a cardigan with nothing underneath but an empty, heart-shaped locket dangling between patches of corkscrewing chest hair, he twitches as a beefy kid in a tank top and board shorts approaches. Extending his hand, the kid inquires, "Are you Ariel Pink?" Refusing eye contact, Pink offers a nod and a handshake.
Perhaps as a way of staying out of sight, Pink takes a seat on a curb at the side of the stage, elbow-to-elbow with Emily and his bassist, Tim Koh. Some smart-ass in a backwards Miami Heat cap stoops to pat him twice on the head as he passes. No response. "Are you Ariel Pink?" asks another clean-cut teen in a blue polo, seconds before two girls in vests choke on their words, frozen, staring just steps away from us. Pink keeps his gaze locked on the stage that's been set up along the back wall of the building that houses the Le Cordon Bleu College of Culinary Arts. Claire Boucher, a wiry Canadian who writes, records, and performs as Grimes, is soundchecking before a free set as part of the city's summer-long Make Music festival. It's her first show since moving to the area from Montreal.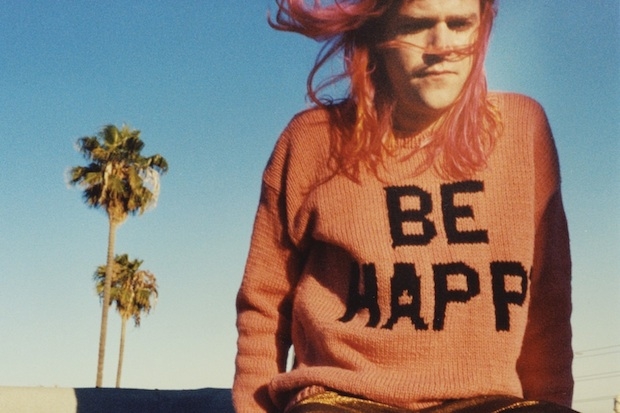 Pink, who now shares a label with Boucher (fabled English indie rock institution 4AD), recently flirted with the idea of inviting her out on the road this fall. It was an offer Boucher, one of Pink's many nascent disciples, couldn't accept — she was already fully booked. As he rises to look at an adjacent parking garage that's now crenellated with kids who've filled every floor in hopes of a better view, Pink remarks, jokingly, "She doesn't do the ramanah," referencing the genre-defying movement whose vocalists are all bound together by a common, "inadvertent" influence: Eddie Vedder's chesty vibrato. "No," he continues, cackling. "She does the Pink-a-nah."
Now onstage, Boucher surveys a tray of knobs, looking back over her shoulder at towering producer and collaborator, Mike "Blood Diamonds" Tucker, strangely dry in black pants and black tee, his tuft of bleached hair fluttering in all too infrequent breezes. When she finally begins, purring and screeching over a pre-recorded bed of her own whispers, she removes her backwards ball cap, and out floods a mane of dirty purples and twilight reds, her bangs an electric pink you could see from Saturn.
Meanwhile, her diminutive label mate has disappeared into the bronzed and broad-shouldered crowd. "Where'd Ariel go?" I ask Koh, who cracks a slow, toothy smile and stands up on his toes to have a look. "He's probably pacing around somewhere."