Ariel Pink: In Praise of Guilty Genius
The visionary Los Angeles singer-songwriter has obsessively excavated the forgotten refuse of the past, recombining it into a secret history of pop, and inspiring an entire indie generation. Now he's trying to settle down and go pro, but as DAVID BEVAN discovers, haunting memories of a family tragedy, the breakup of his first real love, and his own solitary temperament, have left him in perpetual limbo.
As I park in front of Pink's apartment the next morning, both he and Emily are sitting on the sidewalk with wet hair, waiting for a table at La Fuente, the Mexican restaurant next door. Today is Father's Day, and before we drive to the Valley for a family barbecue at Pink's sister's house, Haunted Graffiti has a special rehearsal planned this afternoon: Luis Martinez, a drummer who's played with both Bill Callahan and Yellow Fever, is flying in from Austin, Texas, for a blitz of rehearsals before the band flies to Japan on Thursday for three dates. Martinez is the first drummer who Pink says can match the rhythms he hears in his head, those he's reproduced vocally ("mouth drumming" it's called) on his own that have, in part, come to define his music. "It's insane," he says as we walk through the door. "It's the first time it's ever happened."
We slide into a booth and Pink, his eyes downcast, orders a burger and Coke in Spanish. Spanish was his first language, taught to him by his father, Mario, a Harvard-educated gastroenterologist and Mexico City native. Mario moved to Los Angeles with Pink's mother Linda after finishing up his post-med work at Tulane University hospital in Linda's hometown of New Orleans. After they divorced, the horror movie-obsessed Pink, who was still very young, and his sister Michelle, were forced to shuttle back and forth between their parents' homes — from his father's in tony Beverly Hills to his mother's in modest Pico-Robertson and later Bogalusa, Louisiana, a rural town of just under 15,000 along the state's border with Mississippi — before lawyers eventually insisted they choose between the two. Pink chose his mother.
Though Pink chose to live with his mother, constant bullying at school prompted both of his parents to send him to Mexico City for a year to live with cousins. It was there that he lost his virginity at age 13, to a prostitute named Sara, and discovered the Cure, a band that championed the gothic aesthetic he relished in metal, but emphasized unshakable melody over macho alienation. Like much of the pop music made in the '80s, a "lost era" as he curiously calls it, Pink found "something unholy" in the Cure, "something alive and dead at the same time."
But now, having channeled so much of his personal rage into that initial rush of late-'90s inspiration, Pink finds himself torn between two extremes — the monastic but volatile nature of his early, defining work; and the more collaborative, conventional, and ultimately more lucrative path of his recent work with Haunted Graffiti, which allows him to successfully tour the world. Even with often ghoulish posture, Pink still has the eyes of a child; and despite his small stature, he's got the strong, stubbled jawline of a grown man. And Mature Themes, an album written and recorded after his relationship with Geneva Jacuzzi ended, in a downtown studio space Pink leased and built last year with his very first label advance, attempts to reconcile that dichotomy. The title refers not to an attempt to cement his legacy, but an effort to grow and speak to the future, to his evolution. Ariel Pink would like to become a father. "I was going to this therapist last year to deal with the loss of Geneva," he says of his ex. "He suggested I had excess oxytocin flowing through my brain, that hormone that girls get when they have orgasms. I'm grieving too much for a guy — I'm like a girl."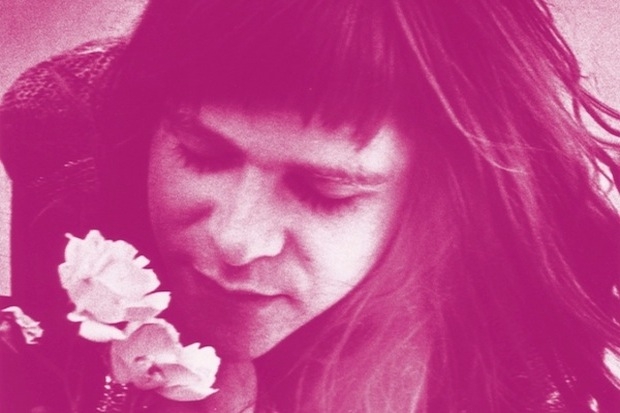 Back in his bedroom, he lies down and calls out to Emily. She joins him on the bed, and through the doorway, you can see their feet dovetailing as they spoon. They lie like that, murmuring back and forth to one another until he falls asleep. And as she walks back into the living room, she nods toward the couch. "You're going to want to take a shower right after you sleep on that," she says, laughing. For months now, she's been cleaning Pink's apartment for him, even spraying the decaying living-room furniture with disinfectant. "He's very much in his own world," she says. Together, Emily and I begin walking to a grocery store so that she can buy Pink a Red Bull for band practice. Shards of freshly cut cactus float in tubs outside its entrance. Emily, who sings in an "indie-disco" band right now, says that it took a little while for Pink to realize that she was flirting with him. "I sort of thought he thought I was just a fan." But in the past several months, she says, they've been "weaning one another off their past, fucked-up relationships."
"He sees himself as this short, nerdy little guy," says Emily. "I like nerds. I'm a nerd. I think he likes having hang-ups, likes having a bit of an attitude. But I also think it's become so real to him that it's life now, like a method actor who's lost his mind."