After a hurried band practice downtown, Emily asks us to drop her off at her husband's house in Silverlake as we make our way to the valley. She won't be attending the family barbecue.
"See, I can hear my influence in this music," Pink shouts from the passenger seat, ignoring Emily as Coldplay's "Paradise" comes on the radio. "That over-melodiousness, that whole keyboard bit. That was all me. Seriously. They don't even realize."
"Coldplay? They rip everyone off," she says.
"This is like 'Helen,'" he continues, referencing an early song of his whose lyrics, he believes, foreshadowed the events of Valentine's Day, 2004. That night, while Pink was preparing dinner, he received a tearful phone call from his father. (It was the first time Pink can remember hearing his father cry.) Pink's half-sister, Elana, 16 at the time, had been in a car accident, suffering a brain injury that would take her motor skills and ability to speak. "There's a sadness [in the music]," he says, as Chris Martin launches into another skyscraping chorus. "An over-emotiveness, despite the way he sings."
Emily directs us through a web of hilly streets to where she used to live with her husband. "Do you want to meet him?" she asks Pink.
"Yeah, I'd love to meet him, " he says, deadpan.
"You're wearing his sweater. "
"Maybe it's not such a good idea, then."
We drive onward into Cold Water Canyon at dusk, into a neighborhood of telegenic front lawns and ivory-white fences, worlds away from Pink's block in Highland Park. This is where his younger sister Michelle lives with her husband, Evan, and their 3-year-old son, Ethan. We arrive a few minutes late, but just seconds behind Pink's father, who parks his Toyota Prius at the opposite end of the block, equidistant to Michelle's front door.
"Hello, Ari," he shouts from down the street, his voice echoing between the walls of hedges on either side of us. Pink introduces me as a writer from SPIN. "Mario Rosenberg," his father says in a heavily accented baritone, hand extended, just before correcting himself. "Mario Pink, father of Ariel Pink. Very proud." He is barrel-chested, twice his son's size, dressed in jeans and a crisp, gingham shirt. "You fly to Tokyo on Thursday, then Osaka, yes, Ari?" Pink nods.
We traverse the front lawn, walk through the front door and across a high-ceilinged living room filled with light, out French doors into a backyard that smells of gardenia and jasmine, scents traceable not to the garden that lines the bottom of a high wooden fence, but to the columns of candles that Michelle has placed at two very large tables on either side of the deck. Pink's mother, Linda, hugs her son, and immediately takes us to a spread near the grill. "I thought you were bringing a girl," she says to him. "So did I," replies Pink.
"Well, we're having bison," she says. "I've got tri-tip bison, I've got bison burgers. I made my bison chili, which, as you know, just won an award." Back at our table, she introduces everyone, including Mario's second wife, Brigitte, and their 21-year-old daughter, Raquel, Elana's sister. Meanwhile, Mario has taken a seat at the other table, amidst a group of middle-aged men who are chasing their meal with cigars. "Cats are not allowed to eat with the dogs," says Pink, pointing out the seating arrangement. "We get to sit at the girls' table. "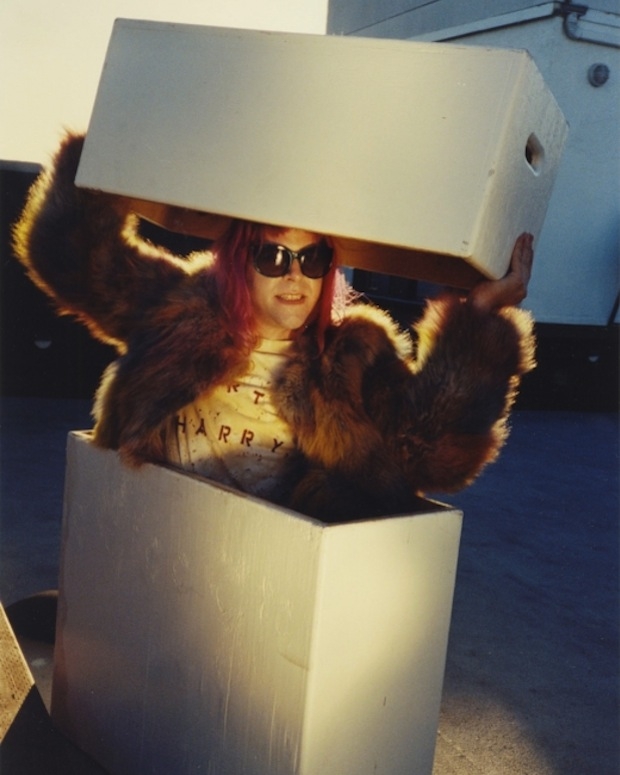 "We're very Orthodox Jewish," says Michelle with a smile, as her husband hands over Ethan on his way back into the house. The younger generation of men have gathered inside to watch LeBron James continue his dismantling of the Oklahoma City Thunder. "How was Hawaii," Pink asks his sister, complimenting her on tan. "Is that my locket?" she shoots back. "Is that mine?"
"No, it's not," he says, hunching over a bit more as he launches into a tossed-off Gollum impression ("My precioussss, my precioussss"), stroking what actually belongs to his mother. "You ever see Lord of the Rings?" he asks her. "Yes, Ariel. I get the reference." Pink has brought with him tonight the newly renewed title and registration to a mini-van his mother gave him a year ago. They'll just need to replace the Louisiana tags. "I'm so proud of you," his mother says. "But I think you should sell the van, establish some credit. You're 34 years old and you don't have any credit." He shrugs. "I know, I know."
Between helpings, Pink delivers a signed Father's Day card to his father who, in the middle of a decidedly anti-Obama rant, promises he'll have a look later. And as Ethan totters between cousins who are tossing a ball to him in the grass, Pink stops to say hello, eventually slipping into the house and out of sight. "The kids love him, they think he's so funny," his mother says. "They call him 'Uncle Ariel.'" She sighs. "I can understand why he'd be very disenfranchised. I mean, look at this," she says, panning across the backyard with her hand. "We are a materialistic family, but he's not. I think he sort of resents it, actually. I mean, he's seen both sides: I had nothing, his father is very, very, very successful, a multi-, multi-, multi-millionaire. Ariel stands to inherit everything. He is the only son."
She tells stories of Pink's childhood, of failed attempts to play basketball, of children's plays, of singing in front of the mirror, of short films he made with his sister and cousins in Mexico, of a University of Chicago specialist so taken by his pre-school drawings that he deemed him a savant. "I wanted him to be an actor," his mother says, a link to the theatrics that have come to mark his notoriously difficult live performances. "Acting coaches would come to me and say, 'He's the only kid in that age group who can speak to a girl.'" She pauses, her eyes relax. "He's a very difficult guy to understand, except for the fact that his heart is pure. His talent is that he does not judge. He doesn't ask for anything from anybody and he doesn't want anything from anybody. He'd rather be left alone. That's how he always was — even as a kid, he played much better by himself."