At the foot of the ladder to his attic, Ariel Pink is finally still. Someone has entered his Los Angeles apartment unannounced, a slammed door sending shivers through the cabinets in the hallway where we're standing. "Who could that be?" he says softly, his face illuminated only by the loose, half-lit ceiling lamp jangling above us. In shuffles Emily, a friend in need of help. We exhale. "My fucking car died, man," she says, blowing her bangs out of her eyes as her bag falls from her shoulder to the floor. "I'm so stressed-out."
Across the street, her white, late-model Volkswagen is roasting in the morning sun. She thinks it needs a jump. "Did you bring your paperwork?" Pink asks her, changing the subject. "Ariel's helping me get back on my feet," she explains, brandishing a weathered job application for a coffee shop around the corner, in this intermittently gritty, mostly Hispanic sliver of northeast L.A. called Highland Park. "I'm getting a divorce and shit."
Pink is understandably anxious, as well. At Emily's urging, he's had new locks installed on both of the doors to his apartment, a two-bedroom space he's called home since 2006. For the first time in years, the much-mythologized 34-year-old singer-songwriter is living alone. His longtime girlfriend, musician Geneva Jacuzzi, left him more than a year ago; former roommates failed to pay their rent; junkie acquaintances recently attracted tense, unannounced visits from local drug dealers. Since then, he's welcomed a string of guests to sleep over to keep him company, including both Emily and another friend who resided in the attic for a short while, creating what Pink describes as an "Uncle Fester situation." He's suggested that I spend the next two nights on his couch.
Aside from his cozy living room, which receives a fair amount of natural light, Pink's apartment is just as dark and cluttered as anyone familiar with his enigmatic music and public persona might expect. A second bedroom sits empty, its chocolate carpeting hidden beneath an ocean of trash that his last roommates left behind. Here and elsewhere, the walls are adorned with oddly colored portraits, grotesque, tempera-streaked faces watching you wherever you go: Bruce Lee, blood oozing from a knife-wound in his chest, presides over the hall; Mick Jagger, his burgundy lips as thick as bananas, lords over the couch. A single cigarette butt has been thumb-tacked to the wall beside a light-switch.
That's my talent. I make people feel uneasy.
—Ariel Pink
Near the bathroom, a door-less closet is crammed with VHS tapes in plastic crates (7 Doors to Death, Pulp Fiction, Silent Night Bloody Night, Benny and Joon, The Addams Family). An eight-track recorder — emblazoned with a small, hand-written sign that reads "MENSA IS BORING BORING BORING" — is propped up on an aluminum shelving unit beside the entrance to his bedroom. There, amid piles of dirty clothes and equipment, shopping bags brim with old cassettes and zines. There is no television or stereo to be found, nor is there an internet connection. On the living-room floor, a dusty Fender Telecaster rests, plugged into an Orange cube amp. In the past year, Pink (whose voicemail recording once requested that callers not leave a message because he'd probably lost his cell phone anyway) has fully embraced his Android-powered smartphone, using it to read books (Infinite Jest: "like peering into the mind of a madman"), scan social media feeds, write reams of text messages, and in an added wrinkle to his creative process, record snippets of songs.
"It's completely changed my life," he says, cradling the phone as it charges.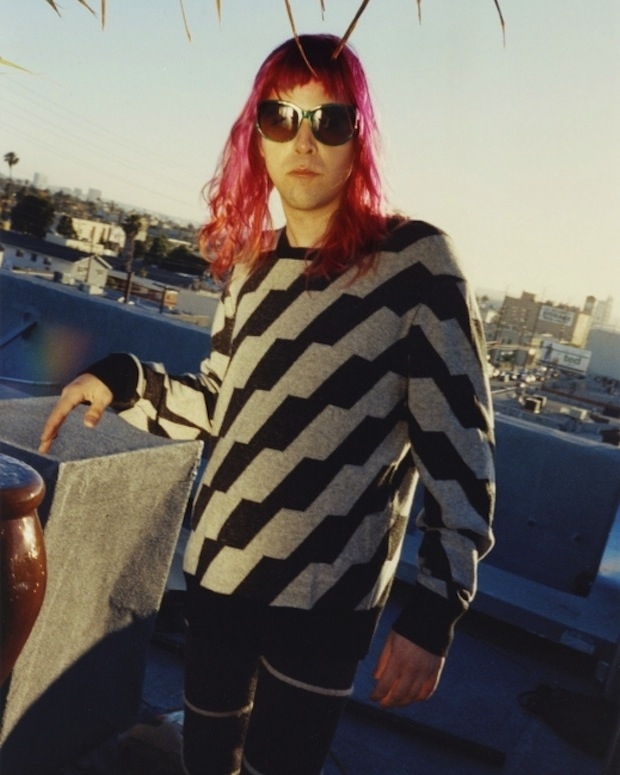 In the past two weeks, Pink says he's felt more lonely and conflicted than at any time in recent memory. Shortly after announcing the late-summer release of Mature Themes, his ninth full-length, and the first he's written and recorded entirely with Haunted Graffiti (an all-encompassing name attached to both his recording project and his constantly mutating backing band of several years), Pink claimed via Facebook that the outfit was dead. It was a response, he says, to a lawsuit filed against the group by former drummer Aaron Sperske, who demanded 25 percent of future earnings, months after his allegedly wrongful termination this past spring.
"He should sue me," Pink says, as he plops down on the couch to smoke a cigarette, three days ahead of the case's mediation. "I could dissolve the band in a second, and I'd do it before I'd let him do that to the [other members of the band.] I put that Facebook post up to see if it would resonate with Aaron." Though the post was quickly deleted and deemed a hoax, Pink's missive did resonate, far beyond one disgruntled musician: Longtime fans rejoiced, assuring Pink in the comments section that he "didn't need" his band, urging him to start working alone again, as he did when, as a student of drawing at Cal Arts in the late '90s, he began writing and recording what arguably has become one of the most influential bodies of work in pop music this side of Nevermind.
"He was a musical event," says John Maus, a Cal Arts classmate, collaborator and "honorary member" of Haunted Graffiti (Pink calls him "my very first fan") who now juggles his ongoing doctoral work in philosophy with a solo career of his own. "Once he entered the conversation, there should have been some sense that it was stupid to talk about anything else. He is the zeitgeist embodied. He is the figure of this situation and of this time, of the cloud, of the spectacle gone online."
Kurt Vile, a Philadelphian singer-songwriter in the classic American mold of Tom Petty and Bruce Springsteen, claims Pink's early run of CD-Rs and singular on-tape personality inspired him to continue writing and recording even when he thought no one else was listening. "It came through osmosis," he says of the "Ariel-isms" that found their way into his early, similarly psychedelic folk songs. "You know, I don't know his parents, but he's not thinking about what anybody else is thinking. All the stuff that comes out of his mouth, he's putting it out there as bold statement. He's like, 'Nobody else is saying this so I'm going to say it in my own way.' It's really funny and it's really American and it's just, fucking incredible. He seeks to destroy." Vile and Maus are but two in a list of fans and disciples that spans genres and tax brackets, including Deerhunter's Bradford Cox, Christopher Owens of Girls, Neon Indian's Alan Palomo and Beck.