Earlier this year, Disney was shilling T-shirts with Joy Division's Unknown Pleasures cover in the shape of Mickey Mouse's face. Bassist Peter Hook called it "quite a compliment for a huge conglomerate like Disney to pick up on a poor Manchester band that only existed for a couple of years." Around the same time, Akron/Family started selling a tee with Man Is the Bastard's classic skull logo encircled by anarcho-punk band Crass' archetypical typography. While Crass made no peep, the skull poaching was not welcomed by MIIB: founding member Eric Wood unleashed his fury by way of Facebook, calling the band "FUCKING LOGO STEALING LOSERS." Despite the polar reactions in these two instances, there is a long-standing tradition of appropriation of rock iconography. From Dipset to Ryan Gosling, here are a sampling of the weirder ones.
DIPSET/RAMONES
Rappers were taking the unwritten rule that you don't wear a band's tee to their concert a little too seriously when this shirt popped up. Hip-hop was having a moment batting for another genre, and even Three 6 Mafia's DJ Paul and Juicy J were rocking Metallica and the Misfits T-shirts on their MTV reality show, Adventures in Hollyhood. But Cam'ron and the Diplomats go hand-in-hand with the Ramones: a band of hometown brothers united in their efforts to buck others' notion of what's weird, especially when it came to fashion. There have been many Ramones logo knock-offs before and there will continue to be, but this one makes the most sense.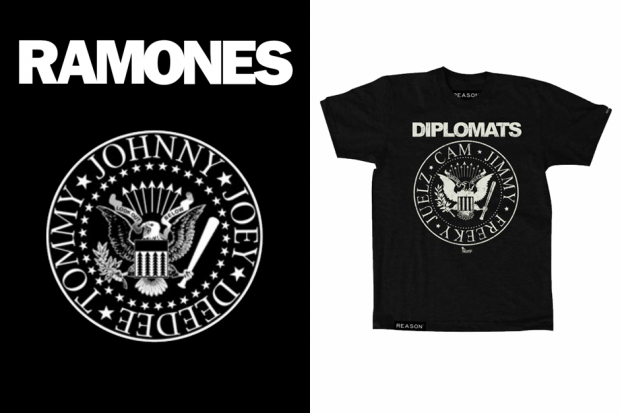 RIHANNA/NIRVANA
Ghettotech and crunk hybridists House of LaDosha not only have a penchant for vogue ball-style rap performances, but pop culture fusion that extends to the queer-themed merch sold on their site. This flip on a definitive Nirvana wearable could be conceived as adorable irony, but is more a nod to Rihanna's icon status. The shirt is appropriately festooned with a frowny face — a nod to Nirvana's tongue-and-cheek smile and the right representation of a girl who's "ran out of fucks to give."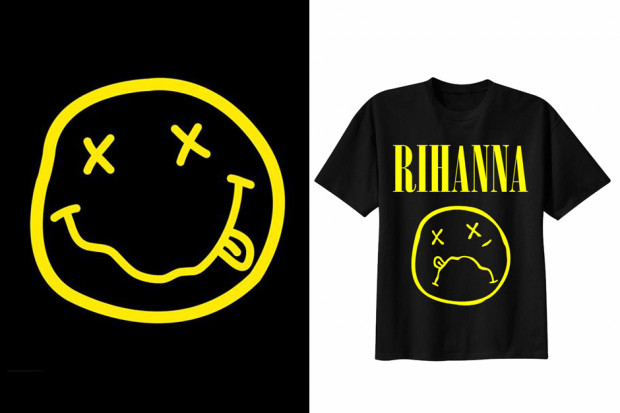 THE MEAT HOOK/VAN HALEN
The Meat Hook is a Brooklyn butcher shop that specializes in a variety of creative homemade sausages, barbecued pig's heads at their outpost at food bazaar Smorgasburg. But what solidifies their soulmate-like connection to the band that penned "Hot for Teacher" is what's to be found in the shop's Twitter feed, a hotbed for booze-soaked antics and boundary-pushing concoctions (like the epic brunches they used to host in their shop) that feels a whole lot like the culinary manifestation of David Lee Roth's rattling wail.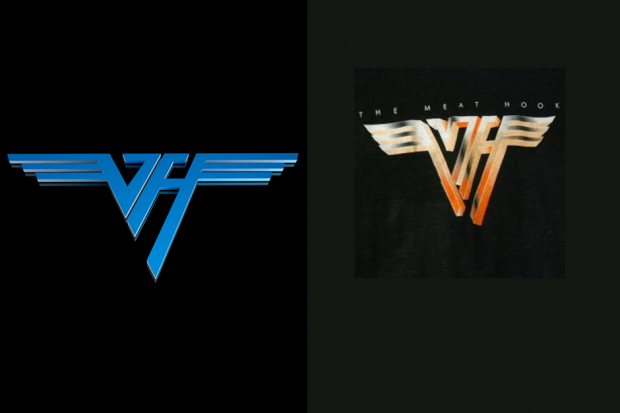 AYE JAY/COMEDIANS
Artist Aye Jay is known for a skewed take on pop art, from his Gangsta Rap Coloring Book to his street art-referencing posters for comedians like Patton Oswalt and Neil Hamburger. For the company Shirts and Destory, Jay riffed on punk and metal logos as representations of stand-ups and comedy writers. But part of his approach combines suitable bands with their funny counterparts, like merging the late, dark satirist Bill Hicks with the Misfits logo or adapting Dead Kennedys' DK with an image of equally polarizing Louis C.K. While the union between Jerry Seinfeld and Social Distortion is a little off-base, Jay's profundity for bopping pop culture on its head is deftly displayed through the series.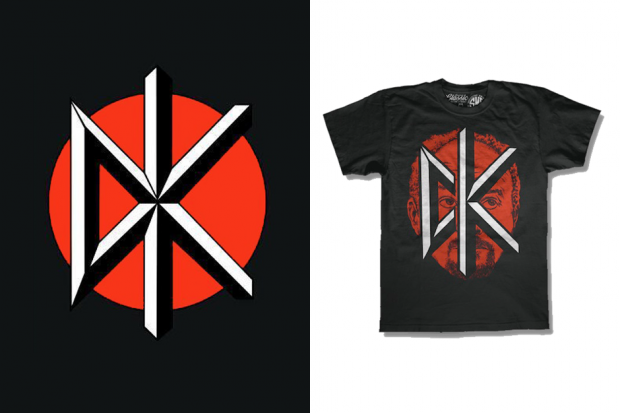 RYAN GOSLING/BANE
Perhaps the most meta of the lot comes via xgoslingx.tumblr.com. 2011 was a watershed year for Gosling. He had five films in theaters and for those who had forgotten about him since The Notebook were re-enthralled, marking him as America's Boyfriend for the year. In the wake of his resurgence, Tumblr became a hotbed for Barbie-ing the actor into a bevy of fantasy roles from feminist to typographer, building on the Fuck Yeah Ryan Gosling/Hey Girl meme. Each blog posted pictures of him, replete with persona-appropriate love notes. Right before the new year, xgoslingx, emerged. Instead of turning Gosling into a dream lover, its purveyor just photoshops piercings, tattoos and straight edge t-shirts on paparazzi pics of the actor. Alterna kids of most ilks are familiar with the classic black BANE hoodie and xgoslingx has made their own, with RYAN in hard white across the chest.