Little things mean so much in Frank Ocean's music. It's funny how they can also mean so little. "I could never make him love me / Never make him love me," the R&B singer and songwriter confides on "Bad Religion," a swooping, subtle ballad that dramatically equates unrequited love to a suicide cult, from official debut album Channel Orange. It was evidently pronouns like these that set off the online gossip mills, leading to Ocean posting a rich and wonderfully moving tale of first love on his Tumblr. The fact that the story was about a man certainly added to its complexity — and is clearly newsworthy given the ongoing cultural and political hand-wringing over other people's sex lives — but it was only one note in a piece of writing that was beautiful and harmonious regardless.
So it was when Ocean nonchalantly uttered those words again last night, making his TV debut on Late Night With Jimmy Fallon. Wearing a red-and-white headband and a darker-red, unbuttoned long-sleeve shirt with a white T underneath, Ocean sang "Bad Religion" with help from the Roots and a string section. The song has the Drake-like late-night intimacy of its opening conceit — "Taxi driver, be my shrink for the hour / Leave the meter running" — but also the heavenly grandeur of its spiritual theme, accentuated by church-style organ, so that it again evokes the giddy heights of Stevie Wonder. Ocean stood seriously throughout, shifting from a low croon to a lofty falsetto, breaking into a grin only after he was through. It was one of those performances you don't forget, and one more time, it was due to the full gestalt: the verisimilitude of the offhand "Allahu Akbar" lyric, the temporary burst of gospel-echoing handclaps, the unbridled emotion in Ocean's wordless howl toward the song's end. A lot of people are going to love this man very soon.
Frank Ocean Has a Cold: Read SPIN's feature on the rising R&B star.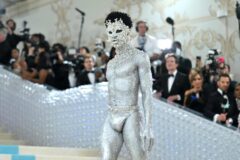 As if to return that love in advance, Ocean also yesterday announced that he would be releasing Channel Orange a week early via iTunes. You can buy it here now ahead of its official July 17 release date. And you can stream the whole record, including Pharrell collaboration "Sweet Life," 10-minute epic "Pyramids," towering single "Thinkin Bout You," and additional team-ups with Earl Sweatshirt, John Mayer, and André 3000, right here on Ocean's Tumblr. Once again: Each song, each detail, can mean so much, but it's really an album that, like a human being, is best viewed as a whole.