Attention wanes back at Staples as the Thunder take a significant lead. Pope points out Flea's green-mopped head bobbing through the crowd. During halftime, Cosentino tries and fails to get the text message "Bethany's first Lakers game" up on the Jumbotron. She wanders over to the box's kitchenette and tells me about how her own athletic history — she played third base and catcher on her middle school softball team — came to an end after she discovered Epitaph's Punk-O-Rama compilations. "I got into NOFX and Blink-182," she says. "I started wearing cat collars. I wanted to be like Gwen Stefani, except the cool punk girl who played guitar."
Suddenly, M83's "Midnight City" booms over the arena's loudspeakers. "Hey, how come they're not playing Best Coast?" Cosentino jokes to her publicist. "'The Only Place' should be the theme song for the Lakers."
In reality, what Cosentino may love most about California is that it's not New York. She grew up in the Glendale suburb of Los Angeles, the only child of an actress and a musician. As a kid, she played piano and acted in commercials, most memorably for Little Caesars and a children's toy store (her family nickname is "Beautiful Jewelry" after a line in the latter ad). Her parents encouraged her to test out of high school to pursue music, which she did, venturing into an "embarrassing, Sarah McLachlan, singer-songwriter" phase, performing under the name Bethany Sharayah. But in 2008, at the age of 20, she moved to Williamsburg, Brooklyn, attended The New School, and interned at the Fader as a fashion blogger.
"I wanted to live in a Woody Allen movie," she says over dinner at Katsuya, a Japanese restaurant near the Staples Center. "But the only place [in New York] I loved was Long Island. It reminded me of being a teenager and going to the mall."
Until now, the Best Coast creation myth has gone as follows: After nine months of living in New York, she had a eureka moment of the Mamas & the Papas variety, and realized that she hated the snow and subway and that, as she puts it, "California was the greatest place on Earth, and I had to start telling people how great it is." Her mom flew east, they packed up her things, and within 48 hours, she was gone.
"That was never the true story," Williams says. "I toured through New York with Wavves. She came to a show, and the day after, she called and said she was going to move back to California." He looks at Cosentino, who's giving him the eye while she picks at her crispy rice. "Don't make that face," he says.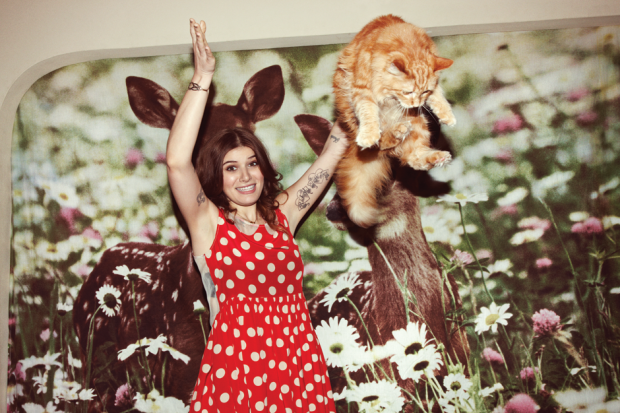 Cosentino shakes her head and continues: "I'd known him for years. He was living in his parents' house, he didn't have a job, he stole books to give me as gifts, and all of a sudden he was in this popular band. And I was like, 'Hey, I could do that if I wanted.' Seeing him do what he did inspired me —"
"To start Best Coast," Williams finishes.
Cosentino and Williams met at a party in San Diego seven years ago when she was 18 and he was going on 19. At the time, he was in what Cosentino calls an "Animal Collective–style band" with his friend Matt Barajas (co-creator with Williams of the comic Negative Dad). She had a day job at an architectural firm where her mom worked, but bummed around on the weekends with her friends in the post-riot-grrrl punk band Mika Miko, and later formed the droney psych-rock Pocahaunted, which also featured current Coast-mate Bobb Bruno.
As both Cosentino and Williams tell it: They hung out at her apartment playing GameCube and drinking Sparks until their mouths were orange, they kept LiveJournal accounts — his name a Converge lyric, hers a Rilo Kiley reference — and then she broke up with him. Cosentino is just now learning what happened to her Dawn of the Dead DVD and favorite blazer with the Ringo (or was it George?) pin.
"They're in a lake," Williams says. "I threw them in a lake."
"Did you really?!" she asks, genuinely surprised.
"I was distraught. You were not nice to me!"
They also share mutual frustrations about their line of work. Having written, recorded, and produced the two albums that came before King of the Beach, Williams has decided to complete the new Wavves album without a label, sharing the cost with producer and Santigold cohort John Hill, whom he met through Cosentino. "With the last record, my label [Fat Possum] complained because I didn't have a single," says Williams. "They always want to listen to everything before you're even done with the songs."
"Not mine," says Cosentino, whose new album, like 2010's Crazy for You, is on Mexican Summer. "I refused to let them."
"Yeah, but you talked to me every night about how they were trying to," says Williams.
"But I didn't let them."
He points out how the shoes of a passing model are similar to a pair of Cosentino's. They fist bump.
"Is that how you greet each other, with fist bumps?" asks Pope, who lived with the couple for about a month last winter.
"No, we're like, 'Hey babe, I love you,'" says Williams, playfully grabbing at Cosentino's chest.
"Stop!" she says, swatting him away. "Maybe at home."
This story originally appeared in the July/August 2012 Outside Issue of SPIN, which you can order here now.