If returning to California was what it took for Cosentino to start making music, it was the opposite for Williams. Born in L.A. but raised mostly in Virginia, he learned to play the guitar at age ten from his mother, who performed in an '80s synth-pop act with his dad called Summer Wind.
"Me and my best friend Taylor formed a band with some friends called One Step Short," says Williams. He's sitting on his couch, coffee table covered in Bud Light cans and a bong, a scene his mom disapproved of when she stopped by earlier for a visit. "We would play middle school parties to try and get girls." When he was 13, his family relocated to San Diego, where his professor father got a job at a nearby university.
"I cried leaving, looking out the back of this Volvo station wagon that we drove across the country," he says. "I had to start over in a new place, new school, blah, blah, blah. Shortly thereafter, I stopped going because I didn't feel like I fit in."
He spent the next few years being a "shitty teenager," couch-surfing and shoplifting, at one point nabbing a $300 copy of A-Z of Horror Films for Cosentino. "I was kind of in love with her from the first time I saw her," he says. "She had a boyfriend that she didn't really tell me about, and she was mean to me, so I was hooked." When she broke up with him, he moved to Portland, came back, and kicked around in a few bands, including Fantastic Magic with Matt Barajas, with whom he co-managed a record store.
"I loved music, I wanted to write," says Williams. "So I quit [the record-store] job and basically didn't talk to anybody for a month and a half. I bought an ounce of weed and sat in my parents' garage until I came up with something I was happy with."
The resulting two self-titled records are collections of raw, misanthropic songs from a gradually recovering burnout raised on West Coast punk like the Descendents. Fat Possum signed him to a two-album deal. In 2009, Williams met Pope at Barcelona's Primavera Sound Festival, when Williams infamously quarreled onstage with then-drummer Ryan Ulsh, a disaster stemming from an alcohol, Ecstasy, and Valium cocktail. Soon thereafter, Pope quit Jay Reatard's band (before Reatard's alcohol-and-drug-related death in January 2010) to record King of the Beach with Williams. The two have been friends ever since — they've hung out every single day since Pope moved to Los Angeles. "Beth gets jealous," Williams says.
When I ask Cosentino if she's bothered by stories like the Primavera meltdown or the one Williams tells about stealing coke from a dealer in Vegas and a police officer then finding him passed out in the bushes, she says, "I'm a believer that you can't change people. It's part of his persona for his music, and I'm fine with it. If we're hanging out on a Sunday watching Mad Men, he's not like that."
"I was a lot wilder when I was 22," Williams admits. "Also, I get really bad anxiety around too many people. Now, after a show, I just want to smoke weed and sleep."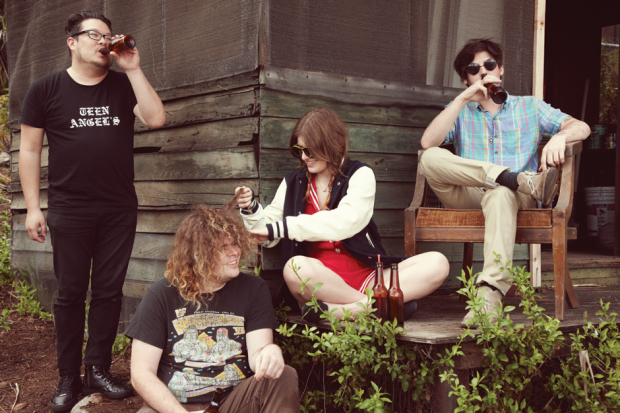 The day after the Lakers game, Cosentino takes me on a drive in her black Mercedes up to the house that she just put an offer on to buy. It's ensconced in the hills of Eagle Rock's even sleepier neighboring town of Mount Washington and reminds her of the apartment that Don Draper shares with his new wife, Megan, on Mad Men, with floor-to-ceiling windows that open up onto a private patio. It's about a five-minute drive from Williams.
"The thing is, we both live on the road, and we're constantly around people," Cosentino says. "It's nice to just have space, not only from each other, but just from everyone in general. He doesn't get lonely; I do, because I'm a girl, but we make it work."
Cosentino worries about how she'll fill this new place if she gets it. "A house like this deserves nice things," she says, "It's kind of like how I think about the songs on my new record. They deserved a nice house."
The Only Place is not a radical departure from Crazy for You, a deceptively melancholy album of sunset pop that sold 135,000 copies worldwide and attracted fans such as Drew Barrymore (who directed the video for "Our Deal") and Cosentino's idol, Jenny Lewis. (The two met for the first time a couple of weeks ago, when Lewis came to a Best Coast showcase in West Hollywood, but Cosentino was too embarrassed to tell her that she'd named a dress in her Urban Outfitters collection after her.) The songs are more complex, owing the same debt to the
Crystals and the Ronettes, but mixing the forthrightness of Liz Phair with the plaintiveness of a shawl-waving Stevie Nicks.
Cosentino has been criticized for the retro-simplicity of her lyrics, the implication being that she supported antiquated ideas of romance. "[On Crazy for You], I was mimicking a style of music I looked up to, '60s girl groups who wrote songs about love and all that," she says. "This record is — if I tore pages out of my diary, if I kept a diary, these would be the lyrics." There is still a beseeching, lovesick quality to songs like "No One Like You" but a jadedness has crept in: "And when I go out, I don't feel anything / I just keep on spending my money / One day it will be gone and then I'll have to write another song," she sings on "Last Year." They recorded the album in Hollywood's vaunted Capitol Studios, just as Frank Sinatra and the Beach Boys before them; it is neatly polished, with no grubby smudges.
This story originally appeared in the July/August 2012 Outside Issue of SPIN, which you can order here now.