Rebooting Project Mersh: Hardcore Punks Threaten Indie Rock's Hold on the Cutting Edge
By ambitiously flexing their fury in the face of hidebound pit bosses, an ever-expanding group of hardcore-punk bands are reshaping the genre. As a result, they're threatening indie rock's precious hold on the cutting edge.
Conversely, the men of Slices push their noise-blanched absurdism to audiences who are far removed from the center. Originally a drone duo composed of hardcore-educated brothers John and Mike Kasunic, the Pittsburgh group took on a new complexion after bringing in frontman Greg Mantooth (birth name: Kamerdze) from local heroes Warzone Womyn.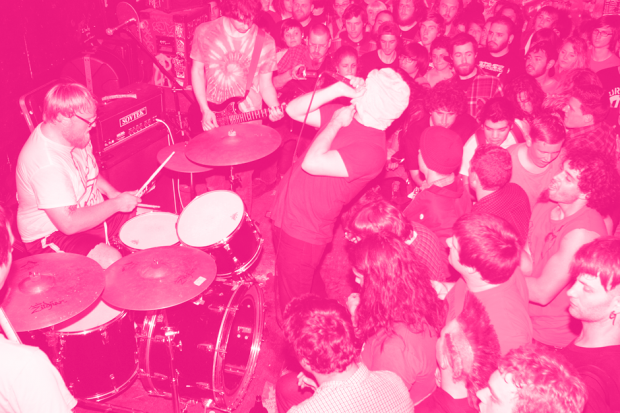 "I was struck by the way they would start playing and completely clear a room," says Mantooth, of the first few times he witnessed Slices souring a local hardcore bill. "Here were these people who were totally weirding out all these punks and hardcore kids. What drew me to hardcore punk in the first place was that it was alienating to a lot of people, to people's more sensitive tastes. We all understood we were into the same music, but at the same time, we did like to push it a bit further."
Upon joining Slices, Mantooth brought both a sense of humor as well as an added emphasis on musicianship that bound the band together. The result is a wild, pugnacious, stomach-pumping Wolf Eyes– and Flipper-indebted grind not unlike that of fellow Pennsylvanians Pissed Jeans, a band who, with an assist from the cachet of their hype-friendly and increasingly eclectic label, Sub Pop, have developed a national profile that far exceeds the range of their limited touring capabilities (every member of the band is now a devoted day-job dad).
"I'm not entirely sure if [the newfound attention] is because of the music or because publishing is changing," Mantooth pondered via e-mail, days after our first phone call. "Either way, I don't think that hardcore is lurching toward a Nirvana moment. If it is, I hope it's Slices, because I am looking to redo my kitchen sometime in the future."
There is perhaps no better way to close than with a word from someone who had a hand in the genre's beginning and subsequent evolution: Ian MacKaye, he of Minor Threat and Fugazi, bands who left "hardcore, the music" behind, but never "hardcore, the worldview."
"I can't see weighing in on the subject, especially as it relates to the many bands and people to whom the term has a more concrete meaning," he writes, in an e-mail. "Genres, especially in their parsings, usually have deep generational and regional connections, so for me the term 'hardcore' was a way of clarifying that our embodiment of punk in 1980 was neither 'new wave' (goofy or fun-loving) nor 'punk rock' (nihilistic or self-destructive), hence the term 'hardcore punk.' As with many concepts, the ensuing cultural game of telephone has found the term evolved, and that's exactly how it should be. Ultimately, all that really matters is that people are creating something that vibrates others into (what I hope would be positive) action, regardless of the moniker. So having said all that, I'll leave the hardcore discussion to the others who have a stake in that particular heading."
Kids and adults alike. Kids and adults, perhaps, like you.
Discography
Ceremony
Zoo
(Matador)
Though the Bay Area foursome's latest album moves further afield from their cyclonic roots into a more textured, melodic sound that seemingly aches to be anthemic, its members don't feel any less punk. "What's indie rock? Independent rock'n'roll," guitarist Anthony Anzaldo argues. "What is hard­core? I'm going to say the exact same thing."
Trash Talk
Awake
(True Panther Sounds)
Trash Talk's terrifying and refined thrash mishmash makes especially reverent nods to halcyon hardcore heroes like D.R.I., but with little nostalgia or revisionism. "They're not throwback," says Dean Bein, who signed the band to his eclectic Matador imprint, True Panther Sounds. "The music is clearly not just falling back on clichés. Their stories are current. Their emotions are real. The world is more complicated than 'all cops are bastards.'"
Slices
Still Cruising
(Iron Lung)
"I was always into the more deranged side of hardcore," says Slices guitarist John Kasunic of his Pittsburgh outfit's uncompromising howl, best heard on this recently released full-length from Seattle-based label Iron Lung. "I was never really interested in a lot of the violence, more so the mental rush. That crazy feeling inside my head is what threads it all together for me."
The story originally appeared in the May/June 2012 issue of SPIN.