Rebooting Project Mersh: Hardcore Punks Threaten Indie Rock's Hold on the Cutting Edge
By ambitiously flexing their fury in the face of hidebound pit bosses, an ever-expanding group of hardcore-punk bands are reshaping the genre. As a result, they're threatening indie rock's precious hold on the cutting edge.
"Your roots are your roots," says Anzaldo, who maintains a straight-edge lifestyle, abstaining from the "civilian" pleasures of drugs or alcohol. "Punk and hardcore are embedded in us. Any influence we have goes through that filter. No matter if it's fucking Nine Inch Nails, it's still going to be filtered through all of this music that's been in us since we were 14." And as Cobain championed the noise brought forth by post-hardcore nuts like Scratch Acid and Big Black, one can hear and feel the locomotive growl of Black Flag guitarist Greg Ginn all across Nirvana's roughly hewn debut, Bleach, as well. Anzaldo, though, thinks it extends further, to the anthem that's come to define crossing over.
"Those riffs," he says, referring to the opening crunch of "Smells Like Teen Spirit," "are fucking hardcore riffs. If that song was never written and I heard a band that we played with play that beginning groove, I'd think, 'Yeah, that makes sense.'"
The issue of crossing over always seems to have been part of the plan for the thrashing, teeth-gnashing, Sacramento, California–bred four-piece Trash Talk. Renowned for the sheer physicality and ferocity of their sometimes violent, always frightening live shows, the band have enjoyed a prominent role in the gradual increase in attention focused on hardcore during the past few years.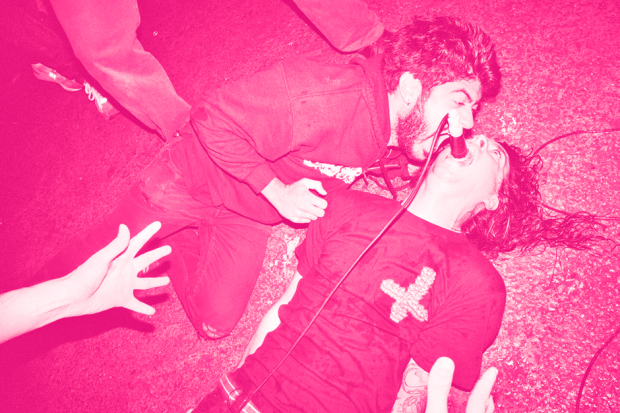 "It comes in waves," says front-menace Lee Spielman, shortly after finishing an afternoon shift at the Los Angeles streetwear and merch shop founded last fall by hip-hop collective and kindred spirits in confrontation Odd Future. "Sometimes people don't give a fuck, like, 'Oh, it's a punk band. I won't even walk in the door.' And then sometimes it's like, 'Oh shit, it's a punk band. We have to get there. It's going to be crazy.' How can a room of 100 kids having their own thing, going nuts every night, go unnoticed? It's just impossible for something like that to go un­noticed forever."
Though Trash Talk got their start around Sacramento, they hit the road just as aggressively as they played onstage, earning a reputation that has circulated far beyond the hardcore community. In the past two years alone, they've been featured in The New York Times and on the covers of national magazines, playing festival dates as well as corporate SXSW showcases sponsored by cool-seeking Italian car companies. "We'd play a festival where it costs $300 to get in, or a 21-and-over show, and then play a fucking house afterwards," Spielman says. "So it was a full U.S. tour times two, playing for kids, then playing for a whole different crowd. Just fucking play the music that you want to play, how you want to play it…aggressive and fast and in your face."
And while the foursome have released music on their own Trash Talk Collective label (as well as through more traditional hardcore outlets, just as Ceremony have done), they opted to release last year's Awake EP on True Panther Sounds, a relatively young Matador imprint that's also home to disparate releases from Girls, Tanlines, Glasser, and Teengirl Fantasy.
"DIY punk and hardcore ultimately aren't just about hating authority or political beliefs," says Dean Bein, founder of True Panther. "But it gives people a platform to feel empowered, to be creative and individualistic and free. People see that the spirit in Trash Talk isn't that different from what's in Waka Flocka Flame: unhinged, exuberant expression and energy. Sometimes there are people coming from such a unique and real place that it doesn't matter what you're into: You can feel they've developed their own aesthetic and their own vision for what they're doing, and it doesn't matter if you like rap or if you like techno. I do think the fact that Trash Talk put out [a seven-inch] on True Panther affected people's listening to them, because in a way, a non-hardcore label putting out a hardcore record is saying there's something different about it. It can appeal to everyone."
Bein credits Trash Talk's sophisticated song constructions and live performances as just two of the reasons why he signed them. But like many of today's young A&R minds steering indie rock's major brands, Bein grew up playing and booking hardcore shows himself. As a gateway band, Trash Talk share a stylistic connection with progenitors like Black Flag, but steer clear of the "Fuck Reagan" lyrical tropes that defined the scene early on. What's more, the group's two African American members make for an image that clearly distinguishes them (though Bein is wary of doing anything to "exotify" their music gratuitously).
"Oftentimes, hardcore gets dismissed as being a white, suburban movement," Bein says. "And I think it's exciting when people see that there's a band that's coming from the hardcore scene that's diverse, musically and racially." Trash Talk's friendship with Odd Future, the hip-hop phenoms who took a small universe of their own creation and opened it up to thousands, is no accident. Trash Talk is a band with more than just hardcore on their mind. Guitarist/spiritual leader Garrett Stevenson also maintains a passion for beatmaking, which could filter into future Trash Talk recordings.