Frank Ocean has unveiled a new project titled Channel Orange, set for July 17. The cryptic announcement comes at the end of a nearly two-minute video he posted to his blog.
The clip, which mostly just lingers lovingly over an expensive-looking car, also contains new music: a lush, rippling electro-R&B track with vividly detailed, passionately crooned lyrics about a woman — "for now let's call her Cleopatra" — who's "workin' at the pyramid tonight." The Luxor in Las Vegas, maybe? The song does start out in a hotel, at least.
The video's page includes "TV" in its title, but that might just refer to the teaser and not to the song itself. Who knows, though: The brief clip actually ends with a mention of a top-floor suite's "TV, with the VCR," which tells us … not a whole lot. This much is clear: Ocean continues to deliver songs that combine the narrative punch of a great singer-songwriter with the stylish flair of contemporary hip-hop. "Pimpin' in my Convos, bubbles in my champagne / Let it be some jazz playin'," he sings, atop strobe-like synths a million miles away from Kind of Blue.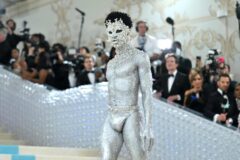 Ocean, whose only official release remains last year's wonderful nostalgia, ULTRA, has a habit of being mysterious. Be sure to read contributor Julianne Escobedo Shepherd's SPIN profile, titled "Frank Ocean Has a Cold." And when July 17 comes, be ready for … something. Something called Channel Orange.
UPDATE: Ocean just blogged again, this time pointing to this link, which includes dates and subsequent ticket links for a 14-date "Channel Orange" tour slated for a month surrounding July 17 that went on sale three hours ago.
UPDATE TO THE UPDATE (5:00 p.m. EDT): This dude clearly has the Internet on lock, because now he's forced everyone to post a third time (on a Friday, no less): blogging yet again, Ocean has revealed the first song off the record everyone is assuming will be called Channel Orange. The 10-minute track is called "Pyramids," it's the one used in the clip he posted this morning (still below), and from the looks of it, it'll be the ninth on the album. Best of all, it's downloadable. Check it (plus the très Groening-ian cover art) out:
https://player.vimeo.com/video/43659532