"There's no audience Derek and Alex can't play for," DJ-producer Diplo told us of Sleigh Bells' guitarist-producer Derek Miller and singer Alexis Krauss, in our March/April cover story. That audience has been known to include Diplo himself (who just received a fascinating profile in Sunday's New York Times). Their latest meeting is a remix of Sleigh Bells' nihilistic Reign of Terror fire-starter "Demons," and the results are predictably explosive.
Diplo's previous work with Sleigh Bells has tended to draw them toward extremes. He paired the duo with black metal dudes Liturgy in a recent tear through Florida. In a previous remix, he twists the slashing butt-rock guitars of Treats wake-up call "Tell 'Em" into airhorns, pummeling percussion, and mangled vocals, expertly moving the song from indie-rock club to dance party. Similarly, Diplo's "Demons" remix amps up the original's possessed-cheerleader exhortations and deliciously devilish tone, doing away with the orphanage-burning verses altogether and, once again, blasting the electronic beats into another dimension.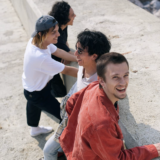 At the same time, Sleigh Bells have unveiled their official video for "Demons," and it's characteristically intense. Anyone who has caught the group on their recent tour has probably wondered how in the hell they'll translate their increasingly insane live show for sunny festival stages — bars are asked to turn off all the lights, so the only focus will be the strobing visuals onstage, and the beautifully abrasive noise pouring out of those Marshall stacks. As Pitchfork reports, the video's crowd-surfing live footage comes from Sleigh Bells' recent sets in Omaha, Oklahoma City, Dallas, and Houston, and was directed by Miller along with previous visual collaborator Gregory Kohn. Get ready to wish you'd made the drive to Nebraska that weekend.
https://youtube.com/watch?v=g0_BlUbGBSo%3Frel%3D0
Who knows: Maybe the video and remix combined will be enough to get Sleigh Bells another phone call from Beyoncé's people, who asked for permission to use Treats' "Kids." Nothing came of the contact, but it gives us an excuse to mention Miller and Krauss' recent, commendable cover of Queen B's "Irreplaceable." Diplo, meanwhile, has been climbing up the Billboard Hot 100 chart with his work on Usher's "Climax," and he recently announced he'll be touring Canada, by railroad, with Skrillex, Grimes, Pretty Lights, and more this summer. Move over, Reign of Terror; all aboard the crazy train.