Conventional wisdom suggests that you need at least three people to start a band. You might require four or five depending on the sound you're trying to achieve, and a lot more if you want to play ska. Throughout the rock era, only a few intrepid pairs of musicians have gotten together and decided that two was enough to put on a concert. Whether a drummer with a guitarist or keyboardist, two multi-instrumentalists, or a singer with a beatmaker, the greatest duos have shown a myriad of ways to sidestep the need for a larger ensemble.
22. Local H
Probably the most high-profile two-man band of the grunge era, Local H started out in the late '80s in Illinois as a more conventional quartet. By the time singer/guitarist Scott Lucas and drummer Joe Daniels signed to Island Records and released their debut album, they were the only two members left, with Lucas adding a bass pickup to his guitar to help thicken the duo's sound. 1996's As Good As Dead went gold on the strength of the ubiquitous radio hit "Bound for the Floor," and though other drummers have kept time for Local H since Daniels left in 1999, Lucas stuck to the duo format for the next couple decades before finally expanding back to a four-piece in 2018.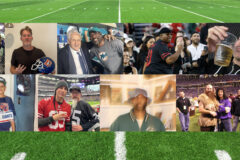 21. Nice Nice
Formed in 1999, the Portland, Or.,-based duo Nice Nice emulated the spastic rhythms and bugged-out sonics of Warp Records artists such as Squarepusher and Autechre in the context of a live band. Multi-instrumentalist Jason Buehler and drummer Mark Shirazi built a following by touring the country, and eventually signed to Warp themselves for the brilliant 2011 album Extra Wow. Sadly, there hasn't been any sign of new music from Nice Nice or either of its members in the decade since.
20. Attila
A few years before he became an iconic piano man on the pop charts, Billy Joel played in a couple of hard-rocking psychedelic bands. One of them, Attila, was a duo featuring Joel playing distorted organ lines with a wah-wah pedal through a Marshall stack, backed by drummer Jon Small. Attila's sole 1970 self-titled album, featuring the duo dressed as Huns on the cover, became a widely mocked curio after Joel's rise to fame. Considering that the band broke up when Joel ran off with Small's wife, there will almost certainly never be a reunion, but songs like "Wonder Woman" and "Revenge is Sweet" genuinely kick ass, if in a fairly campy way.
19. The Black Keys
Like the Flat Duo Jets and the White Stripes before them, Akron, Oh.'s the Black Keys helped modernize blues-rock for the alternative era as a minimalist duo. Singer/guitarist Dan Auerbach and drummer Patrick Carney spent a decade building steam before their sixth album, 2010's Brothers, brought them multi-platinum success and a long string of radio hits. Although the Black Keys began expanding to a quintet on tour and would occasionally be joined by collaborators like Danger Mouse in the studio, that stripped-down guitar-and-drums setup has remained key to their simple, hooky sound.
18. Sleaford Mods
In a sense, Sleaford Mods belong to a long British post-punk tradition of bands like the Fall and Half Man Half Biscuit, with cerebral, political speak-singing over minimalist grooves. The difference is that instead of a full band with guitars, all of Sleaford Mods' music is made by producer Andrew Fearn, with his thumping, hip-hop-influenced beats undergirding frontman Jason Williamson's verbose monologues.
17. Mates of State
Kori Gardner and Jason Hammel both played guitar in their first band together before switching to organ and drums, respectively, as the indie pop duo Mates of State. Blessed with starry-eyed vocal harmonies and off-kilter song structures, the married couple toured internationally through the 2000s, even taking their two children on the road. Mates of State haven't released new music since 2015's You're Going To Make It EP, but did play a couple of shows in 2021.
16. Sleigh Bells
Guitarist Derek Miller left the Florida metalcore band Poison the Well to make a different kind of noise with vocalist Alexis Krauss. The duo signed to two hip labels and became the toast of Brooklyn with Treats, a loud and brash combination of electronic beats and punky guitar riffs that Miller played live over programmed tracks at their live shows. Sleigh Bells have continued to evolve their sound over five albums, releasing the acclaimed Texis in 2021.
15. Japandroids
Singer/guitarist Brian King and singer/drummer David Prowse became known for the DIY community they helped build up in Vancouver around their early shows as Japandroids. The Husker Du-like anthemic power of songs like "The House That Heaven Built" turned the duo into a critically acclaimed band that has toured around the world.
14. Tenacious D
Jack Black and Kyle Gass became friends on the L.A. comedy scene in the '90s, but they really bonded over music. Tenacious D thus became the perfect vehicle for them both – an acoustic duo that joyfully skewers over-the-top metal and hard rock with songs about Satan, Arby's curly fries, sexual positions, and magic guitar picks. Formed just before Black was becoming a major Hollywood star, Tenacious D has anchored an HBO series and a film, as well as a series of albums where Black and Gass are backed by rock stars like Dave Grohl. Still, the magic of Tenacious D is that it managed to conjure heavy metal histrionics with just their voices and a couple of acoustic guitars.
13. Beach House
Since its 2006 self-titled debut, Baltimore duo Beach House has been one of indie rock's most consistently acclaimed bands, with Alex Scally and Victoria Legrand making swirling, intoxicating dream pop out of guitars, keyboards, programmed drums, and lots of reverb. Last year's sprawling, 18-song double album Once Twice Melody, pushes Beach House's sound to cinematic new heights and topped both the Billboard rock and alternative charts.
12. MGMT
Multi-instrumentalists Andrew VanWyngarden and Benjamin Goldwasser recorded MGMT's 2007 Oracular Spectacular as a duo, creating a danceable neo-psychedelic sound on the strength of hit singles "Time To Pretend," "Electric Feel," and "Kids." MGMT has expanded into a larger band for subsequent albums and tours, but VanWyngarden and Goldwasser once again recorded their 2013 self-titled album as a duo.
11. The Spinanes
At a time when every other band on Sub Pop was loud and over-the-top, Portland's the Spinanes made a smart, stylish sound with just Rebecca Gates singing and playing guitar in an open tuning, Scott Plouf's inventive and surprising drum parts, and lots of open space in between the notes. Their 1993 debut Manos was the first independent album to top the college radio charts, featuring the 120 Minutes staple "Noel, Jonah and Me." By the third Spinanes album, 1998's Arches and Aisles, the band expanded to a trio before Gates disbanded the group and went solo.
10. The Fiery Furnaces
Multi-instrumentalist Matthew Friedberger and his sister, drummer/singer Eleanor Friedberger, make strange, intricate music as the Fiery Furnaces that sometimes feels like they're on some unique sibling wavelength the rest of us can only hope to understand. Albums like 2004's proggy, inscrutable Blueberry Boat made the Friedbergers one of the most admired and divisive bands in indie rock. Since 2011, both Friedbergers have focused on solo albums, but in 2020 the band returned with their first new single in nearly a decade and signed to Jack White's Third Man Records (more on him in a bit).
9. Quasi
Husband-and-wife duo Sam Coomes and Janet Weiss formed Quasi in Portland in 1993, harmonizing over his organ riffs and her propulsive drums. Soon, both joined other fast-rising northwestern indie bands: Weiss with Sleater-Kinney and Coomes with Heatmiser. Quasi managed to keep going even after Coomes and Weiss divorced in 1995 and remained musical partners long after, releasing its most acclaimed album in 1998. In later years, Quasi became a trio with the addition of bassist Joanna Bolme, but Coomes and Weiss returned as a duo for their 2023 comeback album Breaking the Balls of History.
8. Wye Oak
Few duos seem to relish the creative possibilities and logistical challenges of doing everything with four hands as much as Baltimore's Wye Oak. Drummer Andy Stack will often play keyboards with one hand while drumming, and Jenn Wasner primarily plays guitar, but for a time focused on synths and bass guitar on projects like 2014's Shriek. Like Quasi, Wye Oak remained a band even after Wasner and Stack's personal relationship ended shortly before their most successful album, 2011's Civilian.
7. Lightning Bolt
Bassist Brian Gibson and singer/drummer Brian Chippendale formed Lightning Bolt as students at the Rhode Island School of Design. Together, they produce a massive, heavily distorted sound, inspired by larger bands like the Boredoms and Van Halen but produced entirely by two people. The band's small size helped it become known for guerilla performances where it would set up on the floor of the venue and begin playing immediately after the opener finished.
6. Ween
On their earliest albums like The Pod and GodWeenSatan: The Oneness, Aaron "Gene Ween" Freeman and Mickey "Dean Ween" Melchiondo made druggy absurdist music full of surreal vocal effects that sounded like one long inside joke. Over time, they expanded to a full band, becoming masters of long jams and genre pastiche, but Gene and Dean have remained the creative nucleus of Ween since they were teenagers.
5. Tears for Fears
In the '80s, many duos were born when a couple members of a guitar-driven band realized they could break off and do their own thing with synths and sequencers. Two members of the Tourists became Eurythmics, and two members of Graduate became Tears for Fears. Taking inspiration from psychologist Arthur Janov's primal therapy, famously endorsed by John Lennon, Roland Orzabal and Curt Smith made some of the most cathartic and emotional pop/rock of the '80s with songs such as "Shout" and "Everybody Wants To Rule the World." Smith left the group for a couple albums and Tears for Fears became an Orzabal solo project in the '90s, but the duo reunited in 2004 and released the well-liked new album The Tipping Point last year.
4. Pet Shop Boys
Another duo from the '80s explosion of synth bands in the U.K., Chris Lowe and music journalist Neil Tennant met while shopping for synthesizers in London. Within a couple years, they had written songs including "West End Girls" and "It's a Sin," kicking off an enormous run of hits and a career that has included 14 albums, most recently Hotspot in 2020.
3. They Might Be Giants
In their first decade together, They Might Be Giants were college radio's strangest duo. John Flansburgh (guitar) and John Linnell (accordion/keyboard) sang about seemingly anything that came to their minds, be it birdhouses in your soul, exquisite dead guys, or why New York was once New Amsterdam. From their early DIY days debuting new work on a "dial-a-song" hotline up through their first four studio albums, the two Johns made all of TMBG's music themselves, sharing vocals and programming drum machines. Since 1994's John Henry, TMBG has expanded to a full band with a rhythm section and sometimes horns, while remaining as odd and prolific as ever.
2. The White Stripes
Some rock duos are couples, and some are siblings, but the White Stripes are probably the only band that started as one while posing as the other. Jack Gillis took his wife Meg White's last name when they married in 1996, but by the time they divorced in 2000, they'd already started the White Stripes, telling the music press that they were brother and sister. Weird backstory aside, the Detroit duo became the most enduring band of the early 2000s garage rock revival and perhaps one if the biggest bands in the world by their final performance in 2009. Meg's simple, hard-hitting drums were a perfect match for Jack's loud, quirky songs, primarily played on guitar but memorably pitched down to sound like a bass on the hit "Seven Nation Army."
1. Suicide
Alan Vega and Martin Rev of Suicide were around for the birth of punk, playing shows at New York's Mercer Arts Center, Max's Kansas City, and CBGB, where the band was at one point banned. In fact, Suicide was the first band to describe its music as "punk," although it sounded nothing like the peers that would go on to define the genre. While Rev playing distorted riffs on a Farfisa organ and programming primitive beats on an early drum machine, Vega sang dark, strange lyrics through heavy reverb and wielded a motorcycle chain onstage. Suicide never experienced the commercial success of its contemporaries, despite avowed fan Bruce Springsteen's cover of "Dream Baby Dream." But Suicide were among the first trailblazers who realized that partially programmed backing tracks could help a band with just two people make a lot of noise.