Sleigh Bells' hit debut was relentlessly modern and oddly unrevealing. For the follow-up, they drew on hair metal and a personal tragedy. Then came the hard part. Full cover story from SPIN's March/April 2012 issue, on newsstands February 28.
A word from someone who knows. "It's hard enough to make it in this business being honest," says Def Leppard's Joe Elliott, speaking from his dressing room at the Capital FM Arena in Nottingham, England. "It's even harder to make it when you're hiding something. So if Sleigh Bells are brave enough to say, 'Fuck everybody, our new record is influenced by Def Leppard,' then they're my kind of people. Audiences want to connect with you. They want to believe in you. But you can't be half-arsed. You have to let them in. That's how you get from good to great."
When I interviewed Sleigh Bells for a short piece for this magazine two years ago, they had the air of a band punching the clock. It happens. Guitarist-producer Derek Miller and singer Alexis Krauss were nice enough, but other than some youthful aimlessness, the juiciest revelation they offered was that Miller loved Buffalo wings and Krauss didn't eat meat.
The duo's career path had been a smooth sprint, even by today's standards, from forming (July 2008) to posting (demos on MySpace in January 2009) to playing (buzzy CMJ shows in October 2009) to signing (with M.I.A.'s N.E.E.T. label in April 2010) and selling (147,000 copies of their debut, Treats, released in conjunction with N.E.E.T. and Mom + Pop). The most interesting thing about them, aside from their remarkably fresh, intensely loud metal-guitar-and-dance-pop hybrid, seemed to be how their big break had swung on a misdirected e-mail: After hearing of the band from Hollywood director Spike Jonze, M.I.A. contacted a Derek Miller — but got the e-mail address wrong. But the wrong Derek knew the right Derek and forwarded the message. Serendipity abounds. Treats came out in May 2010. Relatively quick, entirely painless. Or so one could presume.
Give or take a couple of iPhones and a giant recording console, Sleigh Bells' recording space at Manhattan's SMT Studios could be my older brother's bedroom in 1989. When I visit in early October, the duo are working on their second album, Reign of Terror, and the walls are covered with posters of Michael Jordan and big-haired babes doing bicep curls in bikinis. Two toy M-16s are on the floor. There's an opened box of Pop-Tarts on a shelf. A pointy Jackson guitar — the instrument of choice for Reagan-era shredders like CC DeVille of Poison — stands battle-ready in the corner. Derek Miller, 30, is dressed in a blue plaid button-down shirt and loose-fitting jeans. He grabs the guitar and picks out a plaintive arpeggio.
Alexis Krauss, 26, sitting on the couch with her brindle bull terrier, Rizla, joins in. "I gotta know tonight," she sings. She's wearing a black T-shirt, tight black leggings, and black motorcycle boots. Her right arm has a large tattoo of the Virgin of Guadalupe and on her left arm is a dagger piercing a skull. (Miller's got four tattoos of his own, including one of the shark from Jaws, which was called Bruce by the movie's crew, the same name as Miller's dad.) Krauss' fingernails are painted in a way that recalls both abstract expressionist artwork and Eddie Van Halen's Frankenstrat. Her smile is warm, her lips pouty, and her dog keeps sniffing my nards.
I felt this record would save my life because it was my way of dealing with what happened. — Derek Miller
Miller strums some ringing chords. "If you're alone tonight," he and Krauss sing together. I know this song: "Hysteria" by Def Leppard. It was a big hit in 1988. The two collapse into laughter.
Looking back is key to Sleigh Bells' desire to move forward. They've been here working with engineer Shane Stoneback since June 25, trying hard to do something different from what brought them success.
"On Treats I was still thinking, 'Fuck guitars,'" says Miller. "I was into beat production. But then something snapped and I went back to guitars — Def Leppard, Slayer; that's the music I grew up with." A native of Jupiter, Florida, former home of the Burt Reynolds Dinner Theater, he started playing Korn covers when he was 14. From 17 to 22, he played in successful hardcore shouters Poison the Well. He quit because any attempts to broaden or soften the band's sound were met with boredom or derision. He drifted between Florida and Los Angeles, occasionally working as a waiter or barback, until he moved to Brooklyn, found Krauss, and started Sleigh Bells. On Treats she was his singer. Now they're a band.
"The first album was Derek's," says Krauss. "This album has my R&B and pop influence. It's more melodic." Her hands flutter as she speaks. "It's also more personal. I was able to plug into the narrative."
I ask them what the narrative is. Krauss says darkness and light. Miller says nothing and keeps playing.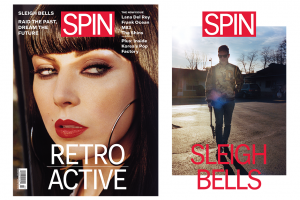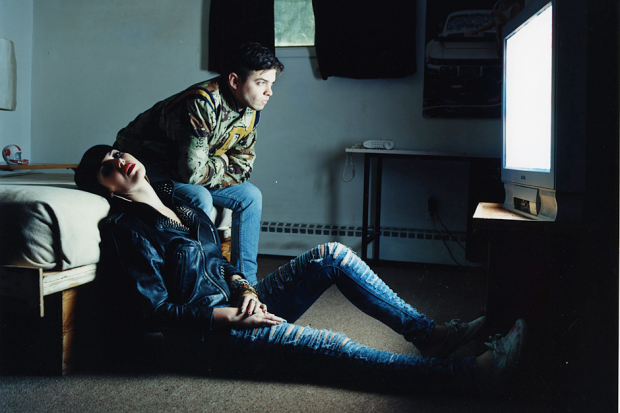 The two met in 2008 when Miller was waiting tables at the Brazilian bistro Miss Favela in Williamsburg, Brooklyn. He had a head full of songs and a nagging sense that they'd go over best with a girl singer. Miller shared his plight with Krauss and her mom, who'd come in to the restaurant for dinner. Mom volunteered her daughter, who promptly almost died from embarrassment. Miller promised he wasn't running game and the two made plans to meet in a park. Sitting on a bench, she listened to his beats through headphones.
"I'd been doing some session singing at the time," recalls Krauss. "So I was used to hearing tracks and thinking about how I could lend my voice to them. Derek's music sounded like a really interesting challenge, but I wasn't thinking he was somebody I wanted to develop a creative relationship with."
She had reason to be cautious. Growing up in Manasquan, New Jersey, Krauss had Broadway dreams, and you can still see that theater-kid extroversion in her hair-whipping onstage charisma with Sleigh Bells. But instead of treading the boards, she ended up being spit out of the pop-music mill: At 16, she'd won the part of bassist–lead singer for a prefab girl group called RubyBlue. (She still has the March 2002 issue of SPIN that featured a review of their single "Run Away.") All good, except that it wasn't. The band felt like a job. She didn't care about the music or the people making it and took it as a blessing when the album tanked. She went to college to study political science and then spent two years teaching Spanish to the lowest performing kids at the lowest performing elementary school in the South Bronx. For extra cash and a little fun, she sang at weddings and on songwriting demos. When she met Miller, she was thinking about doing some postgrad work. Not anymore.
Recording Sleigh Bells is piecemeal work. Miller, who produces the band, plays short bursts of guitar over programmed beats, then loops his parts. When Krauss isn't tracking her vocals, she jots down lyrical ideas and works on melodies. One day, Miller plugs his guitar directly into the recording console and plays a few bars of a doomy chord progression. Stoneback plays the results over the studio's giant speakers.
"I'm missing the background harmonies," says Krauss.
"They're just buried right now," replies Miller. "They'll be in the final mix."
"Are you sure?"
"Yep, they're definitely there."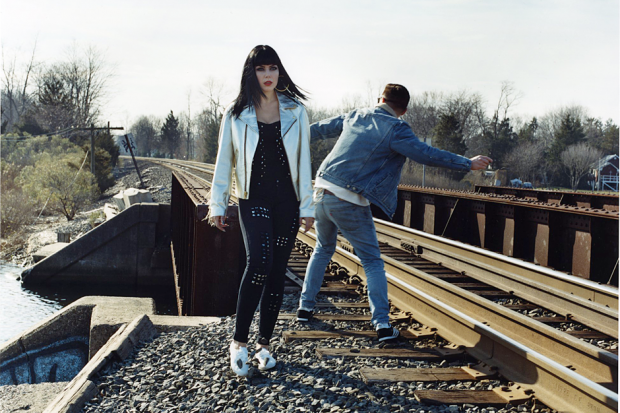 Alexis makes a note in her notebook. She's sort of the band's record-keeper, noting lyrical and arrangement changes, and even charting the settings on Miller's effects pedals. "He's always messing with stuff," she says. "It's a lot more efficient when I'm keeping track of things." I see that one of the songs is called "Leader of the Pack." It's not a cover of the Shangri-Las' deathless 1964 motorcycle-crash classic. "Their song is probably better," says Derek, "but I'm not afraid of using clichés. Especially when they're true."
It's cool and quiet and well past 1 a.m. on a Wednesday night outside Pimps & Pinups, a chic faux-'50s hair salon on Manhattan's Lower East Side. Three weeks after my studio visit, Sleigh Bells and a small film crew are here to shoot the Reign of Terror trailer. They'll post the video online in early December to, hopefully, stoke interest in the album and show the band's eerie new all-American aesthetic.
"I didn't even want to have my photograph taken two years ago," says Miller, now wearing a monogrammed red, white, and blue varsity jacket. (He's got a closet full of them.) "This is the first time we're actually taking the time to think about how we're presenting ourselves to the world."
What they're presenting is Alexis Krauss. She's seated in front of a lightbulb-rimmed vanity mirror slowly brushing her hair and delivering a steely glare. She's dressed, she says, "like a glamorous death-bot" in a military jacket decorated with golden chevrons. Footage of her will be intercut with grainy VHS-home-video-style shots of the band playing live, killing time offstage, and of Miller in the stands at a football game at LSU, his dad's alma mater.
While Miller watches his bandmate through the video camera's viewfinder, Krauss' attractive, bottle-blonde mom, who's been taking her daughter to sets for 15 years now, observes from a black leather banquette. "Why are they making her look so mean?" she says. "She's really so sweet." Sweet or not, there's an unexplained green spot of light shining below her nose. Derek laughs and asks Will Hubbard, his longtime friend and the band's manager, to come take a look. He laughs, too.
"What's so funny?" asks Krauss.
"Nothing," says Derek unconvincingly. He takes an iPhone photo of the light booger. Krauss rolls her eyes.
"He teases her like a brother," says her mom.
For me and Derek the '80s represent a kind of safe, innocent childhood time. But things that you think are safe can turn scary on a dime. — Alexis Krauss
As the crew deals with the lighting issue, Miller steps outside to drink a Red Bull. "This kind of stuff," he says, nodding toward a pile of video equipment on the sidewalk, "is fun to mess around with, but one thing I want people to know is that there's more to Sleigh Bells. This band and this album are not just a series of aesthetic decisions."
Fair enough, but as aesthetic decisions go, his and Krauss' have been smart, or at least successful. In addition to album sales, the band has sold 278,000 individual tracks. They have toured with LCD Soundsystem, Major Lazer, and undertaken their own headlining treks at progressively larger venues. (On the band's April-May U.S. tour, they'll be playing 1,000- to 2,500-capacity clubs.) Sleigh Bells' songs have been licensed for ads by Nike, Honda, ESPN, Fox, and Microsoft, and heard on MTV's Skins, Gossip Girl, and The Good Wife. Miller was asked by Beyoncé's camp for permission to use samples from the debut album's "Kids." Nothing happened with it, but still, he got the call.
"I'm not trying to make difficult music," he says, by way of explaining his band's broad appeal. "Except for aggressive stuff, my tastes are pretty fucking pedestrian."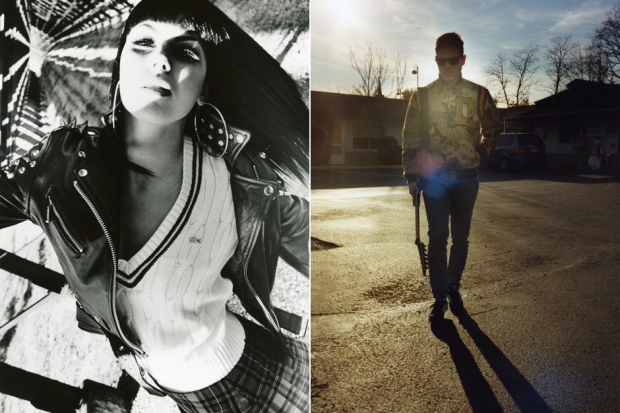 The crew has solved the booger problem, and Miller is needed behind the camera. He says he'll send me a mix of some of the songs that influenced Reign of Terror. "I'm glad someone's doing this story," he says, before getting back to work.
I ask why.
"Because there are things I need to talk about."
Norwegian black metal and German hardcore, Chicago, Roxette, Def Leppard — Miller's mixtape is a map. A little more than a week after the trailer was shot, I'm back at SMT with Sleigh Bells, listening to a rough version of Reign of Terror's trail of chaste pop and savage underground music. Extreme metal guitars haunt "Demons" and "D.O.A." (This album features some seriously portentous titles.) Mighty, glistening tones — which Stoneback helped concoct by studying specs of Leppard's rig that he took from old guitar mags — bestride punishing lullabies like "Road to Hell," "Born to Lose," and "Crush." Most noticeable, though, is the sterling surplus of pop melody. Krauss unspools one cotton-candy vocal line after another. The album sounds like a roller coaster: thunderous, fun, a little scary.
And anyone can ride. "There's no audience Derek and Alexis can't play for," explains DJ-producer Diplo, speaking on the phone from Bogota, Colombia. "They're lucky because they're half rock band and half DJ set. They play to rhythm tracks, but have Alexis out front and a bunch of Marshall stacks. They're cooler to watch than some boring-ass DJ and the programming means it's sonically more interesting than most bands. They're in a unique position." As proof, Sleigh Bells scheduled a February tour of Florida with transcendental black-metal howlers Liturgy and Diplo himself, who says: "For most bands, that'd be a death trap."
A few days after I hear the album, Miller and I are supposed to meet again. I'm mainly curious to know what he wanted to talk about outside Pimps & Pinups. But instead, he sends me an e-mail:
It has been a really strange week for me, my first since finishing the record and having very little to do + knowing that it's finished and I will make others but never this one. So please excuse the drama and the cancellation but I know I'll be in a much better headspace next week.
Take care,
Derek
Krauss answers the door at the cozy apartment she shares with her fiancé, Tyler, in the heavily Polish neighborhood of Greenpoint, Brooklyn. A taxidermied mallard hangs on a wall and a hardcover copy of I Want My MTV: The Uncensored Story of the Music Video Revolution is on the coffee table. She's wearing a black hoodie, tight black jeans, and dirty white Keds — the same shoes that appear splattered with blood on the Reign of Terror cover.
"It's a David Lynch Blue Velvet thing," says Alexis about the shoes. "He's really big on showing how even the most wholesome images can be fearsome." She's also taken lessons from her reading material. "When we did the first album, we didn't give much thought to how we wanted to look. That's why I'm so interested in MTV — there were so many iconic images during its heyday. I don't think that's something artists think about as much anymore because music videos aren't as important. For me, and I know for Derek, the '80s represent a kind of safe, innocent childhood time. But things that you think are safe can turn scary on a dime. That's what Reign of Terror is really about."
The album is also a development — of an image, a sound, and a relationship. "When Derek and I first started working together, it was like a really interesting session gig for me," says Krauss. "Then it became something else when things took off so quickly. But I always knew it was Derek's thing — he was producing and writing the songs. He had very specific ideas about what the vocals should be like. He wanted to be in control."
This is the first time we're actually taking the time to think about how we're presenting ourselves to the world. — Derek Miller
Not anymore. Or at least not as much. "We're so much more comfortable with each other," she continues, cradling Rizla. "It wasn't like I said I need to help with the songwriting, but if this is my main gig, I want to contribute, and I think I did. I really pushed Derek on that." She points to the new album's "Comeback Kid" as prime evidence of this newly synergistic Sleigh Bells. "The melody on that could be from an R&B record," she says. "That's my mentality coming through: classic '80s pop with a twist. Like George Michael and Cyndi Lauper but with Derek's insane guitars."
Something else is different, too. "There's a lot more emotion on this record. It came from a much darker place," she says. "Derek," she adds in a voice that's friendly but firm, "is the one to talk to about that."
Miller's apartment is located in a new gray-brick and glass building half a block off the main drag in Williamsburg, Brooklyn. When I open his door — exactly one week after visiting Krauss — he's in an easy chair watching talking heads debate Tim Tebow's quarterbacking skills on a big flat-screen TV. On the end table beside the couch are a set of shark jaws and a Spuds MacKenzie lamp. There's a fake M-16 here, too, and a couple more Jackson guitars. Through the door of his bedroom, I can see a small practice amp and an army of guitar pedals. There's also a photo of his father.
Miller turns off the TV. He explains that on June 25, 2009, just as Sleigh Bells were launching, Bruce Miller, 60, was killed while on a motorcycle trip in Canada. Nine months later, in March 2010, when the band was blowing up, his mother Vickie was diagnosed with cancer.
Miller nervously kneads his thigh with his fist as he speaks. "Reign of Terror isn't a clever title," he says. "That's what I felt like I was going through the last two years. Back when we were doing press for Treats, I didn't feel it was anybody's business. But on tour you're sitting in a van with your headphones on and you can't escape from your own head. Alexis and I worked so hard. I didn't want to jeopardize that. It was insane — I was going through a nightmare at the same time that my dream was coming true. So I didn't tell anyone. In interviews, I never said anything personal. I didn't want to let anyone in who wasn't close to me. I don't like talking about my feelings — my mom is fine now. I guess what happened is relevant to the songs. This record became my whole reason for — it sounds ridiculous, but I felt this record would save my life because it was my way of dealing with what happened. Stuff like Def Leppard and Cyndi Lauper — that's what I listened to when I was a kid and everything with my family was perfect. I wanted to have sounds that signified that time on the album. Alexis was really great at helping me with that. The lyrics, too. It's no coincidence there's a song called "Leader of the Pack" and it's about a motorcycle crash. Everything I felt is in the album."
Miller squirms in his seat. "When we finished making it I had to — I don't know. It was hard not to have anything to work on anymore. I understand that Sleigh Bells is hugely insignificant, so I don't want to be dramatic. I just know that the album is the best thing I've ever done."
He smiles awkwardly. His eyes are glassy. "This is embarrassing," he says. I don't know if that's the right word, but it's certainly uncomfortable, so we shoot the shit for a while. Football, Slayer, guitars.
"Do you wanna get a drink?" I ask.
"Let's do it," says Derek, gladly.
The night gets a little blurry after that.
It's mid-December. A small Christmas tree sits in Krauss' living room.
"You know, when we started the band, Derek and I weren't best friends," she says, wearing a Joan Jett T-shirt, "but what happened made us closer, like family. The fact he chose to use all his sadness and pain to move forward and create something for Sleigh Bells is extraordinary. I think people will relate to the new album. We've got some really lovely moments to share now."
Though Sleigh Bells talked about doing a special Unplugged-style show later this year, Krauss promises that the band isn't going soft. "We'll still be bludgeoning people," she says. "Just not for the whole set."
Darkness and light. It's a theme with these two.
I leave Krauss' place and take the subway three stops to Miller's. When I open the door to his apartment, I see him on his couch under a blanket, smiling. His hair is mussed and he's wearing a T-shirt and pajama bottoms. "I honestly haven't been outside in 48 hours," he says. He's been enjoying doing a whole lot of nothing other than playing guitar and digging into the Smiths and U2 box sets he just bought. He's finally come around to feeling relief that Reign of Terror is finished. But soon he'll leave his cocoon. First to spend Christmas with his mom in Florida, then to take Sleigh Bells on the road.
"It's time to take the next step," he says. "I've been keeping all this to myself for so long. It's time to get it out there." He's a bit nervous, especially about the Florida shows, when he and Alexis will play the new songs in front of family and friends. "At least if we fuck up," he says, "we'll be in front of a sympathetic audience."
Ah, it'll be fine. It'll be great. Joe Elliott says so.
More Sleigh Bells:
• Sleigh Bells: The SPIN Cover Photo Shoot
• School Spirit: Sleigh Bells and More Artists Reviving Varsity Jackets
• Sleigh Bells Slay Tampa: Exclusive Live Photos