What, you think we went to Coachella just to watch bands? In addition to catching only bands we didn't see weekend one (read our Friday and Saturday reports), we found enough energy to focus on unsubstantiated gossip, the panoply of fashion don'ts, and all the choice stage banter from Saturday of weekend two. Here's a complete run-down from the bowels of our notebooks (and you can find Friday's fieldreport here):
See our best live photos from Coachella's second weekend here now!
• While playing shows, Childish Gambino raps a lot about girls texting him to hook up him after shows. Is that supposed to be subliminal? Dude should work his digits into a freestyle.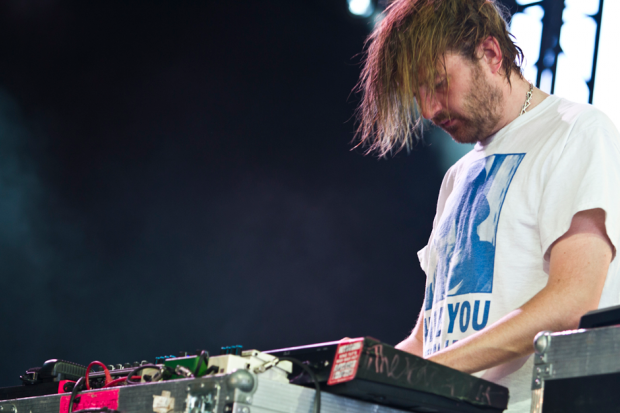 • Getting in the hologram spirit for Sunday, the dude from the Big Pink wore a Tupac shirt that says "HAVE YOU SEEN HIM." Of all the bands to opt out of a Levon Helm tribute.
• Inside scoop from Coachella security No. 1: That giant orchid on the crane is loaded with cameras, most likely equipped with mega-zoom and facial recognition. Basically, it's Big Brother designed to move amidst ravers.
• Most ingenious plug: The stagehand who worked the Gobi Stage checked the microphones with some hilarious self-promotion. "Check check, I play in a band. Check check, we're called Images. Check check, buy our CD. Check check, it's only $5."
• Does it count as "side-boob" if you can see both sides… and the middle?
• Same old Kaiser Chiefs. Still wearing stripey shirts. Still prognosticating about social uprisings.
• Wrapping up two weekends of hearing John Lennon and Paul McCartney's voices wobbling over dubstep Beatles remixes. All you need is wub.
• Worst use of the JumboTron: Squeeze playing a hideous flash cartoon narrating what happens in "Up the Junction."
• Zia Records was doing a great job keeping things lively with their Record Store Day tent. Since it was 106 degrees, you could pop in and buy some puddles that used to be vinyl!
• We saw a girl who was clearly on a beeline to the main stage make an immediate right turn for the Gobi tent when she heard a SBTRKT beat drop — physically pulled in the opposite direction of Bon Iver.
• Inside scoop from Coachella security No. 2: David Hasselhoff has a weak handshake.
• Dear dude in "Black Crystal Wolf Kids" shirt. That joke wasn't funny when every message board made it five times a day in 2007 and its even less funny on your body in 2012.
• So … is Miike Snow's "Animal" about the jackalope's struggle to gain legitimacy in the animal kingdom?
• Swedish House Mafioso Sebastian Ingrosso played a set of violent house music whose secret weapon was dropping Red Hot Chili Peppers' "Other Side" on some unsuspecting Californians. He also played a dubsteppier version of "Niggas in Paris" and everyone went decidedly cray — but not so much for Flying Lotus, whose "Paris" drop was keyed up a few bpms and full of rat-tat-tat snares.
• Is a "one love" foot tattoo appropriate considering Bob Marley was killed by his foot?
• We were going to make fun of the person who brought a "Troll Face" sign to hold up during Flying Lotus, but are ashamed we can recognize "Troll Face" from the shape alone. #foreveralone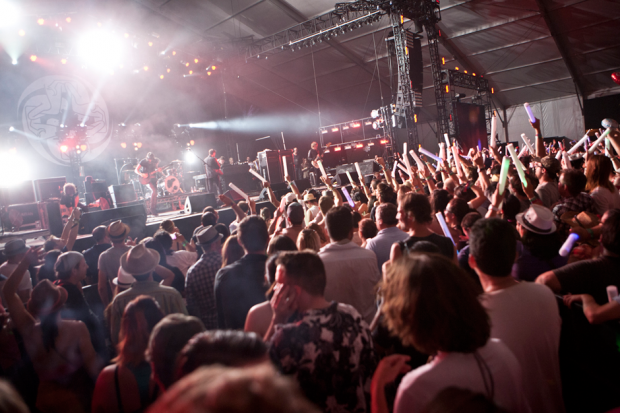 • Say what you want about Kasabian, but yelling "Hey America!" while wearing Mickey Mouse ears and a Goofy hat is ballsy and hilarious.
• One of Feist's backup singers has a super sweet Appalachian mullet.
• Inside scoop from Coachella security #3: Couple thrown out for deflowering several site restrooms — correction: doing it in Porta-Potties.
• OFWGVIP