What, you think we went to Coachella just to watch bands? In addition to catching only bands we didn't see weekend one (read our first report here), we found enough energy to focus on unsubstantiated gossip, the panoply of fashion don'ts, and all the choice stage banter from the first Friday of weekend two. Here's a complete run-down from the bowels of our notebooks:
See our best live photos from Coachella's second weekend here now!
• The KROQ DJ by press check-in playing Sublime's "Bad Fish." Happy 4/20, Coachella! You hear about hologram Bradley Nowell?
• DJ-turned-dance-pop-diva Méa had the unenviable position of having the first performance of the day — a harrowing 11:20 a.m. slot. She sneakily started her set 15 minutes early, so it felt like you were late for a Sahara Tent party that already started. First bikinied dancers of weekend two? 11:08 a.m.
• The tributes to recently departed legend Levon Helm came fast and furious: Dawes did a faithful rendition of "The Night They Drove Old Dixie Down" and Refused's drummer David Sandstrom sported "LEVON HELM R.I.P."
• Worst name for a food truck: Cod Save the Queen – Rockin' Fish & Chips.
• Usually we'd give a band shit for wearing shorts onstage, but in 99-degree heat we'll allow it. We see you, keyboard player for Abe Vigoda and some members of EMA.
• Yes, it was very, very hot out, but Wolf Gang singer Max McElligott couldn't let it go. While other bands shouted out the legions who chose to sit cross-legged at the back of the tents, dude seemed genuinely perturbed: "Off your asses!" They responded by swatting at the gathering flies, and staying put.
• Banjo-slaying honeyhoney singer Suzanne Santo summed up the sweltering heat thusly: "Guys, it's like we're one big… Coachella ball sack here together."
• People were using every piece of available shade for safety… and then promptly passing out in it. One dude huddled in the tiny pocket of shade caused by the wheelchair ramp. Another took shelter in the shade of a potted plant.
• Between the ska revivalists and kitchen sink auteurs like tUnE-yArDs and Destroyer, there's a whole lot of sax going on at Coachella 2012. Give it up to Givers, from Lafayette, Louisiana, for delivering the only flute solo of the festival. Sounded… breezy.
• Loud guy to kid drinking out of a Banana Boat bottle: "Hey! Do you prefer SPF 30 or SPF 50 when you're drinking sunscreen?" Kid: "30, I guess." Guy: "Is it the viscosity you're after, a certain thickness?" Kid: "No, it's the rum."
• Dude holding up a very poorly assembled "sign" that's just a photo of Gary Busey's face: Why?
• Dude's at SebastiAn's set are waaaaaay more comfortable with their shirts off than the dudes at the EMA show.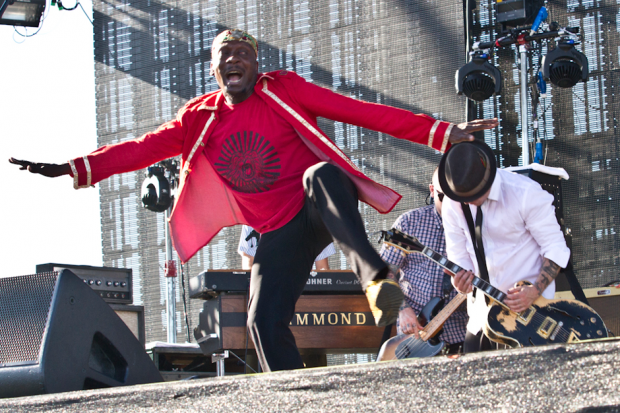 • At 64, Jimmy Cliff had more energy than most of the mid-afternoon performers a third of his age, but while classics like "Many Rivers to Cross" and "Sitting in Limbo" sounded as fresh as the day they were born, his attempt to update "Vietnam" to "Afghanistan" was an awkward fit with the younger crowd.
• As we will with every festival from now until the next decade, let us type this sentence: There was some guy in a full "green man" costume from It's Always Sunny in Philadelphia.
• Jarvis Cocker's performance was part Pink Panther, part Mick Jagger, and part pissed-off Powderpuff Girl as he vamped, sauntered and executed acrobatic amateur karate moves throughout Pulp's set. By the end, no fan escaped without a crotch or fist thrust in her or his general direction.
• Best use of the Jumbotron: The one part where it looked like Death Grips was checking their Facebook page.
• After muscling through some technical difficulties last week and leaving without so much as a goodbye, Frank Ocean returned with a different band entirely, and much improved results. "This is my seventh show ever," he told the crowd before saying a proper goodbye. "Lucky number seven."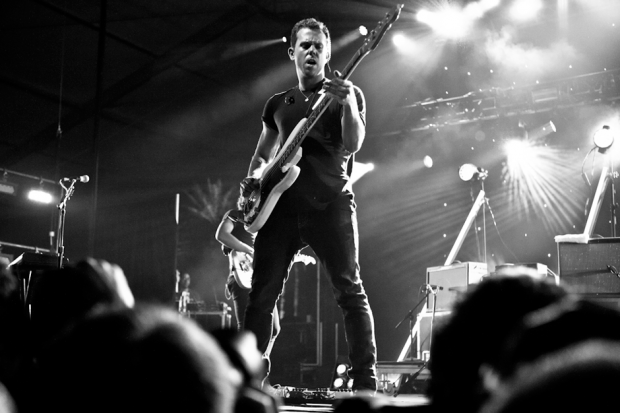 • M83's set was glowstick city. Y'all kids got your decade wrong.
• Weekend 2, Day 1 trend-spotting: a million ways to make/apply/wear a fake mustache, far too many toe shoes, less homegrown 4/20 gear than expected, a corny-but-on-point "Sex, Drugs & Dubstep" T-shirt, and that one normal-looking dude who wore a sundress over basketball shorts.