See our best live photos from Coachella's second weekend here now!
Kendrick Lamar
The rapper of the moment, Lamar is feted for his emotive mix of lonely stoner vibes and effortlessness with tough topics. But on the main stage he was simply raw skills, an impossible flurry of words coming across crystal clear through the impeccable Coachella sound system. Clearly amped, his usually laidback style was kicked up about 30 db, a too-cool precision kicked up into a throaty yell. As the crowd sweltered under the tent-less 99-degree sun, he culled a sea of bounces and chant-alongs and fist-pumps. It's the type of note-perfect rap show that seemed impossible to upstage… that is until his Black Hippy bandmate Jay Rock came out and successfully completed a full backflip while rapping. Still, Lamar clearly earned Sunday's right to stand on stage next to Dre, Snoop, and Tupac's ghost. CHRISTOPHER R. WEINGARTEN
Explosions in the Sky
"Hello, Coachellians," said one of the guitar-toting titans of Explosions in the Sky at the beginning of the Texas post-rock band's set. Those were pretty much the last words spoken for the next 50 minutes, which floated in on a huge pillow of harmonic resonance and quickly morphed into what's best described as the sound of skyscrapers being twisted from either end. The three guitarists wove dense tapestries of stringed squall, bobbing in unison like monks. (Heads down, axes up, that's the way they like to rock.) Meanwhile, the outer edges of the audience had taken to stargazing, with the Big Dipper and Bootes (the kite) on full display above the stage. We were collectively lulled into an idyllic calm, and then shaken out of it by a sudden blast — the set's carefully concocted climax, which seemed to make good on the band's name. CHRIS MARTINS
SebastiAn
A part of the mosh-friendly wing of the Ed Banger collective, French electro-mutant SebastiAn took the current EDM/rock marriage crawling back to another successful crossover moment — American industrial. Though the music was mostly wordless cannonballs of bass, his persona was purely in the Marilyn Manson tradition, SebastiAn mixing fascist imagery (stark logos, military footage, holding his arms up like a dictator on every bass drop) with high-volume abrasion. Some of his imagery was pointed (They Live style graphics urging you to "VOTEZ SEBASTIEN 2012," a droll take on the current cult of DJ personality), and some of his imagery was provocative for the fuck of it (his "X-rated" video "Total," was basically a gif dump of anal gapes and icky animes at seizure pace). When his set wound down with harsh noise and 9/11 footage, the dance floor didn't know exactly which was which. C.W.
Coachella Friday Fieldnotes: all the random, amazing stuff we heard, saw, and smelled in Indio.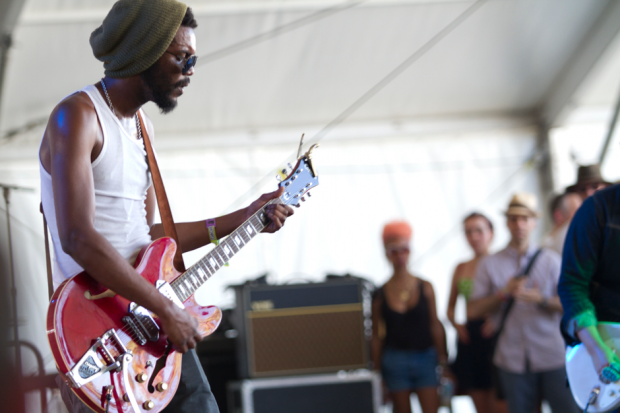 Gary Clark Jr.
Gary Clark Jr.'s backstory isn't what makes him great, though it certainly doesn't hurt that the Austin-born blues destroyer is the nephew of legendary axe-man WC Clark. What really sets this singer-guitarist apart is how well he bridges that hallowed past to a very bright and unfamiliar future. While the Black Keys could've learned a thing or two about the blues by watching Clark, Explosions in the Sky would be able to relate to his transcendent shred, which experiments with drone, bombast, huge highs, and little lows. With just a spare backing band he ripped into darkly tinted originals like "Things Are Changing," often leaving his crew behind for an extended solo at the front of the stage, the audience cheering each rise and fall like it was the second coming of Jimi. "Do you want more?" he asked at one point. Yes, please. C.M.
Wallpaper.
One might assume noon would be far too early in the day to start slamming 5-Hour Energy shots, but the girls throwing 'em back at the front of the Mojave tent were only a harbinger of things to come. Though the Oakland-based electro-pop weirdos in Wallpaper. were a late addition to fest, they managed to fill most of the Mojave tent two weeks in a row, and with fans who followed flamboyant singer Ricky Reed's every move. When he clapped, they clapped. When he bounced, they leapt. When he sung, they opened up their mouths and screamed to the temporary metal rafters. But the set's best moment came with the unreleased "Trouble" — which sounds like something boa constrictor-era Britney would've recorded — when pink-haired backup Novena Carmel executed a massively funky keytar solo to end all others. Probably a good thing, because keytars usually trigger our gag reflex. C.M.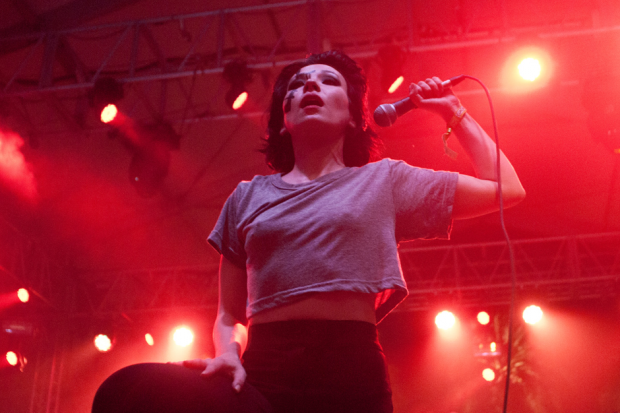 Atari Teenage Riot
When Atari Teenage Riot exploded in 1997, a gnarled mix of hip-hop breaks and hardcore punk energy, it was easy to imagine they'd spawn 100 copycat bands. Instead, it was just their extreme spirit kept alive in places like the aggro-rap of Death Grips and the violent dubstep of Boregore (both playing Coachella this year). ATR too, two years into a reunion attempt, sound like a new band borrowing current sounds — most notably post-Guetta synths and dub wubs — pushing them into distorted mania the same way they treated the "Amen" break in the drum'n'bass '90s. With a retooled lineup, they've lost none of their liveliness: Alec Empire looks like he just stepped off stage at the Refused reunion, Nic Endo screams with abandon, CX Kidtronik just kick-boxes the air and then stares down audience members while screeching, "I see fucking dead people everywhere." Yeah, it looks mad stupid when you throw beachballs at them. C.W.
Ximena Sariñana
Though Ximena Sariñana has been nominated for a pair of Latin Grammys and is a television star in her native Mexico, Guadalajara-hailing pint-sized pop provocateur is working her way up from the bottom within indie America on the strength of her self-titled English-language debut. Her songs are both classically catchy (sugary hooks, upbeat rythms) and imbued with an experimental touch (noisy effects, jumbled beats), but witnessed in person, it was her powerful voice and innate charm that won over the crowd. At the end of her performance, when festivallers usually make a beeline for whatever the next thing is, a sizeable contingent started singing "Cielito Lindo," the traditional folk ballad that serves as a sort of Mexican fight song at soccer games, and wrapped with a roaring chant of "Viva Mexico!" C.M.