See our best live photos from Coachella's second weekend here now!
St. Vincent
In her own way, St. Vincent's Annie Clark matched the ferocity of Death Grips' Friday freak-out. From the jump, her music sounded like fireworks: every drum hit an amplified explosion, every jagged blast of guitar like a vine of cherry bombs blowing. She'd hop onto the monitors at the front of the stage and fire her weapon at the crowd, snapping the whammy back or beating the neck with one of her tiny fists. She'd sing an impassioned, almost operatic line into the mic, and then wobble back on her heels like a windup doll, faux emotionless. Several songs ended by spewing forth volcanic doom. Was there even a full band up there? It's hard to remember. "Coachella," she said at one point, "this is live music!" It was presumably a pointed jab at the laptops and USB cables that seemed to run the show elsewhere. Here, instrumental viciousness ruled the day — and performance. After gloriously brutalizing a version of the Pop Group's "She's Beyond Good and Evil," at one point shredding while laying across the kick drum, Clark ripped into new song "Crocodile." As the punky, New Wave-influenced thrasher began, she leapt onto the back of a burly security guard, hijacked a water cannon from the staff, and blasted the crowd before diving into the fray. When the song ended, she was still in the arms of the audience, microphone in one hand, shoe in the other. CHRIS MARTINS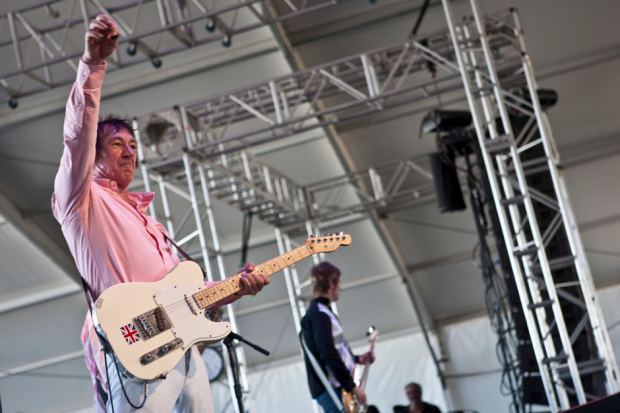 Buzzcocks
"We're Buzzcocks," announced frontman Pete Shelley at the beginning of their set. "We're not gonna talk in between. You get more songs in that way." Whether that was a boast or a warning, the '70s pop-punk legends ripped through 16 songs in 50 minutes, garnering the most frenzied crowd response we've seen this weekend outside of Refused. Seconds into opener "Boredom," the crowd opened up into fits of giddy pogoing as guitarist Steve Diggle tried out his Pete Townshend moves and stood triumphantly on any amp that would have him. Their bubblegum absolutely roared, sounding faster and louder and fatter than their classic LPs, drummer Danny Farrant absolutely leaning into those Bonham-esque kick drum bounces on "Why Can't I Touch It?" The heat in the Gobi Tent turned up 20 degrees, the classic "Ever Fallen In Love (With Someone You Shouldn't've)" brought out the crowd surfers and they kept the energy burning until the very end — last week they ended with the sunshiney "I Believe"; this week they chose the two-minute proto-hardcore tantrum "Orgasm Addict." And that's still before Diggle started throwing guitars and smashing mic stands. CHRISTOPHER R. WEINGARTEN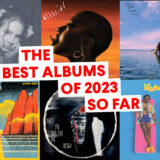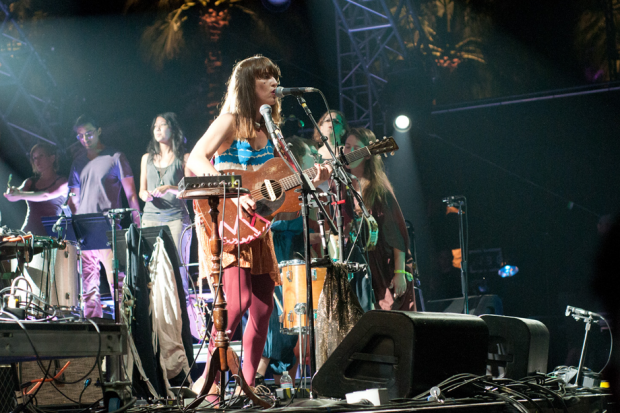 Feist
Leslie Feist pulled a bait and switch early in her surprising Saturday night set. When she opened with "When I Was a Young Girl," she was accompanied only by drums and it would've been enough. She built up the energy at the Outdoor Theatre fast, inspiring a clap-along only a minute and a half in, and sloughed off her sparkly gold frock after a particularly sweaty guitar solo. And then she offered to "bring out a couple of friends." More like a couple dozen. The stream of gathering players seemed endless: strings, brass, backup singers, percussionists, people clutching tambourines. They stomped and clapped through "The Undiscovered First," turning it into dirging Appalachian gospel, then picked up their instruments for "How the Heart Behaves," channeling Steve Reich's experiments by syncing small bursts of string and voice throughout. And the hulking, honking horns didn't hurt, throwing a marching band-sized heft behind the beat. Soon, Feist had a question for the crowd: "On a scale of one to 10, how much do you feel it? Anybody at zero?" Silence. "What about five?" Silence. "Does anyone … potentially … feel … all of it?" Screams. They felt it all, they felt it all. C.M.
David Guetta
By 9:15 p.m., when David Guetta went on, the Sahara tent was impossible to reach, but that wasn't a problem. Out there, the speakers face both inward and out. The sound is everywhere, and so are other entertainments. After 10 minutes of standing a healthy stone's throw from the awning, we'd heard nearly half of the DEA's controlled substances mentioned by name: acid, cocaine, molly, mushrooms. People chain-smoked weed and cigarettes, ate things out of Ziploc bags, pulled on tiny booze bottles. Guys with LED-tipped gloves gave googly-eyed girls private light shows, and people danced, danced, danced. For the uninitiated, it's a city out there — a festival within a festival where it's never not packed, and never too late to wear sunglasses. And this was a big moment. Everyone else there had been playing the French house-meister's songs all day, so when King David arrived, the fiefdom was rocked. It'd cooled significantly outside, but not there. Even 50 feet back from the tent's edge, it was a furnace. And at the far end of it all, he reigned over the scene, serving up massive pop songs — LMFAO's "Party Rock Anthem," Gotye's "Somebody that I Used to Know," his own "When Love Takes Over" — whose melodies had been compressed into synthetic gush, all of which was second to the drum, which seemed to beat at some frequency greater than four-four. Sia came out for their collaboration, "Titanium," but her physical appearance didn't mean much more to a crowd whose enthusiasm was already maxed out, blissed and blitzed enough to pretend that it'd invented the disco call: woot woot! C.M.
fIREHOSE
Hitting the stage after 14 years of silence, the return of avant-college angle-bashers fIREHOSE is one of Coachella's more under-heralded reunions. Bass-basher Mike Watt promptly stole the show with snaky licks, knuckle sandwich string abuse and his always-inspiring egalitarian dogma (he shouted out Zia Records, the Buzzcocks and "all the men working this thing" before playing his first note), but drummer George Hurley and frontman Ed Crawford certainly weren't slouches, sweating through their clothes and playing as fast as their 50-ish fingers would allow. A little older, Crawford sounded slightly closer to the classic rock his band subverted, but the trio locked in remarkably tightly, shining brightest on the quiet tension of "Chemical Wire." With jazzlike precision and drummer George Hurley still sporting the best left hand in indie rock, it was impossible to believe they've spent so much time apart.C.W.
Godspeed You! Black Emperor
Cinematic rock heroes Godspeed You! Black Emperor opened with six solid minutes of drone: heavy and murky and Tony Conrad fueled, 3/8ths of the band on the ground hunched over pedals. Basically, throw your good Coachella vibes out the window. Lots of jokes have been made about these staunchly anti-capitalist weirdos appearing at a festival one tent down from David Guetta going ham, and they stood out in only the best ways possible. Screwdrivers hit guitars, bows hit cymbals, JumboTrons stayed useless off while they projected actual film onto themselves, glocks rocked, sound poured out in measured gushes, solos were sheer noise terror. With endless death waltzes, hammering away on eight-notes and huge builds, their catch-and-release wasn't actually too far removed from the repetition and hypnosis that goes on the dance tent, right? Now which corporations profit from your molly? C.W.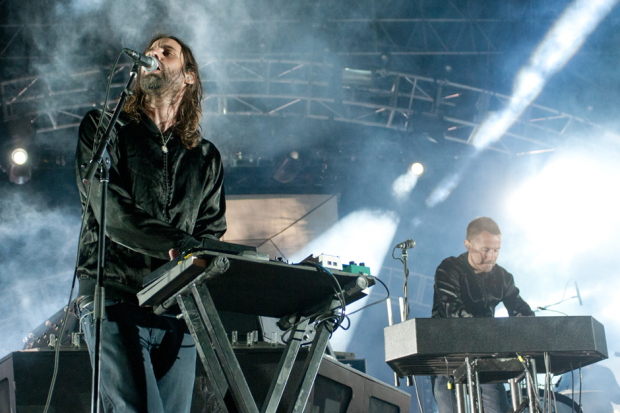 Miike Snow
Those put off by Miike Snow's on-album slightness need only see the Swedish indie-pop act in person. Backed by a full band and a blitzkrieg of bright lights, slumming-it super-producers Bloodshy and Avant (the same guys who brought us Britney Spears' "Toxic") truly shine. The music becomes massive and there was no better example of that transformation than "Black Tin Box." While the Happy to You track has gotten guff for not better utilizing guest star Lykke Li, the compact chanteuse's surprise appearance late in the set made amends. As the spooky song picked up steam, she slowly sauntered out, seemingly coaxing the ancient viking vibes out of the music. Red lights and thundering percussion set the stage as she took over the mike and cooed a strange lullaby about black sheep and lost children. Sure, it was weird, but it was also eerily transcendent. C.M.