On April 14, the Red Hot Chili Peppers, along with Guns N' Roses, Donovan, and 14 other inductees, will join the ranks of legends (and sorta-legends) in the Rock and Roll Hall of Fame. Guitarist John Frusciante, who left the band in 2009, however, has declined an invitation to participate in the ceremony and the surrounding festivities.
In an interview with Billboard, drummer Chad Smith explained that Frusciante, whose eleventh (!) as-yet-untitled solo album is slated for a 2012 release, told the band he didn't feel comfortable coming, which they "totally respect." "It was all good," Smith said, "[John]'s the kind of guy, I think, that once he's finished with something he's just on to the next phase of his life. The Chili Peppers are not really on his radar right now."
Frusciante's past with the Peppers has been frenetic, so it's not surprising that he's declined to revisit his tumultuous past with them. He first joined the band in 1989, then left in 1992 following a show in Tokyo, apparently annoyed at how famous the band had become in his three short years with them. He returned after rehab for heroin addiction and excessive marijuana use he'd developed during his first go-around with the band for 1999's Californication, then quit again, presumably for good in '09, three years after Stadium Arcadium and two years before their most recent record, 2011's I'm With You, telling fans that his "musical interests have led [him] in a different direction."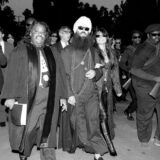 In more cheerful news, Smith also shared that the Peppers would probably get around to making another album a little more quickly than they did the last time. The break between Arcadium and I'm With You was a relatively long four years.