In what may be considered an epic chapter in the annals of stalkerdom, or a fable that could only involve the Flaming Lips, Wayne Coyne made some new friends last week. On the morning of his 51st birthday, Coyne answered the door at his Oklahoma City home to find three strangers bearing a gift: Nick Logie of the Los Angeles alt-rock quintet Telegram, his girlfriend Ashleigh Allard, and their friend Adam Ashe holding an extravagantly packaged copy of an album Logie and Allard had just finished recording.
Coyne tweeted a photo of the trio along with the note, "Some weirdos showed up on my porch … They drove all the way from LA to bring me a birthday gift!!!"
The trio had driven 22 straight hours from California on their seemingly quixotic mission, but rather than be turned away, Coyne welcomed them. Says Logie, "He said, 'You guys look like weirdos! Come inside, just please don't kill me.' " Logie, Allard and Ashe ended up staying four nights at the Flaming Lips leader's compound, sleeping on floors and couches, recording a song with him ("I'll Never Hate Again," with Coyne contributing vocals and lyrics), and making a music video.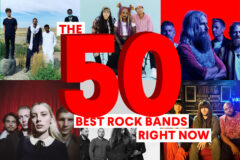 Coyne's address is not-so-secret, of course, because he was famously captured in a Google Street Maps photo in a bathtub in his front yard. He gets visitors but does not encourage them. "A lot of people show up at my place with a painting or CD to give me because it was my birthday," Coyne tells SPIN. "I thought it might have been someone local, but not someone who would've driven all the way from L.A. [So] I thought we'd do something."
"Something just clicked," Logie says. "He invited us in, showed us around his amazing compound. It was kind of a blurry weekend. There was a party, we recorded a song and the next day made a video. The whole thing was surreal. We're still processing it."
The music that the trio delivered to Coyne certainly fits the Lips' aesthetic. It's from a side project Logie and Allard launched called HOTT MT (Hour of the Time, Majesty Twelve) — psych-pop that the young musicians call "Thai-gaze." And the tune they made with the Lips frontman? "It's a great, great track. Of course it will be a hit because I'm on it … I'm only joking," Coyne says. "They were really cool and their time with me was productive and because the song came out of a great story … [the idea that] these guys were either going to kill me or record with me."