'Twas the season on late-night TV last night, though given that it isn't even December yet, exactly which season isn't entirely clear.
On The Tonight Show With Jay Leno, the indie-folk duo She & Him — whose quaintly dulcet music really needs to stop being used to smear the word twee by association — sang a song from new holiday album A Very She & Him Christmas. Both recently single actress-singer Zooey Deschanel and finger-picking guitarist M. Ward were decked out as if for a holiday party, against a very yuletide-appropriate backdrop of Christmas trees and stockings hung by the chimney with care. Their delicate rendition of "The Christmas Waltz" (y'know, the one about "this song of mine, in three-quarter time") won't erase the best-known version, sung by Frank Sinatra, but you already know whether or not you'll want to spin it at your own seasonal gatherings, don't you? (Via the Audio Perv.)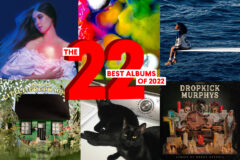 When it came to smart-ass New York hip-hop outfit Das Racist's appearance on Conan, you could be forgiven for thinking it was Halloween again. Joined by additional percussionists, a neat upgrade from their DJ-backed touring sets, the guys performed Relax video selection "Michael Jackson". Though sadly forced to censor the song's signature "I'm fucking great at rapping" boast, DR pulled out plenty of stops in their TV debut: a ridiculous wig, a Nirvana T-shirt, and, of course, a revivified Michael Jackson. Consider the whole thing a late-November treat. Or trick? No, just tricking you guys, it was actually a treat. (Tweeted the group: "Cover of Spin. Conan OBrien tomorrow. No manager. No label. Third World Family. Greedhead Music. OTK. FSS. #QUEENS."
Meanwhile, over on Late Night With Jimmy Fallon, TV watchers might've found themselves thinking of warmer times, or at least warmer climes. Reggae icon Jimmy Cliff was on hand, giving a stirring rendition of his classic "The Harder They Come," backed by recently controversy-generators the Roots. With a backwards baseball cap and unbelievable silver jacket, Cliff still looked — and sounded — like a true Hall of Famer. He also sang inequality-themed jam "World Upside Down," as a Web exclusive — hey, Miley Cyrus, maybe you'll be feeling this one?