Leave it to Kurt Vile to make a song about beaches sound perfect for fall. The Philly haze-rocker is set to release a new EP, So Outta Reach, on November 8 via Matador Records. His label has already posted the reflective, finger-picked acoustic cut "The Creature," and now comes "Life's a Beach." Listen below!
"Life's a Beach" is a rootsy, autumn-gold strummer with galloping drums and a brief harmonica solo. In fact, it's almost the kind of tunefully faded rocker that made Pete Yorn a gold-seller a decade ago, though Vile keeps most everything draped in his signature fog. The title might scan as a parody of the beach-themed music that has bubbled up from the underground for a few years now — see Wavves' The King of the Beach or Best Coast's Crazy for You, to name perhaps two of the best-known examples. The lyrics, meanwhile, appear locked in boyhood nostalgia that brings to mind his peer (and Deerhunter-Atlas Sound main main) Bradford Cox: "I wanna be a boy / Don't wanna be a man / I got a dangerous memory / Got a memory, man," Vile begins. But it all ends "so outta reach," lost in fuzzy swells of guitar noise.
The six-song So Outta Reach EP follows this year's Smoke Ring for My Halo LP, which displays "rock's most believable sneer," per our glowing . The EP contains five original songs recorded during the Halo sessions, but reworked this summer with producer John Agnello (Male Bonding, Sonic Youth, the Hold Steady), plus a cover of Bruce Springsteen's "Downtown Train."
A deluxe two-CD version of Smoke Ring for My Halo will also arrive on November 8. Featuring a new cover color, the deluxe edition will include the So Outta Reach EP on its second disc, all for the same price as the regular album.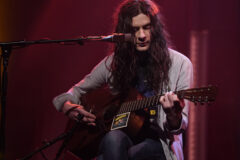 Vile is currently on tour, with shows supporting the Flaming Lips coming up later this month. Check out the full list of concert dates here.
Hear It: Kurt Vile, "Life's a Beach"